Henry Squire and Sons Limited have become the first company to achieve LPCB approval of their padlocks to the latest LPCB physical security standard, LPS 1654 Issue 1.0 Requirements and testing procedures for the LPCB approval and listing of padlocks.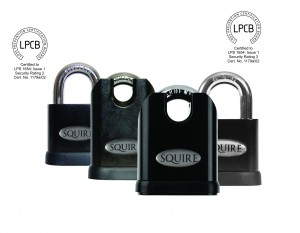 The standard has been developed by LPCB to help security managers and other specifiers determine that a padlock will afford a suitable delay against the tools and techniques likely to be employed by a determined criminal or terrorist.
Henry Squire and Sons managing director John Squire said: "We are proud to be the first independent lock manufacturer to achieve this important quality assurance standard. This accreditation is yet another example of Squire's on-going commitment to best practice and ensuring our purpose designed products offer exceptional resistance against a sustained attack".
LPCB know that good physical security is the bedrock of effective security. The humble padlock continues to offer a practical solution to securing an asset – but how can we determine whether a padlock will work effectively in the event of a criminal attack?
LPS 1654 was developed by LPCB because it was considered the method of classifying padlocks' attack resistance defined in the current European padlock standard (EN 12320 Building hardware. Padlocks and padlock fittings. Requirements and test methods) didn't cover the range of tools and attack methods available to criminals.
The new LPCB standard is also compatible with the classification system employed within their leading security standard, LPS 1175 Issue 7 Requirements and testing procedures for the LPCB approval and listing of intruder resistant building components, strongpoints, security enclosures and free-standing barriers.
Commenting on behalf of LPCB, Richard Flint said "We are delighted to certify Squire in recognition of their padlocks' fantastic performance to LPS 1654. Their approval through LPCB provides significant reassurance of their padlock' reliability, and confirms Squire's range of approved padlocks meet the high levels of assurance required by LPS 1654."