Lockdecoders launched the original MiraClone way back in Nov 2010 and sold thousands of units to as many as 40 countries as far apart as the Philippines, Chile, Reunion, Canada and South Africa, Australia etc, MiraClone being our exclusive property world-wide. Over the years we have introduced a huge number of new modules as new vehicles appeared. Also, we have given free updates to every module as we enlarged its functions. But as time passes new requirements came along that needed more processing power so we now have the MiraClone Plus, a completely redesigned device with enormously enhanced powers. All the cloning functions are inbuilt and some adaptors are in the kit while there is an extra for 48W chips. eePromming facilities are inbuilt and the device is USB-driven.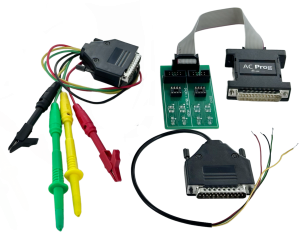 We have made it easy to upgrade from the old MiraClone as the user will retain the use of all modules previously installed and may even gain an extra free module when changing over.
We got a bit taken aback by the rapid uptake of our new offer and struggled to keep up with demand at the same time as we launched a whole range of special offers on SPVG, our specialised diagnostic system for VW, Audi, Seat and Skoda. Still, better to have too much business than too little.
There is a lot of scary stuff happening with all sorts of devices that can spy on you every time you access the Internet or even simply when you use them. We all know the stories of how kids ran up huge bills playing games, how some TV sets were spying on you, how the "smart home" can be burgled, how prox-key cars can be stolen and so on. Our government froze China out of our 5G systems and has even stated it is worried about the spy capabilities of Chinese electric vehicles. So, we are proud to tell you that when you switch on MiraClone Plus, or SPVG or any of our Miracle key machines or Magic engravers that we are NOT spying on you – not one tiny bit.