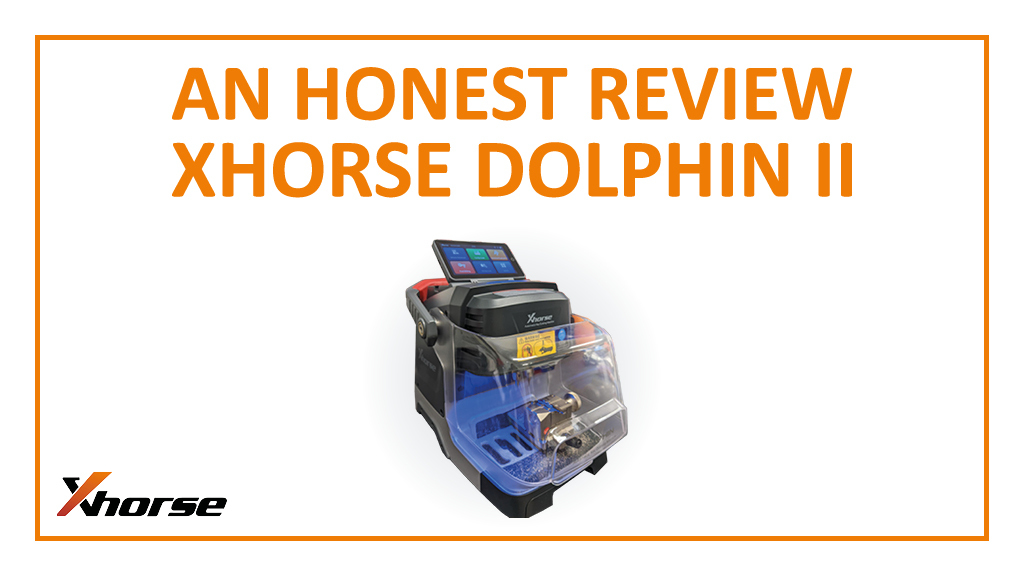 3D Group's quality control team have been busy putting the new Xhorse Dolphin II through its paces. Matt, our quality lead was super excited to get his hands on the latest release from Xhorse; there has been a considerable build-up surrounding the latest products, with Xhorse claiming lots of new and improved features. So, of course, we needed to get a demo item as quickly as possible to let you know how this product fairs…
First Impressions
Right from the moment we took this out of the box, we knew we were in for a treat. The lightweight machine came well packaged with its user manual and accessories. So, we took to getting set up straight away; plugging in the machine to charge the battery, which we then found out is fast. This is going to be great for those days where you need to quickly get some charge before attending any mobile jobs.
Our next step was to see the set-up process, connecting to our WIFI was straightforward and we could easily pick our chosen language, English.
What we will say is that it seems that you must check for updates as soon as you begin. We set some time aside to get the updates sorted, as we are aware that with any new product, firmware updates can take a varying length of time depending on your internet connection. However, a positive introduction to this model is that it can be updated wirelessly, with no need to connect to a PC. This improvement from previous models means that you can update anywhere, anytime, with just a stable internet connection needed.
We moved on to fitting the M5 jaw, which came with the machine. This was so simple to do, without any need to calibrate the cutter or tracer once the jaw had been fitted. Although, there is an option to calibrate the height of the clamp, which can be found on the easy-to-use touch screen.
On that note, we've all heard it before; "this machine will have a great touchscreen, be responsive even when you have gloves on, colours will be bright etc…" But we must tell you that this touchscreen lives up to its claims; its responsive, bright, and easy to read. Inputting the key's bitting code was a dream.
"Lightning fast and cuts really accurately"
Quality Checks
Here at 3D Group, we have a strict quality control protocol, with each and every product going through a thorough check to ensure that it meets our expectations, and guarantees that our customers will be happy with our product. The Dolphin II is no exception. We have started the process with the demo machine we have received from Xhorse, getting to know the product, and getting a feel for how it works and what to look out for in our first shipment. You can rest assured that the Dolphin II was put through its paces before we gave it the green light to go to you.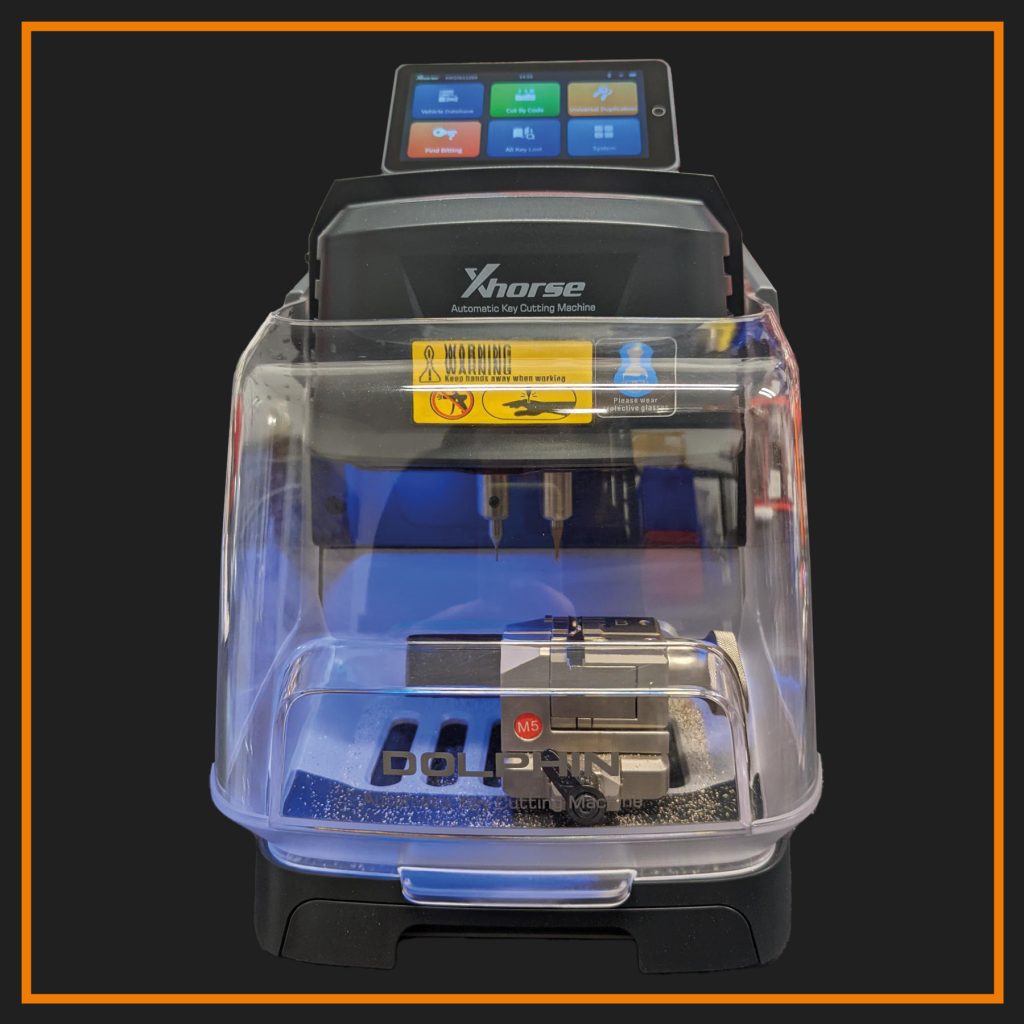 A Cut Above the Rest
Something that really stood out to Matt is the M5 clamp that comes included with the machine. With the Dolphin's predecessor, many users complained that they had to replace the M1 and M2 clamps frequently; the new multi-purpose, versatile clamp shows that these complaints should be significantly reduced.
Additionally, the M5 clamp reduces the need for the use of an adapter. The machine does come supplied with one, for those profiles that require the use of an adapter, however, now HU162 as a specific profile no longer demands one; the jaw can secure it entirely on its own.
Previously the technician would need an adapter to cut HU162 keys; cutting these keys would often prove difficult, and the user would have to make alterations to ensure that a precision cut was made. We have tested this type of key, and we are excited to announce that the entire process was so much more straightforward, with just the M5 clamp needed to complete the job.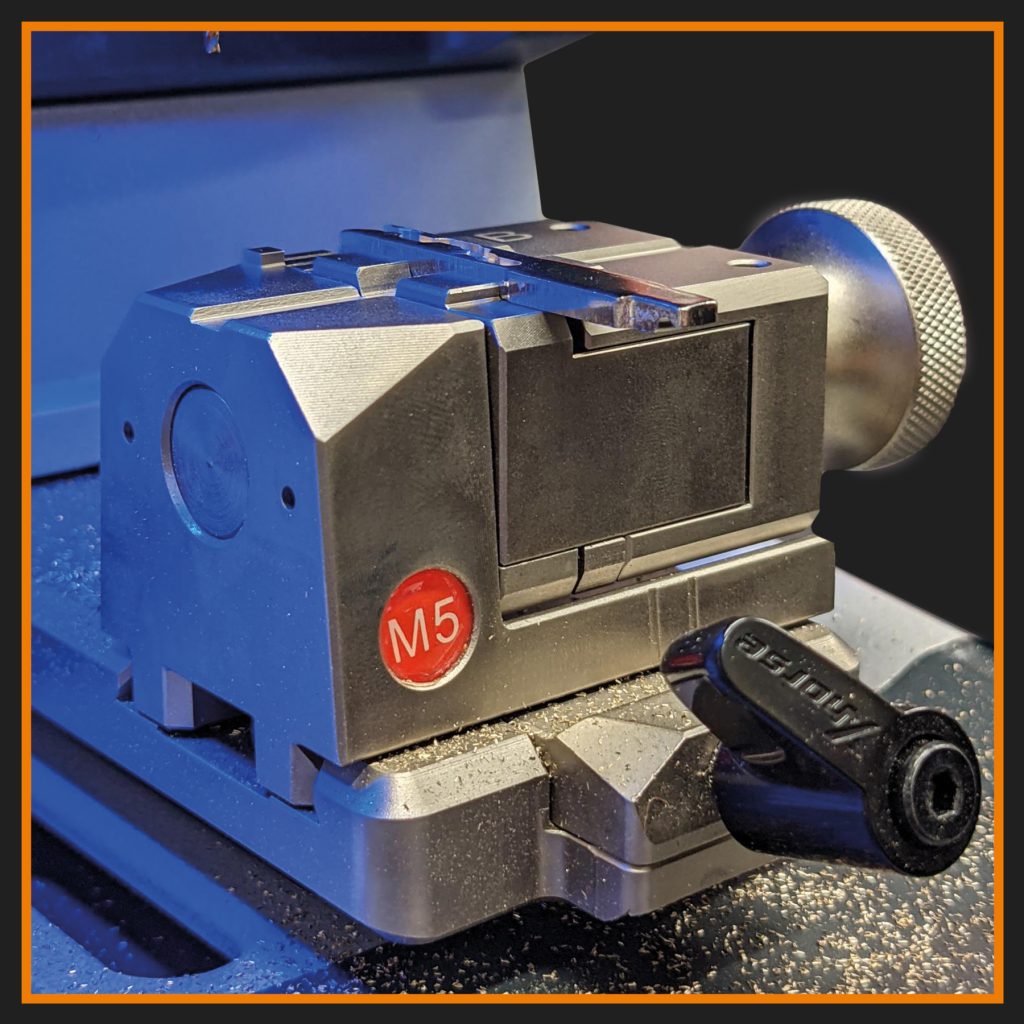 "Really pretty good!" Matt, Senior Quality Control Technician.
Decoding a Key
Quite honestly, as far as first impressions go, this machine has scored quite high. We have lost count of how many keys we decode on a daily basis, but we can assure you it is a lot. So, we are always on the lookout for machines that make this process quick and easy. We can categorically say that the Dolphin II is the fastest machine we have ever used; decoding a key in less than a minute, which we think we can all agree is top-notch.
Little Extras
There are some extras that we could not help but mention…
The reverse of the machine has some little slots to pop your tool into.
The addition of the protective screen is great, not only for protecting you but your work environment too. We are sure this is going to make tidying up much easier too.
The indicator light changes colour to indicate where you are in the process of your ongoing job. This novel feature can show three colours:
Red – false alarm/error warning
Blue – normal operation
Yellow – information notification
We were surprised by this feature, it is a little gimmicky; however, it does show the attention to detail that has gone into producing this great piece of equipment.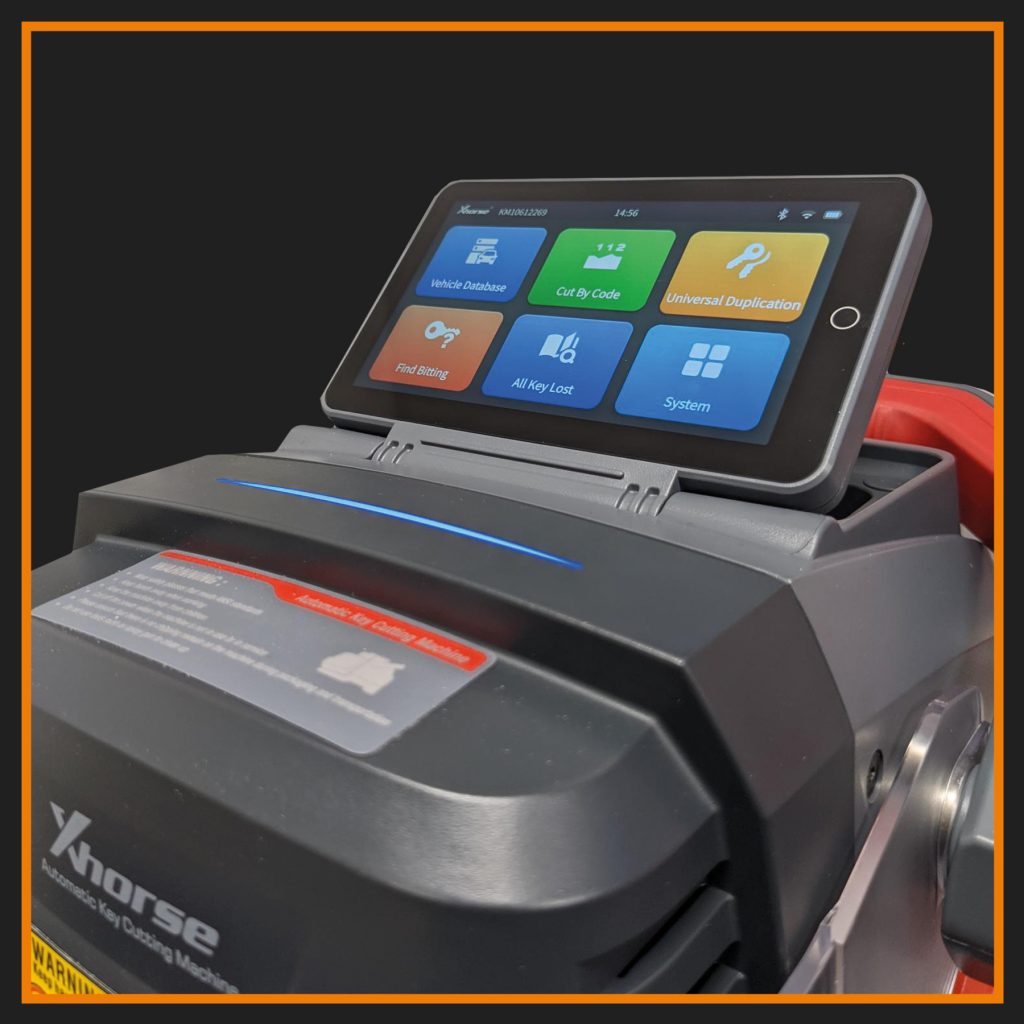 Buying Guide
3D Group can now excitedly announce that the Dolphin II has arrived and is available to buy.
Our quality control team are busy at work unpacking each machine and meticulously testing and quality controlling them before we send them out. We are taking the time to run a battery of tests and ensure that every item meets our strict quality control measures.
To help our customers jump straight into using their machines out of the box, we will also be updating each and every Dolphin II; this can take us a little while to get through, so bear with us.
3D Group takes machine safety seriously; with every product we sell that requires a CE mark, we apply and wait for the necessary paperwork to come through. This can sometimes cause a slight delay in you getting your product but, we do this because we value you and the safety of your product.
However, the Dolphin II has already received its CE certificate, so you can confidently purchase this exceptional machine.
If you plan to get your hands on one of this shipment, you best get your order in quickly, as over two-thirds of our stock has already been snapped up!