The Xhorse Condor XC- Mini Plus II 2021 is the second generation of the Xhorse Condor XC-Mini Plus 2018 automatic key cutting machine. The new version is driven by AI technology and an astonishing 8 core processor; these two new features have amped up the performance significantly.
In addition, if you receive a worn key and feel the key bitting data might be slightly off, you can edit the key data directly on the screen to ensure you are cutting to accurate data.
We can honestly say we can't wait to have our demo machine arrive and really put it through its paces. Plus, we have 30 Condor IIs on the way to 3D Group; if you're looking to refresh your key cutting machine, pre-order this all-in-one machine brought to you by Xhorse.
Xhorse Condor II produces super high precision results, even after cutting 150,000 keys.
The New Features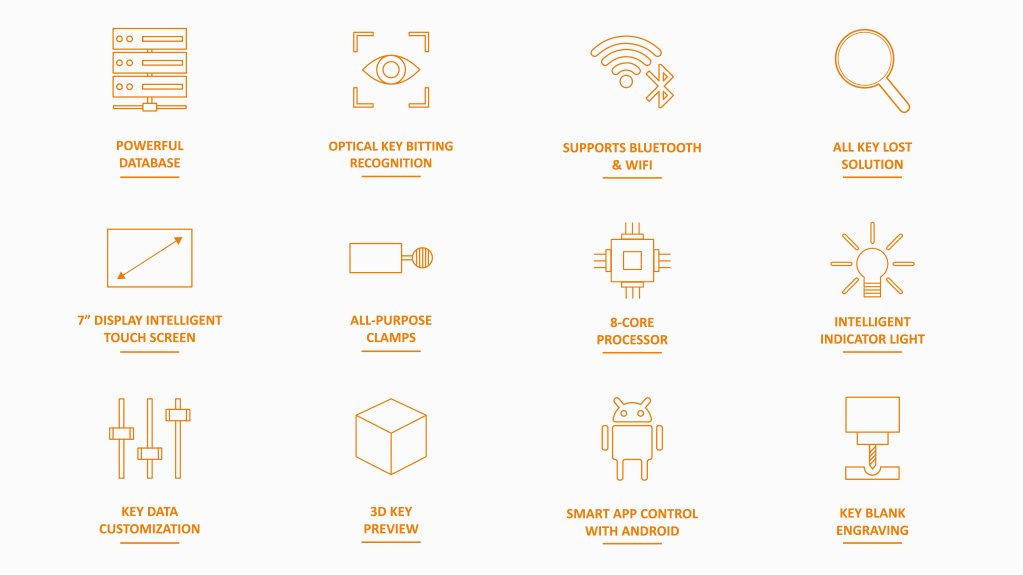 The Condor II comes equipped with M5 and M3 clamps; the M1, M2, M4 clamps are optional. The M5 multifunctional clamp supports various key types, including: side, track, tibbe, F021, Citron SX9 keys, residential keys, and much more.
The comprehensive M5 clamp is a 2-in-1 clamp, covering the uses of the M1 & M2, supporting two-track external, channel track, standard single-sided, four-track external, four-track internal, standard double-sided, and dimple key types.
With an 8-core processor, the Xhorse Condor II is much faster than its predecessor, giving you a quicker high-resolution process.
Similar to the Dolphin II, this machine is equipped with automated Intelligent Colour Synchronisation:
Red light – error warning
Blue light – normal working
Yellow light – info notification
Powered by an Android System, so you can still use your Xhorse app.
Decode with 2-in-1 or other pro tools, such as the Xhorse Key Reader.
The built-in comprehensive database cover over 100 car brands, 2000 car models, 20000 keys, including all key lost data. Additionally, this machine comes with a lifelong upgrade service for free.
The Condor II comes complete with a 7″ angle-adjustable touch screen, helping you minimise your need for a mobile device, and with a resolution of 1280*720 pixels, you are sure to get a picture-perfect display.
Support numerous types of keys such as automobile, motorbike, household, and other general keys.
Once you have downloaded the extensive database, you have the ability to work offline. Great if you are a mobile auto locksmith and often work in rural areas.
Add a unique design with key blank engraving; using Bluetooth and wifi capabilities, and you can share the desired design via your connected devices. In addition, the Condor II screen allows you to edit text and pictures, resize them and make your customer keys unique to them.
Quickly and accurately identify almost all car keys, motorcycle keys, plastic keys and aluminium keys while connected to the Xhorse key reader with optical key bitting recognition
Preview the 3D shape of the target cutting key before starting key cutting work, which can significantly avoid wasting the key blank.
Super high precision processing results as the finished keys passed the precision test of the advanced Optical Instrument.
Customise key bitting data by having the ability to add customised key parameters, which support the latest key types and those not covered by the built-in database.
An all-aluminium body structure; manufactured by a German-made DMG CNC machine, which guarantees high precision cutting results with a robust design. The finished keys passed the stringent test of the optical instrument.
Xhorse offers a three-year warranty for the Condor II. In addition, you can easily find lifelong free online technical support in the form of videos and articles on Xhorse APP, which will significantly help you with your work.