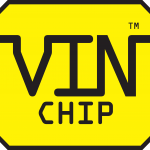 The UK marking scheme for touring caravans and motorhomes, VIN CHIP™, has joined the official police security initiative Secured by Design, making it a Police Preferred Specification accredited product.
VIN CHIP™ is an anti-theft identification system for leisure vehicles and provides an essential part of work to disrupt criminal activity. VIN CHIP™ have been using radio frequency identification, known as 'RFID' technology since 1998. Each RFID chip holds the unique 17-digit VIN (Vehicle Identification Number) and links directly to the Central Registration and Identification Scheme (CRiS).
VIN CHIP™ provide highly visible security labels that display the VIN and a unique QR code that warn criminals that the vehicle is VIN CHIP™ protected. VIN CHIP™ scanners are issued to Police and Law Enforcement agencies who work closely with VIN CHIP™, and even if criminals seek to re-identify the leisure vehicle, the RFID chip will still reveal its true identity, providing a fast and reliable process of confirmation.