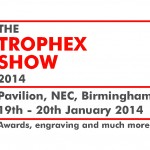 Trophex is the exhibition for the trophy, awards and personalisation industry whether you are an exhibitor or a visitor. Trophex is an essential exhibition for the industry and the perfect show for exhibitors to give live demonstrations, launch new catalogues and showcase new products and technologies to key decision makers and buyers who are looking for new ideas and opportunities.
Visiting Trophex will help you to diversify and grow your business. Look for new suppliers and get better deals, find out about new innovations and products on the market. Find products that you never knew existed! Visitors can discuss queries face-to-face allowing them to take home valuable information and use it in their business. Come along to the show and see all the latest engraving machinery, the latest trends for the coming season and take advantage of any special offers that exhibitors will be offering exclusively to Trophex visitors.
Visitors to Trophex 2014 will be greeted by the sounds of engraving machines, digital printers and embroidery machines all whirring into action and making this two-day exhibition really come alive. The event takes place on Sunday 19th January and Monday 20th January 2014 – the Sunday opening is a great opportunity for business owners to visit.
As always the show will see an array of regular and new exhibitors including Trend House Ltd who will be returning to Trophex after a two decade absence. At the show the company will be displaying a range of glass and crystal products as well as promoting their full glass engraving service. Sculpture Designer will be exhibiting at Trophex for the first time. The company is a cooperative of lead crystal craftsmen who are all ex-crystal workers. Their products are all made to order, by hand, in natural materials including glass, marble and granite. The sculptures are perfect as awards, trophies, mementos, retirement gifts etc. Also exhibiting for the first time is Keyfactors Badges and Emblems. Keyfactors are manufacturers of domed emblems, supplying both the UK domestic and international markets including industries such as trophy and awards, automotive and machinery, promotional and advertising and computer manufacturers. Amaya Sales UK Ltd will be returning to Trophex for the first time for a number of years. The company specialise in the supply of embroidery machines, direct to garment printers, flat bed digital printers and associated software and accessories. They provide a complete service to the embroidery and digital print garment industry from small business start-ups to large established set ups. Trophex also welcomes Grafityp UK Ltd who has supplied a full range of GCC LaserPro machines for many years. At the show they will be exhibiting laser engravings, cutters, markers and accessories. The collection caters for a wide range of businesses with machines that will sit neatly on a desktop, taking up little space, right up to large format machines for industrial output.
Regular exhibitors returning to the show include Charles Birch, Glenway Products Ltd and Trendsetting Awards. These major trophy wholesalers will all be using the show to launch their new 2014 catalogues and visitors will be able to see these new ranges for the very first time. Lasers and engraving will, as always, be a big part of the show with companies including Gravograph UK Ltd, Mastergrave Ltd, Signature Engraving Systems UK Ltd, U-Marq, Davenport-Burgess and Trotec Laser Ltd all present. See their complete product ranges and watch live demonstrations of these impressive machines in action. 
The 2014 exhibition promises to be even bigger and better than before as the show includes some major new innovations designed to enhance the visitor experience. These include the Industry Awareness Zone and the Knowledge Centre. A series of seminars will take place over the course of the exhibition at the Industry Awareness Zone, offering visitors technical information and advice on a variety of subjects related to the industry. At the Knowledge Centre experts will be present from within the industry to give visitors advice, support, answer questions and solve problems.
Visit the Industry Awareness Zone where seminars will include: 'Releasing the power of CorelDRAW® Graphics Suite.' Whether you're an aspiring artist or an experienced designer, CorelDRAW® Graphics Suite X6 is your trusted graphic design software solution. With its content-rich environment, professional graphic design and photo-editing software, you have everything you need and Suzanne Smith from Corel Corporation will show you how you can express your style and creativity with endless possibilities. Dean Brittain at Gravograph will show visitors how to: 'Get the most out of your Gravograph machine/equipment.' This seminar will be dedicated to showing you how to get the most out of your equipment. If you have a Gravograph system and only use it for 'basic' engraving you may be missing out on additional revenue opportunities. Examples of 'how to' applications will include glass engraving with a traditional engraver as well as a laser engraver, Braille signage, metal engraving, rubber stamp manufacturing, sign making / routing / carving, photo lasering… and many more. The seminar will also be useful to those who don't own a Gravograph machine as they will discover how simple engraving and lasering can be with the right equipment. Another seminar which visitors can enjoy will be from John de la Roche at Hybrid Services Ltd. He will be showing visitors: 'How to add digital printing workflow to your business.' Small or large format, direct to substrate or dye sublimation, digital printing has rapidly become a 'must have' capability for signmakers, copy shops and commercial printers. For trophy and engraving companies to take advantage of consumer desire for short runs and one off prints, it's important to understand how best to maximise their investment. From the basics of integrating digital print into your workflow, such as evaluating and sourcing equipment and where to install it right through to promoting the service and finding new markets, John will talk you through the first steps to making the most of digital print technology.   
These are just some of the motivating seminars which will be taking place over the course of the exhibition with more to be added. Visit the website at www.trophex.com to find out more about the show and to register. Trophex is free to attend and there is no charge for car parking.
The organisers can be contacted:
Visitors Contact: Alison Cyster-White, Tel: +44 (0) 1442 826826,
Email: alisoncwhite@aol.com
Exhibitors Contact: Colin Gallimore, Tel: +44 (0) 1442 826826,
Email: colingallimore@aol.com
Hill Media Ltd organise the exhibition and publish the leading magazines for the industry: TEN – Trophy and Engraving News and eurotrophex magazine.
More information can be found on the website: www.trophex.com or why not find us on Facebook or follow us on Twitter!