A new suited door hardware range has been launched to make it easier for locksmiths and installers to source corresponding ironmongery in line with the latest design trends.
The new suited collection from ARRONE, a HOPPE brand, offers installers the choice of seven new finishes across selected door handles, traditional and designer knockers, letters and numerals. Coordinating pull handles are also available from HOPPE.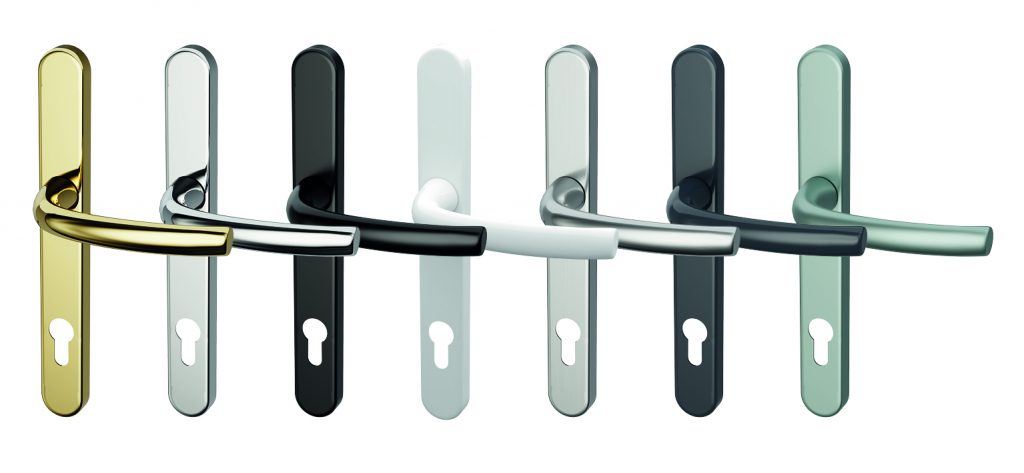 Traditional vs. contemporary design
All of the colours within the suited collection have been chosen to help installers provide homeowners with high-quality door hardware with versatile design applications.
In recent years there has been a revival of black and white ironmongery on doors across the UK, while dark grey hardware continues to grow in popularity. Stainless-steel effect and polished chrome are great choices for a more contemporary door design, while polished brass is a favoured finish for homeowners that want to maintain a more traditional appearance.
Practical application
At the heart of the collection is the AR7550 lever handle which has a 10.7mm backplate depth. The standard size of the back plate means it will cover most lock applications and make replacing existing handles much simpler.
Colour matched fixings come as standard, and a version of the range is also available for PVC doors.
Technical performance
While the appearance of the hardware is important, security and long-term performance is a priority. There is a security shroud that protects the cylinder and is sufficient to prevent access and acts as a visual deterrent.
As part of its commitment to high quality products, the ARRONE AR7550 handle has been tested to 200,000 cycles and has a 10-year mechanical operation guarantee, as long as assembly and maintenance guidelines are followed. It has also achieved the highest corrosion resistance grade under BS EN 1670 making it suitable for use in exposed marine atmospheres.
For more information on ARRONE suited products, visit the HOPPE (UK) website or contact the sales centre 01902 484 400.