Squire's new high security Elite 1™ dimple pin system answers the question often asked by locksmiths on how to combine a conventional saw tooth key system with a dimple system.
That's because Squire has made it very easy to add this new cylinder option to its extra-high security Stronghold® padlock range.  And Elite 1™ is available from the start of December.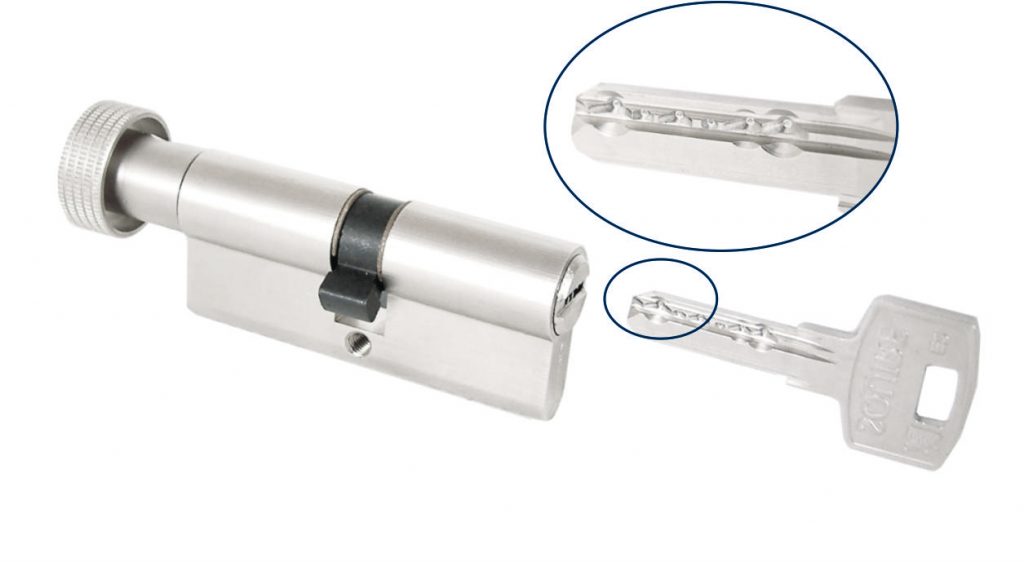 The Stronghold® Elite 1™ dimple pin system has the same space measurements and uses the same top pins/drivers and springs.  Simply remove the Standard/Restricted core and replace it with the Elite 1™ core.
You will need a small addition to your pinning kit to include the Elite 1™ differ pins, but all you have to stock is Elite 1™ key blanks, Elite 1™ cores and Elite 1™ differ pins.
Elite 1™ features and benefits
High quality 6-pin locking system with nickel plated pins
470,000 keying differs
Picking protected
Drill protection in cylinder body with 1 tungsten carbide pin
Drill protection in core with three tungsten carbide pins
Protection against pulling
Nickel plated core
High wear resistance
Supplied with three nickel silver Squire keys
Can be supplied master keyed or keyed alike from Squire
Can be fully integrated into our existing Stronghold 6 pin key systems
Key blanks are available
Keys can be cut on all laser and dimple key cutting machines.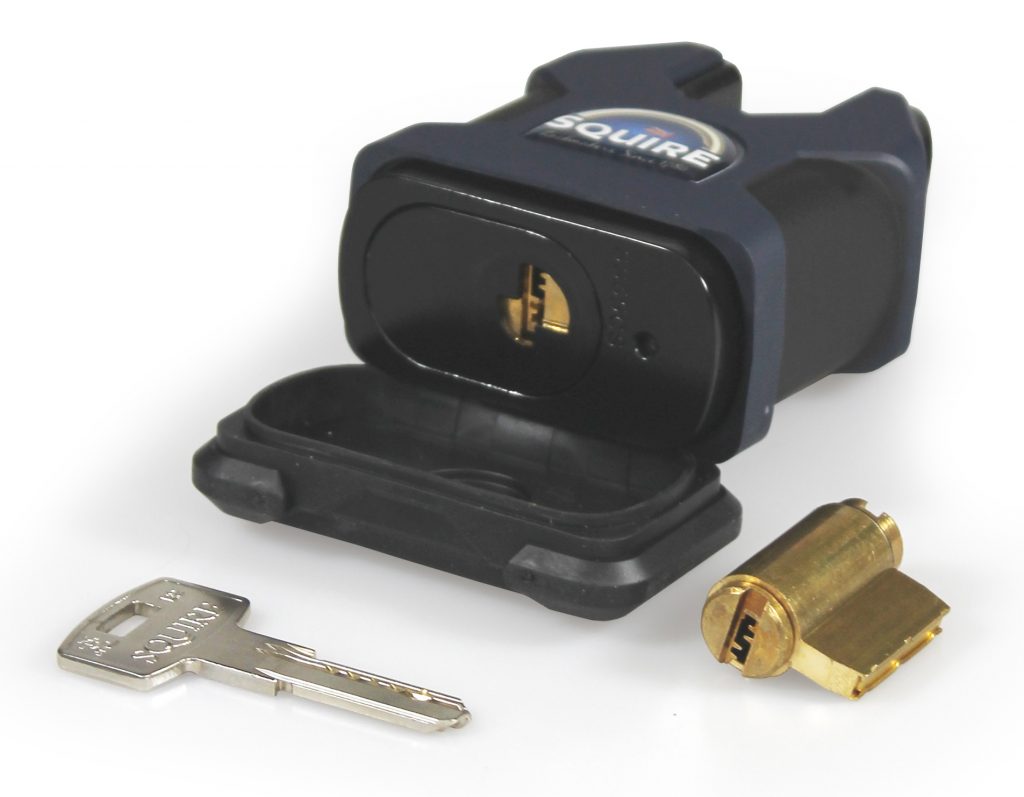 The Stronghold® Elite 1™ dimple system can be integrated easily into Squire's range of Stronghold® SS80, SS65, SS50 padlocks and WS75 container lock.
Locksmiths can create keyed alike and master keyed suites using Squire's range of cylinder types and profiles for Stronghold® padlocks.
Additionally, these padlocks easily accept Euro profile and Scandinavian oval cylinders, as well as NW4 and Stronghold Protected and Restricted cylinders.
This brings locksmiths absolute flexibility when deciding what level of security customers' need.
The Stronghold® high security padlock range comes in many sizes and shackle variants.  Many highlights are the solid hardened steel lock body, electrophoretic anti-corrosion finish, hardened boron alloy steel shackle, anti-drill protection and high corrosion resistance for harsh environments.
Most of the extra high security Stronghold® range has the added benefit of tested and approved to the highest global standards by Sold Secure, CEN and LPCB, and supported by Secured by Design.  Testament to Squire's reputation for long lasting toughness.
Designed, engineered and made in Britain, the Stronghold® brand is Squire's premium range of extra high security padlocks, padbars, keysafes, chains, and lock and chain sets.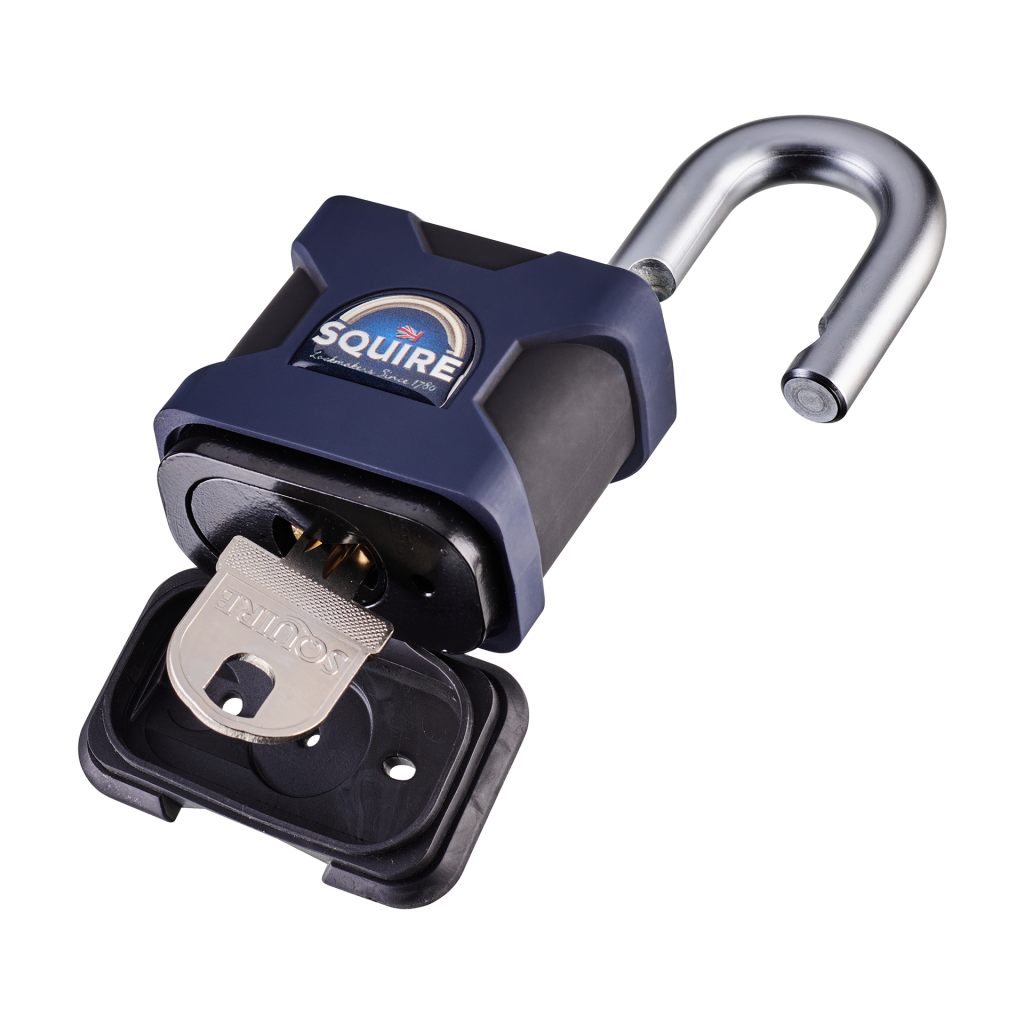 High security chains
Squire's range of high security hardened alloy steel chains are Sold Secure Gold and Diamond approved for cycles and motorcycles.  Featuring 14mm, 16mm, 19mm and 22mm diameter links and chain lengths up to 2m, they are all covered with our signature Squire blue protective sleeves. Plus, they are purpose designed to combine with our Stronghold® padlocks SS65CS, SS80CS and SS100CS.
Squire's super heavy-duty Stronghold® SS100CS is universally respected as the world's strongest production padlock.
It is designed for outdoor use where maximum security and corrosion resistance is a priority.  Locations that are high risk, such as perimeter gates, warehouses, outbuildings, shipping containers, heavy machinery, commercial vehicles and for high value property including motorcycle security at home.
This dual cylinder closed shackle padlock with 100mm wide solid steel lock body is the first ever to achieve the highest Loss Prevention Certification Board (LPCB) SR4 standard (not as a set) and the highest security CEN Grade 6 rating.
Each 6-pin cylinder offers 250,000 key differs, when combined they give a total of 625million differs.
One of the many benefits of this dual cylinder padlock is its wide range of uses. It can have 'same key' cylinders, where both cylinders operate using the same key.
Or they can be keyed to differ, where the padlock is operated using two different keys.  Both versions can be keyed-alike and master-keyed.
Keys can be held by different people and the lock cannot be opened unless both keys are presented. Remarkably, the SS100CS weighs a massive 4.3kg of British steel and is capable of a tensile pull of over 24 tonnes (independently tested).