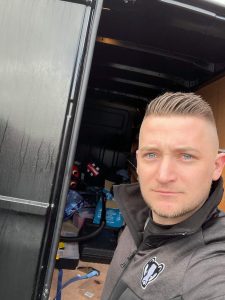 Stewart Scott of Badgers Locksmiths joined Teamwork Locksmiths two years ago. Here, Stewart talks us through a day in his Monday to Friday life, how he spends his weekends and eight years of locksmithing that led him to where he is today….
"My name is Stewart Scott, I am 32 years old and managing director of Badgers Locksmiths Ltd. I currently live in Beverley, East Yorkshire but operating our Locksmith services from York all the way down to Leicester.
"Personally, I first started locksmithing in 2013 but didn't really start utility warrants full-time until August 2018. I then set up Badgers Locksmiths in January 2019 and started working on the utility warrants for Teamwork Locksmiths.
"A typical day on the utility warrants will be that we start at the first address at approx.. 8am, meeting the warrant officer and engineer, attending various addresses, usually finishing around 4pm. In the past I have had numerous careers but never managed to find one I truly enjoy, until now.
"Waking up in a morning, looking forward to going to work is what it's all about for me. I feel we are only here once and need to make the most of life. Working for Teamwork certainly helps as they are such a good company to work for. Doug, Sophie and the team have been brilliant since day one and I can't thank them enough for their support over the last few years.
"If I were to advise anyone wanting to start working as a Locksmith, I would tell them to just keep practising. A day will come when you get stuck on a door and it can be quite frustrating, you just need to remember that every Locksmith in the UK will have been stuck at some point.
"Effort and determination will help you overcome any problems you have. There are plenty of people in the industry who are here to help. I would also advise a few training days with Jason Hillier in Birmingham. He is the best in the country in my opinion and his wife does amazing bacon sandwiches!
"2020 was a tough year for most locksmiths in the industry due to Covid but hopefully we are on the way up and onto a successful 2021.
"Working hard is important but having down-time with your family and friends is just as important. I try to work hard Mon-Fri but like to play sport on a weekend and spend quality time with my daughter."