Many security professional resellers work alongside specifiers and architects to offer products that meet building regulations, which is imperative to help prevent detrimental fire-related incidents and illustrates the importance of incorporating building materials holding the stamp of approval.
Doors, ironmongery and lock cases can help restrict the initial development of a fire.  A properly fitting and working fire-resistant door, accompanied by CE marked ironmongery and mortise locks, can help to suppress a fire by limiting the amount of oxygen available to it and with the necessary restrictions on the spread of fire.
A closed fire-resistant door is designed to survive a direct fire attack for a defined period. The DOM D31 DIN locking range is checked to prevent and reduce the propagation of passive flames by up to 240 minutes. Both the Premium and Contract ranges of D31 Mortise locks are available with 20mm, 24mm forex and 60, 65 or 70mm backsets.
To initiate this test, a UK door manufacturer Bradbury Group supplied two door sets to Warrington Fire. After approximately 240 minutes, and rising temperatures of up to 1160 Degrees Celsius, there were no traces of active flames reaching the door, and the lock case remained intact. By meeting this test method, it proves in the event of a fire the D31 Single Mortise Locks meets all fire resistance standards to BS EN 1363-1 and EN 12209.
This greatly limits the spread of fire through a building, allowing more time to clear the premises and initiate fire safety personnel, such as sprinklers and firefighters, to perform their duties.
The availability of safe escape routes is a condition of the Construction Regulations to cover escape routes. Any door opening on an escape route or operating over an escape route is likely to be marked with a fire-resistant door to ensure that people using the path are safe from fire while they escape.
Designed for areas where high performance, strength and durability are essential, the D31 range of locks and latches cover an extensive range of specifications including contract lockcases; For traditional styled buildings and Premium lockcases designed to meet the requirements of modern building types; each include sash lock, deadlock, mortice latch, deadlocking night latch, bathroom lock.
Tested to more than one million+ cycles, D31 mortise lockcases offer assured strength and is supported by its superior durability, meeting the BS EN 12209 standard and offered with a 5-year guarantee.
www.dom-security.com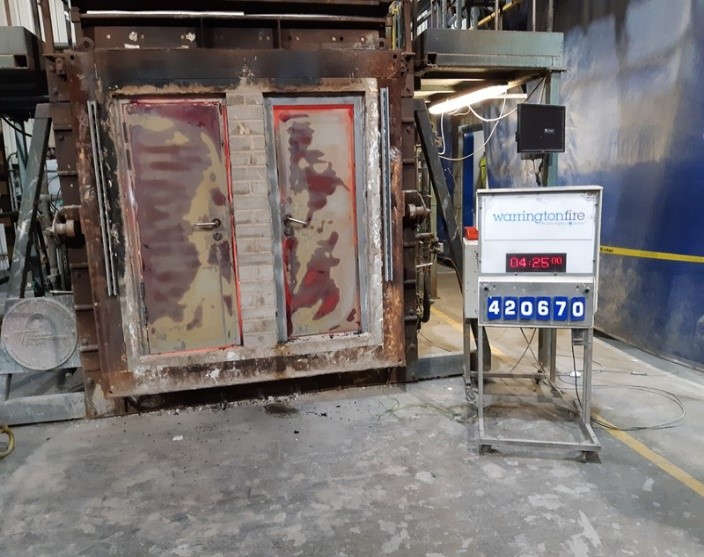 Features and benefits
Bathroom lockcase can be locked and unlocked using a thumb-turn from the inside. It also has extra security with its Saw & Drill protection.
Deadbolt lockcase can be operated with a standard European Profile cylinder. The retractable deadbolt secures the door in place and offers extra security with its Saw & Drill protection.
Latch lockcase is ideal for internal doors. The latch provides a simple way of keeping a door closed. In case of emergency, the lockcase can be operated with the handle alone.
Night latch lockcase is compatible with electronic strikes and will automatically lock the door when it's closed without using a key. A key is needed to open the door from the outside
Sashlock lockcase can be operated with a standard European Profile cylinder. The retractable deadbolt and latch secures the door in place and offers extra security with its Saw & Drill protection
UK National Sales Manager Mr Lloyd Chitty comments, "This is a great development for our mechanical locking range, and works in line with fire and safety regulations for buildings and door safety. We look forward to working alongside our resellers to ensure we bring you the best products to ensure standards are met and security is always kept at the forefront."