The trusted locksmith industry magazine, The Locksmith Journal, is introducing its new online service, Locksmiths Local at the MLA EXPO right now!
Locksmiths Local is a directory of local locksmiths, for local jobs. The online site cuts out the middle man so the public can find a local locksmith with ease and get in touch with them directly.
Locksmiths Local from The Locksmith Journal is currently being exhibited at the MLA EXPO in Telford. Visit stand 240 to make sure you are a part of this new online service and ensure Locksmiths Local has your correct details so potential customers can find you.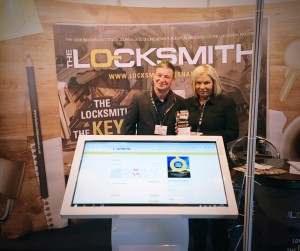 Designed for local locksmiths, the directory will have no national companies or call centres, just local companies, for local people.
The structure of the website is simple, when the public search for a locksmith, the nearest locksmith companies will top the search results.
Rob Exley, Director The Locksmith Journal, said: "We are very excited to introduce Locksmiths Local. It's a great opportunity for locksmiths up and down the country. We invite locksmiths to come and visit us this weekend at the MLA EXPO."
For more information email rob@cvgroup.co.uk or call 01226 321450