LockLock, the security handle from Brisant Secure, now comes suited with the Sweet letterbox, numerals and a newly designed two-part knocker.  Not only does it come in all the standard colours you would expect, but also now in rose gold.  Brisant made this decision as home-owners were increasingly asking for a secure handle as part of a furniture suite.  Many households are multi-occupied and making a decision about a door handle is rarely the domain of just one person.  Now LockLock, with the other curved products that make it look so good on a door, make it the go-to security door handle for everyone in the house.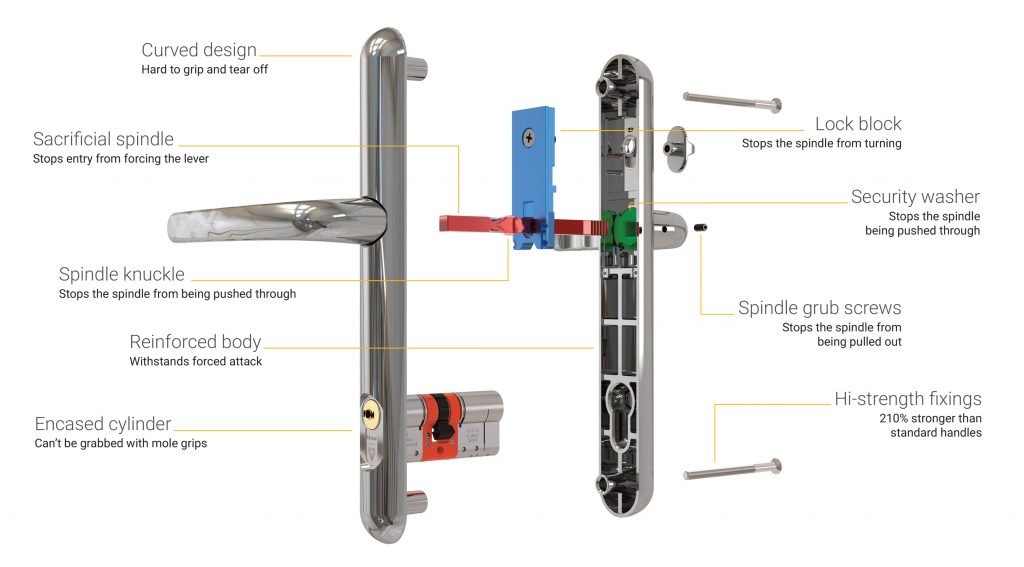 Rose gold has become adopted by the millennial generation and beyond. It is incorporated into everything from architecture to hair dye.  Rose gold is no longer a trend, it is a colour that is here to stay.  It is the new neutral.  It is the colour of choice for many households.  We have been amazed by its popularity just in the last few weeks since its launch.
LockLock is the security handle that lasted over 8000 hours in a salt sea chamber, the recognised test for weather protection.  That's over 33 times the necessary accreditation of 240 hours.  Brisant-Secure chose to manufacture LockLock with 6 layers of armour coating.  This handle looks pit free for years longer than we will be here to worry about it.
We know that once people see what LockLock offers, they want one.  We know that once a locksmith has used it and seen LockLock in action, they want to use it again. We know that fabricators will sell more doors because LockLock is a secure lock and a beautiful handle in one unit, unique to the market.  Only recently has it been made fully available with other door hardware so that the doors look as good as they are secure.
In a nutshell, LockLock is a secure lock and a beautiful handle in one unit.  The handle can be bought to use with a euro cylinder, it doesn't get safer than a three-star Ultion and a two-star Sold Secure accredited LockLock. Alternatively, buy the keyless version, perfect for doors that you never need to lock on the outside.  On both versions, an internal switch within the handle locks the door spindle.  If the spindle can't turn, the door will not open.
Did you know that Coton in the Elms in Derbyshire is the furthest village in land in the UK?  Yet it is only 70 miles from the coast.  So, wherever you live in the UK, you will be no more than 70 miles from the salty sea, responsible for destroying hardware on doors, and thousands of phone calls from irate across the UK.  The entire Sweet range, including LockLock will stay pit free and continue looking smooth and beautiful for years and years.
So why else is this handle so special?  It's because it is secure and will keep burglars out and your customers safe.  Built within it are nine unique and patented methods of protection against burglary. It's curved design guards against it being gripped and torn off the door.  It has a sacrificial spindle meaning the lever cannot be forced.  The internal lock-block stops the spindle turning if it has been attacked.  An internal security washer stops the spindle being pushed through.  It also has top strength fixings.  It has spindle grub screws so the spindle cannot be pulled out of the handle.
LockLock is a non-handed TS007 two-star handle.  It is the only handle to have achieved Sold Secure accreditation.  It is suitable for all door types and come with EN1906 Grade 4 salt spray test and EN1906 Grade 7 durability.  Brisant-Secure is so proud and confident of this secure locking handle, the business offers a twenty-year guarantee managed directly by Brisant with the home-owner.
If your customers are looking for top security, Brisant can offer this.  If they are looking for security in a handle that looks great on the door, Brisant can offer this as well.  The great thing about LockLock is now that it is also offered with numerals, a letterbox and a knocker.  It makes it part of an interior design decision as well as a decision about security, which will keep everyone in the household happy.