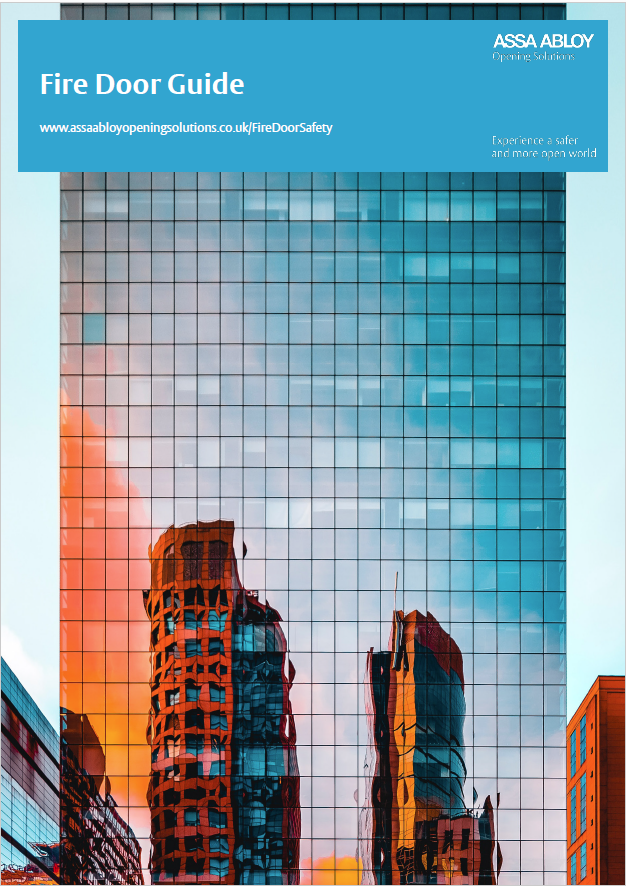 ASSA ABLOY Opening Solutions UK & Ireland has continued to support Fire Door Safety Week (23 – 29 September 2019) by launching a Fire Door Guide to help guide specifiers, building owners and facilities managers in the best practices when it comes to fire door safety.
Drawing on many years of experience with fire door safety, ASSA ABLOY Opening Solutions UK & Ireland wanted to utlise this expertise to help guide persons responsible for fire safety in making the right decisions when inspecting and maintaining fire doorsets.
Its Fire Door Guide is based on documentation from various third-party accreditation bodies such as the British Woodworking Federation and the Door Hardware Federation. It aims to be a simple reference document suitable to help steer persons who work with fire doors within both residential and commercial buildings.
Using first hand industry knowledge from ASSA ABLOY Door Group and ASSA ABLOY Door Hardware & Access Control Group, the guide filters and clarifies some of the complex jargon associated with fire doorsets. The aim of the guide is to increase knowledge in order to help keep fire doors compliant and regularly maintained.
With so much confusion surrounding the "responsible person" in fire door safety, the guide aims to break down any barriers between those living and working in residential, commercial and public buildings, and maintaining compliance.
The guide covers a wide range of processes that are vital to ensuring a fire door's compliancy and durability. Beginning by simplifying fire door regulations in understandable terms, the guide then goes on to cover the following topics: design and specification; ordering and procurement; delivery and storage; installation and usage; and concludes with management and inspection.
To download a copy of ASSA ABLOY Opening Solutions' Fire Door Guide, please visit: https://bit.ly/AA-FDG.
Want to stay in the loop with what we are doing around fire door safety?
Please visit: https://bit.ly/2J69p5H.