The UK Government has recently commissioned an investigation to review building regulations and fire safety, where it has become increasingly clear that there is a lack of understanding among some contractors, installers and fitters about the role of fire door sets and the implications of modifying hardware specifications.
Here are some top tips from the HOPPE (UK) technical team on the key things to consider when specifying architectural ironmongery for fire doors:
Install the correct hardware for your fire door
Fire doors are designed to compartmentalise a building to help protect it and to save lives in the event of a fire.
To do this a fire door must be installed correctly so that it fully closes into its frame, helping to restrict the spread of fire and toxic smoke for a set period of time. A correctly installed fire door gives building occupants time to evacuate safely.
The key components of a fire door and a fire door on an escape route are shown in the diagrams below: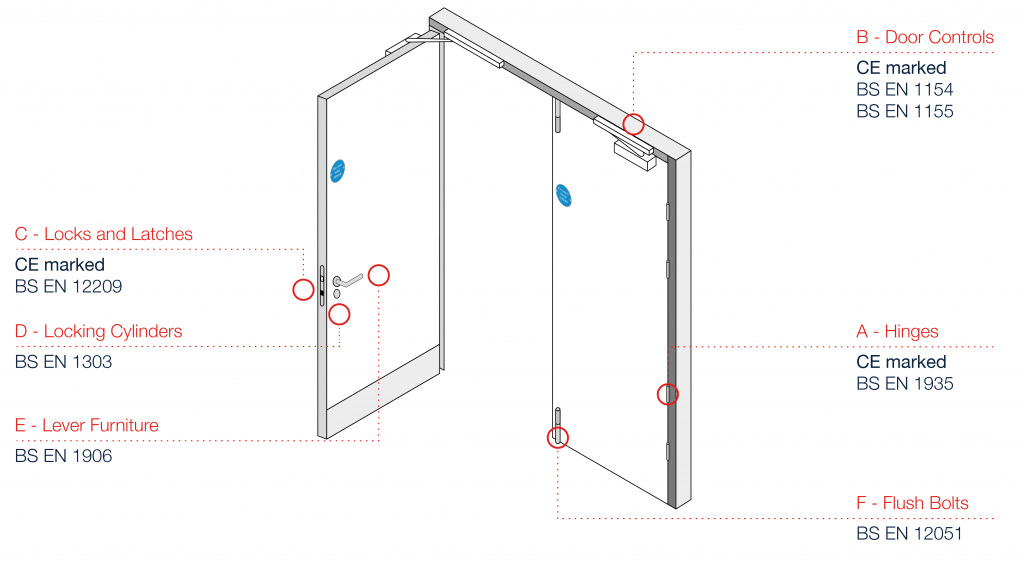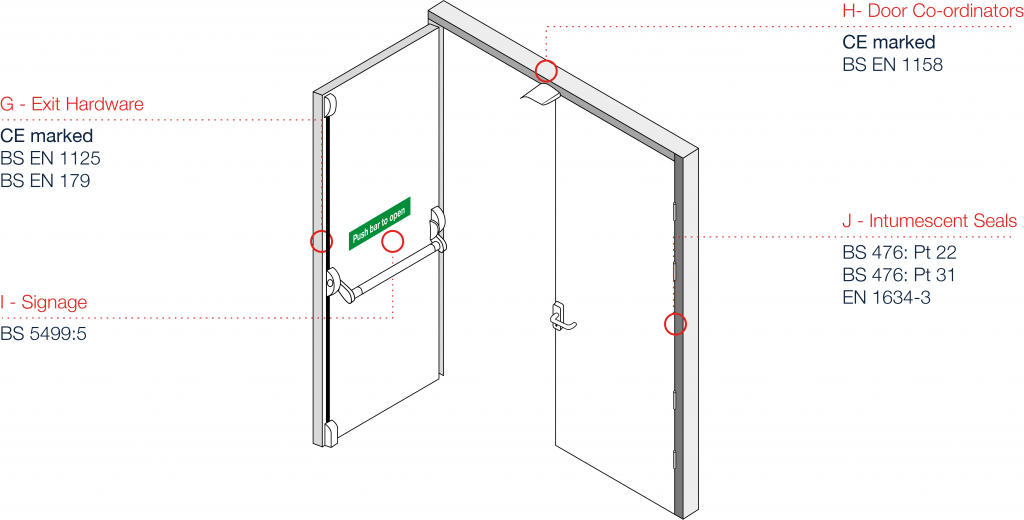 Fit hardware in line with manufacturer's instructions
It is essential that the chosen hardware has been tested by the door manufacturer on the specific type of fire door that it is being installed on, as incorrect specification will impact its performance. The door manufacturer's test evidence will advise on the hardware that has been tested with, and is therefore applicable to, the fire door being specified.
There are three types of "operational" hardware that are critically important for fire doors to perform: hinges, door closing devices, and locks and latches.
Consider the accessibility requirements of building users
As well as meeting fire regulations, also consider the functionality of the door set and fitted hardware. Many fire doors are very heavy, and this can cause accessibility difficulties for some building users.
Safety is paramount so when it comes to replacing any component of the door set or hardware, the products must firstly have been tested as a combination by the door manufacturer and the fire/mechanical performance must be equal to or better than that of the door. Replace 'like with like' by using the same hardware brand or crosscheck the tested elements and certified products for the door set.
Always consult with the original door manufacturer if in any doubt or contact one of HOPPE (UK)'s Guild of Architectural Ironmongers (GAI) qualified experts for advice.
Check that all products have been fire tested
Life safety products (hinges, door closing devices, locks, panic and emergency exit hardware and door coordinators) need to be CE marked as a mandatory measure on fire and escape doors. Any product that is CE marked must also by law have a Declaration of Performance (DoP) in accordance with the Construction Products Regulation 2011.
A CE mark may not always be visible but it must be on the product, instructions and or packaging somewhere.
HOPPE (UK) also uses a separate, optional third-party accreditation scheme called Certifire for its CE marked products. This it means that any accredited products are tested and certified above and beyond the levels required for CE marking, giving extra peace of mind to the end user.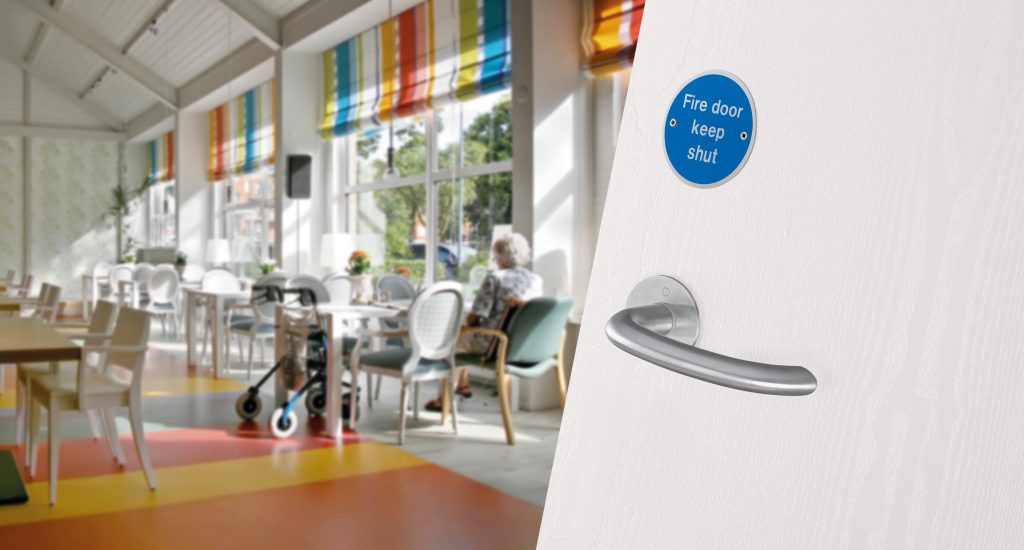 Check if panic or emergency exit hardware is required
You may also need panic and emergency exit hardware depending on where the door is located. If the fire door is on an escape route, you will also need to fit panic or emergency exit hardware. The type of hardware fitted will be dependent on the building's type, application, its occupation levels, and where it is in the building.
Emergency exit hardware
Emergency exit hardware is mainly used in buildings where users are familiar with exit routes, such as private premises including offices and warehouses, and are not accessible to the public. Devices for these doors could be a simple push pad type device or a lever handle operating a mortice escape lock or nightlatch.
Panic exit hardware
Panic hardware is used in buildings where members of the public have access to the building but may not be familiar with the exit routes, for example hotels, hospitals, stadiums and cinemas. This also applies to any building that has more than 60 people in it.
Any doors in areas that are accessible to the public must have a device fitted that is operable by a horizontal bar that covers at least 60% of the overall door width. As well as being easier to see and use from an accessibility point of view, it also adds another layer of safety functionality in the event of an emergency.
Keep up to date with latest product guidance
Specifiers can now access all the information they need on compliant panic and emergency exit hardware solutions in a new guide from ARRONE, the sister brand of HOPPE, that can be downloaded from the HOPPE (UK) website: www.bit.ly/ARRONE-pocket-guide
The free guide has been published to help specifiers ensure they are supplying the optimum panic or emergency exit hardware solution for their project. It contains a three-step product selector to help find the right device for the application, information on outside access devices, advice on positioning hardware on different types of doors and frequently asked questions.
Keep up to date with CPD
HOPPE (UK) offers a free RIBA approved CPD seminar which focuses on ironmongery for fire and escape doors. The seminar aims to help those involved in specifying and installing hardware for fire doors to understand the critical role of fire doors and the importance of correctly specified door hardware.
For more information, or to book a CPD session at your place of work, please contact Andy Matthews on 01902 484 439 or visit our CPD page or email completerange@hoppe.com