Hickleys Ltd has chosen Lockex 2018 – Security & Fire Safety to launch the long-awaited replacement for the MVPPro from Advanced Diagnostics Ltd. Called the Smartpro, this all-new key programmer offers cutting edge technology with some great new features including the renowned iQ information system built into the handset. Plus, with an increased application list, intuitive procedure and a flexible system of token, time or owned software payments, the Smartpro is set to quickly become a hit with key programmers around the globe.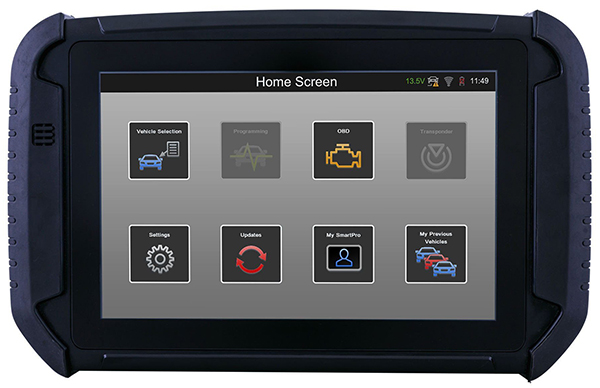 Exclusive to Lockex, there will be excellent launch offers on the new Smartpro, with trade-in deals available for existing users of the MVPPro and AD100pro. The Smartpro will be on continuous live demonstration throughout Lockex 2018 – Security & Fires Safety for auto locksmiths to see the tool in operation, and try it for themselves on a live car.
In addition to the Smartpro launch and live demonstrations, Hickleys will have a range of its specialist auto locksmith tools on the stand such as the Zedfull key programmer (and the latest Mercedes upgrade), Silca RW4+ and Handy baby key cloners, Keydiy remote generators, plus key machines such as Miracle, Ansan and Silca Futura. As always, with Hickleys, there will be a fast-moving range of keys, remotes and transponders with some great show deals to buy and take home, same day, plus its highly skilled trainers will be on the stand to offer advice on opening techniques, discuss the benefits and features of the new Smartpro, guide you through practical demos at opening a range of auto and domestic locks, and talk about future training options that will improve your abilities and advance your business.
If you're an auto locksmith, that's not all you'll have to look forward to at the show this June, following on from the success of Lockex 2016's auto locksmith area, the next event is taking the organisers' motto of 'bigger and better' right past the finishing line…
Other key points for auto locksmiths to mark off on their Lockex maps this year include:
The 3D Group stand where visitors can view products such as dash cams, OSCA, Mr Li picks, turbo decoders and mini decoders, and see working demonstrations of diagnostic, key cutting, and programming masterclasses for the likes of the Autohex and Xhorse.
Advanced Keys – UK's official distributor of The Diagnostic Box – who will be showcasing a selection of new key ranges, as well as working demonstrations of a host of equipment including the TDB1000 key programmer and related support systems.
Canas Ltd of Bulgaria for displays and demonstrations of key cutting machinery, equipment, and product selection of remotes, key blanks, key rings, plastics tags, branded RFID tags, shells for various car makes and models, AVDI, and opening tools.
Keyprint for a vast array of tools and products including (but not limited to) automotive key programming tools, high security van locks, cutting and opening tools, plus working demonstrations from Keyprint's own expert team.
Kent-based auto locksmith equipment supplier Lockdecoders will be exhibiting the latest developments in transponder cloning, advanced computerised key-cutting machines by Miracle, specialist auto locksmith tools plus a huge selection of car and van remotes and keys.
And last but not least,
NW Keys has chosen Lockex 2018 – Security & Fire Safety as the place to launch its brand new 'The Remotes Manual 2018'. Following on from 'The NW Keys Transponder Manual 2016', the NW Keys literature is widely renowned by auto locksmiths to be 'gospel' in the industry. The Liverpool locksmith company will also be displaying and demonstrating genuine Mr Li products and Oyster vehicle lock parts.
The Locksmith Journal will keep you up to speed with all the upcoming auto locksmith Lockex news before the event and if you're registered you will get any updates straight to your inbox so you can plan your weekend schedule and never miss a moment of the show. Not registered? Head to www.lockex.org