The Covid-19 lockdown has seen a significant number of people working from home, potentially for the long-term.  Although home burglaries have fallen during lockdown, the time spent at home has led many owners to review their security measures.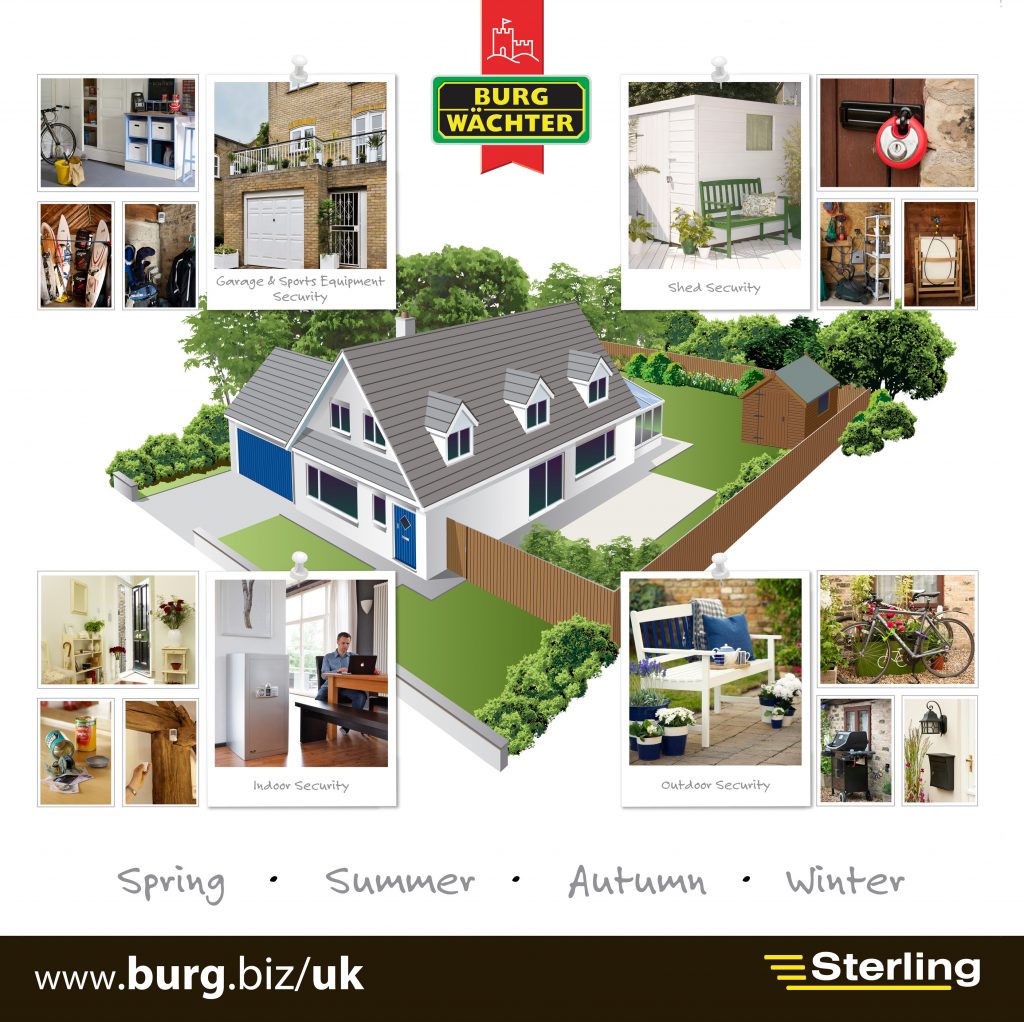 When it comes to security, prevention is certainly better than cure.  Similar to clothing at this time of year, Burg-Wächter believes that good security is all about building in layers.  Starting with the perimeter, advise customers to make sure that entering the property is going to be an obvious hurdle by locking gates – this helps keep unwanted visitors out and valuable items in.  External lighting along with correctly positioned and installed CCTV cameras provide both a good view of the property along with a strong visual deterrent – a great way to bring unwanted attention to burglars and peace of mind for customers.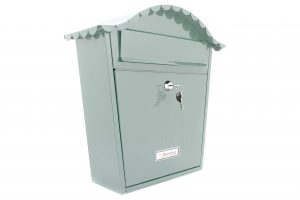 Posting great sales
Recognising that Covid-19 has seen a dramatic rise in the number of online orders and home deliveries, it's also worth offering customers a post or parcel box.  Not only will this keep their post or packets dry and secure, it also limits contact with the delivery driver.  Other added benefits of replacing the letter flap with an external post box include improved energy efficiency (by eliminating a potential source of drafts) and overall security (by removing the opportunity for thieves to fish keys and/or identity documents through the letter box).
Increasingly style-conscious customers care as much about the appearance of the outside of their property as the inside.  Reflecting the growing trend for coloured uPVC windows and doors, Burg-Wächter offers Europe's largest range of designs and choice of colours, meaning there's a solution for every building.  Stackable options meet the needs of apartment and office buildings, whilst the choice of either wall-mounted or free-standing models bring added flexibility to the range.  Customer appeal is further enhanced by the variety of materials available, including stainless steel, high quality plastic and powder-coated galvanised steel.
Style is no substitute for substance, so all Burg-Wächter post boxes conforming to the European standard EN 13724 assure superior performance, greater resistance to attack and enhanced protection from the best and worst of the British weather.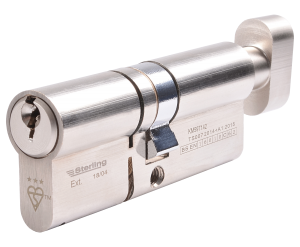 A doorway to securing sales opportunities
Police report that the most common entry point for burglaries is through the front door, with ground floor window and other external doors close behind.  Offering everything from cylinders and nightlatches, to mortice and rim locks, to digital locks and door/window locks, it's easy to see how Sterling is helping locksmiths latch onto sales opportunities that make customers feel safe as houses.
Featuring anti-drill, anti-pick and anti-bump protection, Sterling's 3-star and 1-star Kitemarked DoorMinder cylinders have been indepently tested to and passed the latest TS007:2014 standard.  3-star Kitemarked DoorMinder cylinders offer further enhanced security by incorporating an innovative locking cam mechanism, which is automatically engaged when the key is removed.  Covering all popular sizes from 70-100mm, all DoorMinder cylinders feature a standard section keyway and are available with either keyed-alike or master key options.  Pinning and keying services are now available for both 3-star and 1-star DoorMinder cylinders through Sterling's sister brand Burg-Wächter UK.  It's worth remembering that pairing a 1-star cylinder with 2-star door handle offers 3-star protection, providing an upsell opportunity.
Sterling's nightlatches come in a variety of styles, sizes and finishes, from the traditional to the more modern deadlocking model.  A key feature of this nightlatch is that it can be deadlocked from the outside with a full turn of the key, providing additional security for doors with (or near) glass panels.
Other external and internal doors can also benefit from using door bolts or locks as it slows down and inconveniences any would-be intruders.  Multi-purpose door bolts are ideally suited for securing wooden, composite or metal doors that are either hinged or slide, particularly patio doors which burglars often use to remove bulky items.  Sterling's surface mounted multi-purpose door bolt features a reversible bolt which slides into a concealed fixing, with the added flexibility of enabling an optional ventilation position.
Any locksmith will appreciate that it's no use fitting strong security products to a weak door or frame, so advise your customers on additional steps they can take to strengthen their doors, particularly those with glass panels.  Where it's not possible to fit much stronger laminated glass, security film can be stuck over existing glass, which makes it harder to break.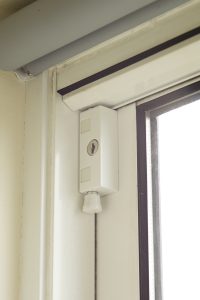 Avoiding a smash and grab
Glass panels in doors are particularly vulnerable, so Police advise fitting laminated glass which is much stronger.  Alternatively, security film can be stuck over existing glass, which makes it harder to break.  Windows should be secured with key-operated window locks to prevent them being opened, even if the glass is smashed.  For customers looking for an integrated solution, Sterling also produces direct replacement uPVC locking window handles.  Featuring a gradated spindle for easy fitting, Sterling's locking handles are available with inline and offset options to suit all applications.  The strong die cast handles have been subjected to extensive endurance and corrosion resistance testing to ensure they operate regardless of the weather and frequency of use.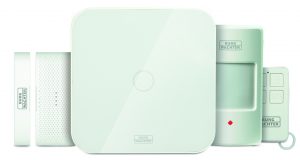 Cause for alarm
Easy to install smart alarms provide both a visual deterrent to would be burglars, as well remote notification via an app for early warning in the event of a break in, fire or flooding.  BURGprotect wirelessly connects to up to 200 accessories including movement, contact, smoke, vibration and water sensors as well as external sirens and remote controls.  This allows customers to build a tailored solution that matches their needs and can be easily expanded to meet future requirements.
BURGprotect is setup and controlled via the free app which also offers the convenience of remote access and notifications.  A simple scan of a QR code on the accessory is all it takes to add each component to the system.  The innovative three methods of connecting to the internet via LAN, WiFi and sim card, combined with an 8hr battery backup, ensures that the user is alerted even if there is a power cut or loss of broadband connection.
A simple add-on sale for installers, the Set 2200 starter kit includes Central Control Unit with built in sounder, two wireless magnetic door contacts, a PIR wireless motion sensor and a remote control key fob to arm & disarm the alarm.
The last line of defence
Should the worst happen and a burglar get in, a safe is still one of the most effective ways of protecting cash, valuables (including phones and laptops) and important documents.  Anecdotal evidence suggests that most burglars will take safes off site if they can, where they have more time, tools and privacy to break it open.  Therefore, customers need reminding that for the safe's insurance and fire ratings to be valid in the event of a claim, it must be properly installed in accordance with the manufacturer's instructions, ideally by a professional.  Space, location and fixing method are important considerations, as are the frequency and number of people accessing the safe.  As Europe's largest manufacturer of safes, Burg-Wächter is able offer locksmiths not only the widest range of AiS approved certified safes, but also the training, support services and sales materials needed to make the most of this growing marketplace.
www.burg.biz