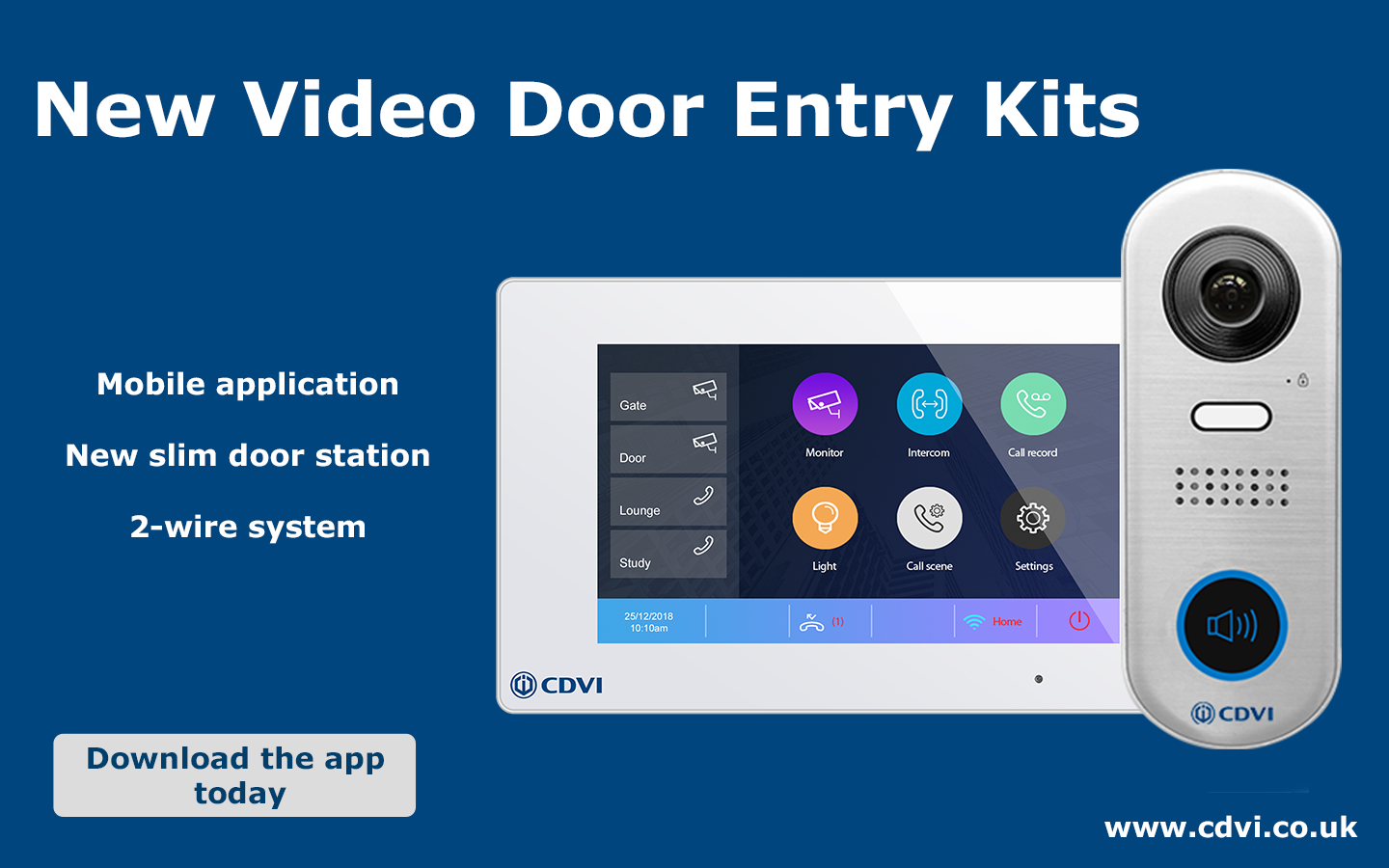 The 2Easy Series from CDVI offers you advanced security with an innovative WIFI connection with no monthly or annual subscription cost. You will only need a two wire non-polarised connection for the whole system, allowing straightforward installation. The self-learning programming feature (by QR code) will achieve a quicker and immediate installation. The connection also ensures simple maintenance of the system in the long term.
The CDV47DX now includes Wi-Fi connection and a new free mobile app allowing users to control access from their phone by receiving calls and remotely releasing multiple locks. Download the app now on Android and IOS!
Ideal for residential complex and high-rising apartment building, the 2Easy system expands to up to 128-way entry and 4 entrances, allows for CCTV camera connections and integrates with the ATRIUM Access Control for a fully functioning and secure entry system.
The choice is yours with a full range of handsets, hands-free audio phone, door stations and monitors, all compatible with the 2Easy audio and video system.
About the new CDVI kits
Includes CDV91S (new slim door station) – CDV47DX (new Wi-Fi monitor, available in black or white) – CDV-PC6 (power supply)
Includes CDV96KP (updated door station with integral keypad) – CDV47DX (new Wi-Fi monitor, available in black or white) – CDV-PC6 (power supply)
New product highlights
CDV47-DX – monitor with Wi-Fi connection
The CDV47-DX offers the same features as the CDV47, a high-resolution digital monitor with touch-screen technology.
The CDV47-DX includes a Wi-Fi connection and free mobile app, with no monthly or annual subscription fee.
Its updated interface allows for straight-forward daily usage and remote connection.
Now available in black or white from CDVI.
CDV91S – new door station
This modern slim line design door station fits all environments.
It features a 170° camera with audible operation annunciation, such as "call is in progress"
Easy to mount and only needing a 2-wire non polarised connection, the CDV91S will complement any video door entry system.
CDV96KP – improved design and features
The CDV96KP is already a best-seller in the 2Easy range, thanks to its integral keypad. Now stronger from improved features, such as a new design and an updated 170° wide angle fisheye camera.
Controlling up to 2 relays, with the CDV-RLC, this door station offers flexibility and high quality for video entry systems.
View the full 2easy range here
For more information, contact sales@cdvi.co.uk / 01628 531300 or visit www.cdvi.co.uk