Being efficient is always a good idea. The problem is this comes more naturally to some of us than to others. Benjamin Dyer of Powered Now looks at how to be efficient and make the most of your business circumstances.
In what is likely to be a difficult next couple of years, efficiency is going to be key. That's because if times get tough, it's businesses that run most efficiently that will survive. The old saying that "it's only when the tide goes out, you see who has been swimming naked" may well apply here.
Probably the most important route to efficiency lies in self-examination. The efficiency of our business is almost certainly impacted by the way we are individually. Some people are naturally very efficient. Others may have greater strengths in customer relations, creativity and so on. It's hard to change the way we are.
If you are one of those who struggle with being efficient, it may be important to team up with someone with complementary skills. This might be your spouse or special other, a bookkeeper or maybe a business partner. Playing to your strengths might be the most helpful decision you can ever take. Either way, if the ideas in this article seem repellent – that may mean it's not you that should be implementing them!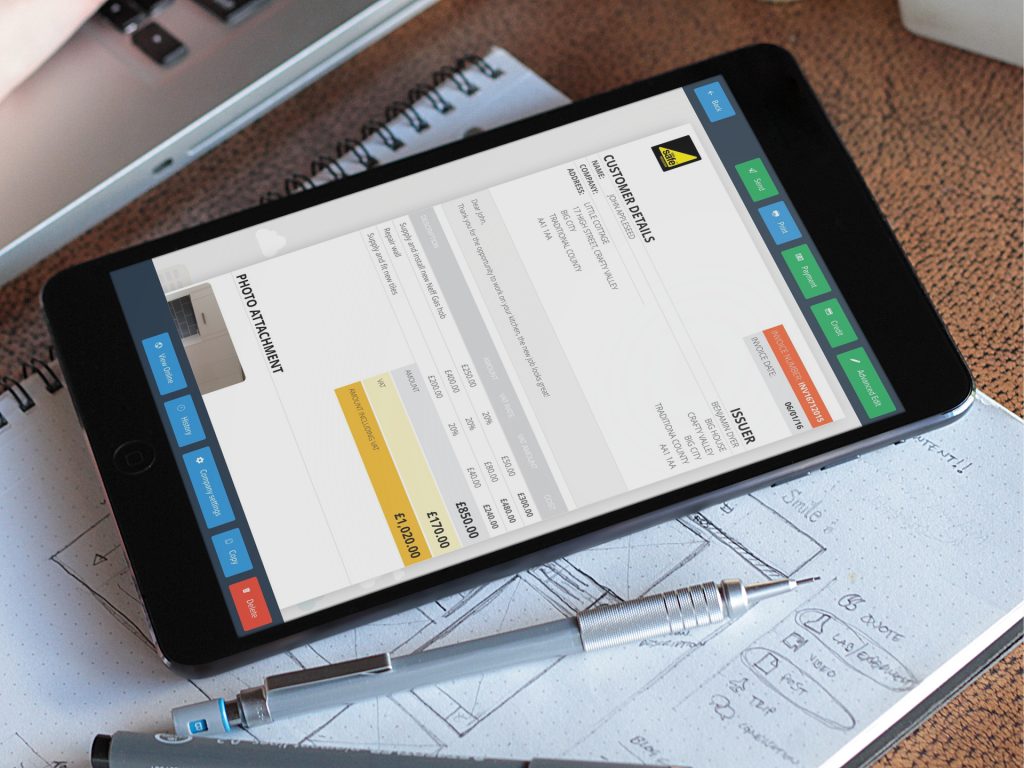 Collect everything that's due
Of all the business crimes of inefficiency that can be committed, failing to invoice for work already done must come top. Remember, this is where the client has asked for the work, any materials have been bought and paid for. Then the work has been completed. Unfortunately, you haven't been paid because you never asked for the money!
The key thing is to bother raising invoices for these small amounts. It's so important because this is all pure profit and can add up to quite a lot over a year.
Be organised for the job – especially with respect to materials
The easiest way to be well organised for a job is to do some planning beforehand. This may simply take the form of thinking about it for 5 minutes. While doing this, you note down the tools and materials you will need. You might also consider whether any special skills or additional muscle will be required.
It's all so that everything can be lined up to the point that when you arrive on site the job goes smoothly. If things aren't lined up, a lot of time will be wasted.
This is one way problems can manifest themselves. Several times, you have to leave the job, drive to a builder's merchant, park the van, walk around collecting materials, queue at the checkout, pay, take the materials back to the van and drive back to the site. This is all dead time.
If you are working to a fixed price quote, it's your time that's being wasted. If you are charging by the hour and charge this time, you are becoming less competitive. If you were more efficient you could charge more per hour and still win more business with keener prices.
As said earlier, the way to avoid the problem is to spend some time ahead of starting the job thinking about what will be needed and when.
Remember the seven P's. That is Proper Planning and Preparation Prevents Piss Poor Performance.
Use a trade account
Amazingly, a friend of mine, who is a former marketing director of B&Q, once told me just how high a proportion of trades people that walk in off the street to buy from B&Q at retail prices. This can hugely eat into the margins that you will make on the job.
Having a trade account and when necessary pushing hard on price can help a lot. And an equally important factor is the credit that you get. It means that you don't have to fund all of your work-in-progress from your own pocket until you get paid.
Get back to customers quickly
Another way of being inefficient is throwing away new business by responding to prospects too slowly.
It's hard to believe that when the coronavirus crisis is over, employment won't be lower for a while.  With airline pilots on part time, hospitality and the arts likely to be in tatters, there will be quite a few homeowners looking to cut costs in every direction. They won't be ordering new kitchens or boilers and will probably be skimping on boiler services too.
Given that, you must make the most of every chance for new business that comes along.
To be efficient, you have to make the most of every opportunity. And when it comes to winning new business, here is an iron rule. You need to get back to all initial enquiries and requests for quotes within 24 hours. Lots of homeowners complain how hard it is to get quotes from trade companies. Addressing this complaint immediately puts you in the driving seat to win the deal.
Just remember that you mustn't drag your feet just because you are busy. I have had quotes from people who were both high priced and asked me to wait three months. What that communicated was that they were good.
Your pricing will be much more defensible if you are very busy. It's much better to have too much work and a queue, than no work and twiddling your thumbs. And too much work also opens up the opportunity to expand, take on employees or use subbies.
Automatic selling
With 70% of business coming from repeat customers and recommendation, there is a lot of scope to make the process of organising repeat business better. For instance, if your customers can be reminded when they might want to book some more work, they may come to you when they previously wouldn't have done.
Obvious examples include gas safety checks and servicing boilers or other appliances, especially when this is required to maintain warranty coverage. Providing an online booking option with this can make it even more compelling.
Use the web
Most of the 30% of business that doesn't come directly from word-of-mouth comes across the Internet. This includes when people ask on Facebook or Nextdoor for recommendations. Or they may search on Google or look at Checkatrade or one of the other equivalents.
Having your own web site can help and is a necessity once you have a few employees and are intent on growth. Methods of generating leads include advertising on Google or Facebook as well as joining Checkatrade or using one of the lead generation companies.
The point about all of this is that it is electronic and has the potential to be very efficient.
Use a system
The most important thing in being efficient is planning and making sure materials are available when they are needed. While a system can help with this, experience probably counts the most and a great job can be done without a system.
However, when you look at virtually all of the other recommendations in this article, a system can help a lot.
Collecting all of the money that's due by making sure you invoice for it? Simple one click invoicing plus being able to invoice from the job makes this easy.
Getting back to customers quickly? Putting together quotes electronically with most information pre-filled then sending by email or text at the click of a button simplifies the process.
Automatic selling? This is all about having a competent system in place. Very few people are disciplined enough, or have the time, to always remind customers about repeat work 11 months after it was last done.
And of course, a system means that all of your paperwork is easier to do, is held in one place and never gets lost. The advantages of this to efficiency, particularly if you are a growing business, cannot be overestimated.
Seize the day
The government seems to be trying to do a lot to help the trade sector but there is still a chance that times will get very hard. It's always better to be ahead of the curve and the time to look at improving your efficiency is now. Even if the impact of coronavirus turns out to be small, you can benefit greatly from improvements in efficiency. That's in terms of higher profits, less hassle and more opportunity to grow. It's hard not to like these things.
About the author
Benjamin Dyer is CEO and co-founder of Powered Now. Powered Now's mobile app aims to make it easier for installers, electricians, builders and other trades to run their businesses.