Here Roland Etheridge, Category Manager at IronmongeryDirect, reveals the latest ironmongery trends to be aware of, in order to make the best specifications and recommendations for your customers.
Door hardware solutions must of course, offer high quality and durability, particularly when it comes to working on doors that must provide secure protection for building occupants or contents, or where doors must withstand the elements. However, with increased consideration now placed on the impact that every detail can have on an overall scheme, door hardware specification has taken on a new dimension with trends and aesthetics now playing an important role.
At IronmongeryDirect, we have observed a significant increase in demand for finishes and collections that connect with design and property trends, presenting an opportunity to upsell and add value to projects.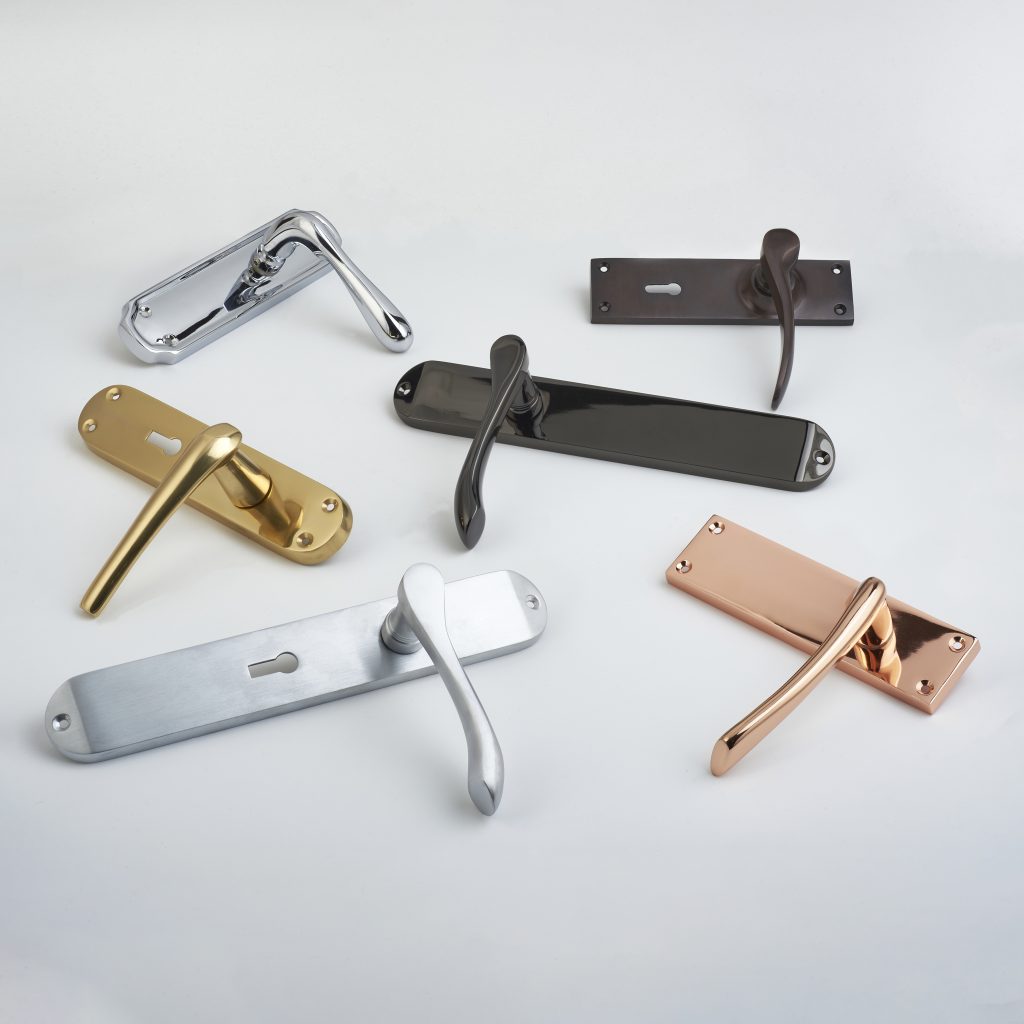 Statement front doors
In the domestic market, kerb appeal has never been more keenly observed, with 'Instagrammable' front doors a key focus for customers looking to make a statement. Consider how all aspects of the front door can contribute to an overall cohesive and pleasing result, and the different materials that can provide an opportunity to make a statement.
IronmongeryDirect stocks a wide range of mortice locks and latches in a variety of finishes such as brass, nickel and bronze, that provide professionals with the versatility to meet any style. Many products across its entire catalogue can be matched to materials and finishes so that door hardware and finishing touches can achieve impactful results from the front door and throughout the interior scheme.
Evergreen black
Providing a neutral backdrop to any design, black continues to be a popular colour choice for ironmongery products. Whether paired with bright colours, or to blend with dark and dramatic features, door hardware solutions in this colour can be used to create a sophisticated finish that never goes out of style.
A matt black finish elevates this shade further to offer customers with a sumptuous style that can happily sit alongside other materials such as metallics, wood and stone. For example, our Altro matt black collection exclusive to IronmongeryDirect, offers a stylish range of options including the Altro Mitred Door Lock Handle for interior and exterior doors. This elegant, hard-wearing product is manufactured from Grade 304 stainless steel to offer outstanding protection against corrosion, even in damp or external environments.
Cottagecore
The nostalgic 'cottagecore' aesthetic continues to be popular with greater demand for traditional and rural design features. For authentic, characterful door hardware and accessories, choose from IronmongeryDirect's exclusive Elan range. This solid cast iron ironmongery is exquisitely crafted featuring subtle, lightly hammered textures for a truly faithful design with each product backed with a 25-year guarantee as standard.
Smart security
Enhancing security to incorporate smart technology is still a growing market in both commercial and domestic sectors, delivering greater control and convenience for occupants. The Yale Keyless Connected Smart Door Lock provides a robust security solution for exterior doors and eliminates the need for users to look after and manage a physical key. Instead, users can opt for PIN code, key card, key tag, remote fob or smart phone to access the property to suit their preference. The product is simple to fit and is compatible with most UK 60mm backset nightlatches.
In addition, outdoor smart cameras offer great benefits as both a crime deterrent and allowing end users the opportunity to monitor their property at any time via a smart phone or tablet. The Legrand Netatmo Pro Outdoor Smart Camera with Siren is available from our sister site, ElectricalDirect and has a powerful 105-dB alarm that can be activated remotely by users to deter intruders. The camera provides real time alerts to detected activity and records data to an included microSD card.
No matter the project, IronmongeryDirect offers professionals a choice of over 18,000 quality products that are in stock, with prices that are reviewed regularly to provide exceptional value for money. As well as free next-day delivery on orders over £45 placed before 9pm, the company also offers a free, no quibble returns policy, as well as Sunday deliveries, click and collect options from over 6,500 pick-up points and same-day delivery for selected postcodes.
To find all of the above-mentioned solutions, or browse its range, please visit www.IronmongeryDirect.co.uk. To find out more about IronmongeryDirect's sister site ElectricalDirect, please visit www.ElectricalDirect.co.uk.