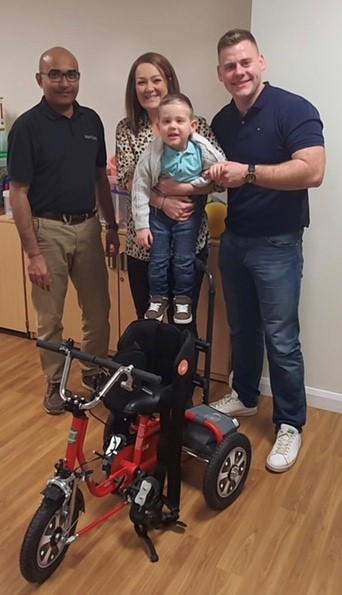 Three-year-old Jack Hampton from Kings Lynn in Norfolk received a very special surprise recently which will help him to lead a more independent life; a specially adapted trike, which was purchased on his behalf by the Videx Charitable Trust.
The Trust raises money for the purchase of highly specialised equipment like Jack's that's required to accommodate the physical needs of those living with cerebral palsy and help make their lives easier.
Jack receives care at The Bobath Centre for Children with Cerebral Palsy. The Centre is a specialist treatment centre that aims to improve the quality of life for children and adults so that they are healthy and active and can participate in everyday life to the best of their ability.
John Rickard, Managing Director at Videx Security, said: "The Bobath Centre has personally played a big role in mine and my family's lives as our son has cerebral palsy. We know that such highly specialised equipment is very expensive and not something families can afford to buy outright so we're pleased the Trust was able to help."