Smartware has been around for a while, with 'Mr Techie' having installed his Alexa well over a year ago, but the idea of a truly connected home has been very much in its infancy.
As we move more into the mainstream market, 'Mr Not-Quite-so-Techie' is beginning to see the benefits that the new technology can bring, especially in home security, where they can truly monitor their home from wherever they are in an affordable way. However, whilst a lot of people are comfortable using a smartphone, there is still some reluctance in setting up a smart system, in case something goes wrong.
That's where locksmiths are perfectly placed to help with the support of home security experts, ERA.
Train to gain
Recognising that locksmiths may need extra support themselves to understand the full capabilities of smartware, ERA has introduced a comprehensive programme of smartware installation training sessions, specifically designed to help the Locksmith feel confident in front of customers talking about the product and installing it.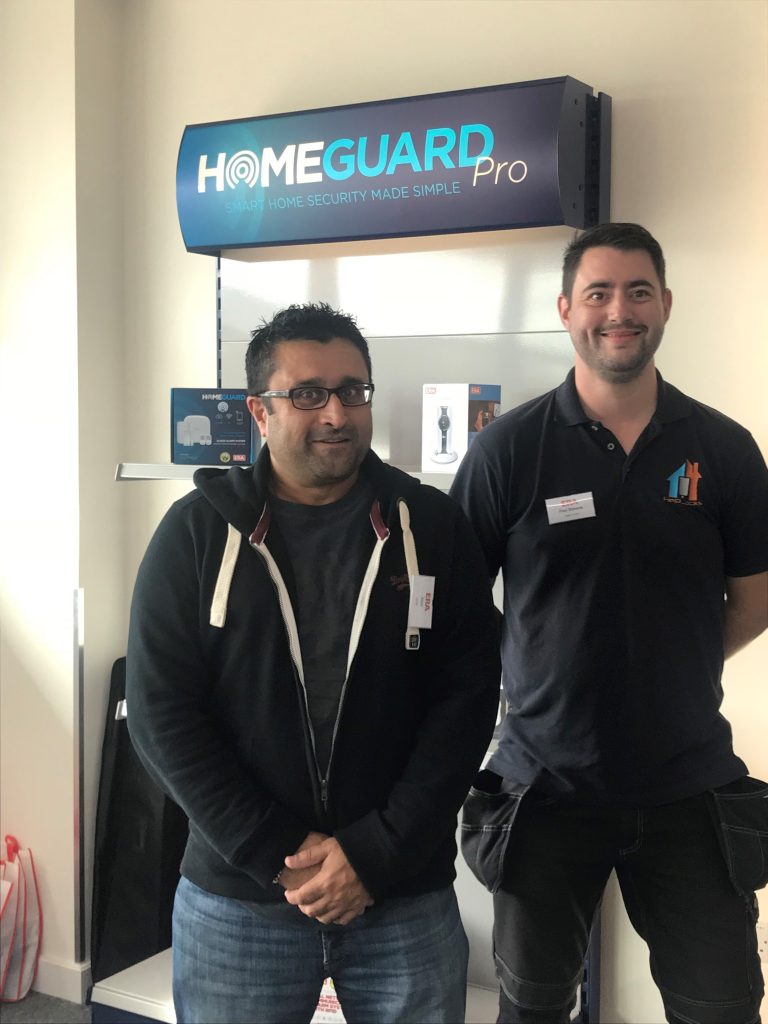 Tania Tams, head of marketing at ERA said, "We appreciate that Locksmiths are experts in their field in security and are 100% confident fitting a lock in front of a customer, but we know they may not feel as sure they can fit smartware with the same confidence and expertise.
"For this reason, we have developed our own high quality smartware training programme, which covers all aspects of ERA smartware, from specifying the product for a customer enabling installers to confidently advise their customers on the right product for them, setting up the system on their customers phone, through to the back up support and more.
"We acknowledge that locksmiths are at the 'coal face' with their customers and need to be confident fitting the product and explaining the supporting app settings and features. As a responsible organisation developing, manufacturing and supplying smartware products, providing high quality training for our trusted customers, was the next logical step.
"We understand that locksmiths will need to commit to smartware, certainly in terms of time initially, so its important that they consider the pedigree of the company supplying the products – after all, no one wants unhappy customers when a company goes bump and the app supporting its smartware is switched off, rendering newly installed products useless.
"At ERA, we are constantly striving to provide not only excellent smartware products, but also back up, including a dedicated helpdesk manned by smartware experts and now our specialist training. We have invested heavily to provide the resources our customers have come to expect from a reliable and credible brand."
Training low-down
ERA's smartware training is currently available at the company's brand- new purpose-built head office, located on the prestigious i54 business park just outside of Wolverhampton.
Tania said, "All you need to do is visit www.eraeverywhere.com to register your place and book on to one of our sessions which run in the morning or evening on selected dates. It's on a first come first served basis so make sure you register early to secure your preferred date and time."
The structured training sessions are held in the company's spacious training suite and are led by members of the friendly and knowledgeable ERA team.
Tania continued, "Following a brief introduction to ERA, we explore the smartware opportunity and how it can benefit locksmiths. Don't forget, the smartware market will be worth over $300 billion worldwide by 2020 and security makes up a large part of that figure. As demand grows for the reassurance and convenience that smartware brings, those already prepared will stand to make the biggest gains."
Starting at the beginning
For those who want to ease into the connected home, the ERA training includes a section on its popular Invincible and Valiant alarms, part of ERA's Easy Home range, which offer practical connected security protection that doesn't rely on a smartphone for set up or use.
The robust and reliable Invincible allows users to set their own network, alert and notification preferences to suit their personal security and lifestyle needs, whilst the Valiant solar siren alarm system is ideal for smaller properties or as a starter kit for later expansion. Both are excellent for customers wanting a plug and play alternative to smart.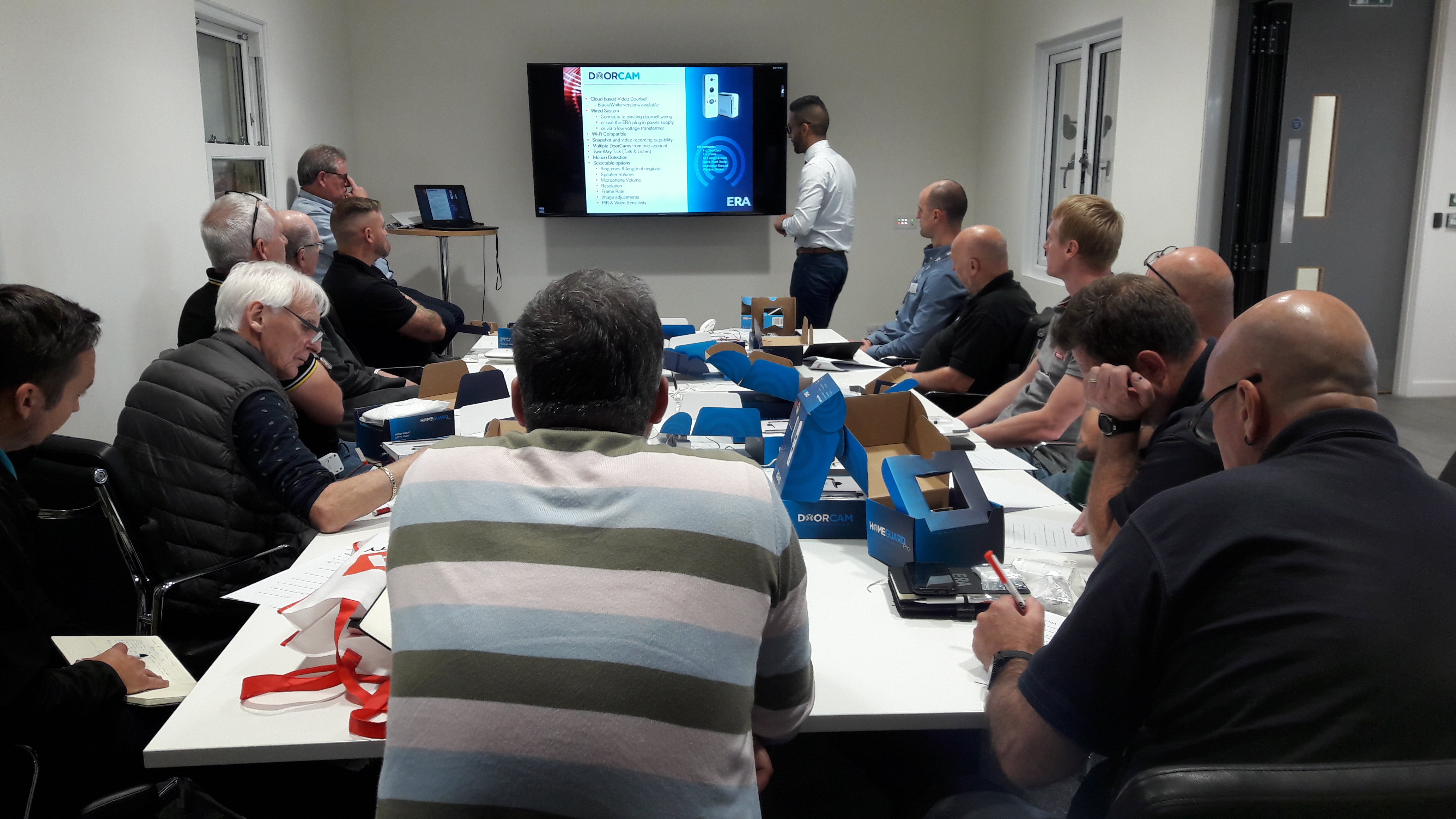 A smart switch
Tania continued, "Next we move on to the ERA Home suite of smartware which includes the DoorCam video doorbell, HomeGuard Pro intruder alarm.
"Within the session, we explain how each product uses cloud-based technology to safely store settings and is conveniently controlled, from anywhere in the world, with a simple smartphone app.
"The benefits of smartware are immense – DoorCam allows you to answer the door from wherever you are, view your caller in real time via the integrated camera as well as collect video clips via the history log thanks to adjustable motion detection.
"First of its kind, HomeGuard Pro monitors multiple locations, for example, your home, office or garage and allows you to allocate or revoke access to your house so you decide who comes in or out. Additionally, your network of contacts is alerted simultaneously in the event of an intrusion.
"Once locksmiths are fully up-to-speed with the features and benefits and are happy with the installation and set up process, both confidence and opportunity grow.
"There is follow on from this with meeting a representative from our Help Desk Team.  The help desk goes on to explain that they try and operate as an extension to the Locksmith by being available to answer any questions they may have or give guidance on any installations out of the ordinary, as well as support the customer with any questions or issues long after the locksmith has walked away. This is to give locksmiths confidence that they are not alone – if there is a problem, they have the backing of a responsive support team who have a fix or replace policy."
Finally, there is a round up on marketing support available which cements the training.  Locksmiths are encouraged to work closely with marketing and make use of the materials provided.
Lead the way
"In addition, we have set up a Smartware Installer Network to provide installers with genuine leads to follow up. In fact, during our last training session, a lead was given to one of our attendees who was able to immediately make an appointment to fit a DoorCam, making for a very happy installer."
How did it go?
Installers attending the training are asked for their honest opinions, and from the first two sessions, the feedback was very positive indeed, with everyone saying that the training was good use of their time and reporting that whilst previously they had not felt comfortable with smartware, following the training, their confidence had grown dramatically and they felt able to advise upon and install smartware for their customers. Additionally, although good to start with, installers' perception of ERA as a company was extremely positive post-training.
Smartware offers
Tania said, "We want installers to feel confident quickly following the training, so we have also devised an exclusive offer for them. During the two months following the training, ERA will give installer 50% cash back on their first three HomeGuard Pro or DoorCam installations (terms and conditions apply)."
Supported also by Aldridgeand Duffels, ERA also offered some good discounts for installers looking to make their first purchases.
"The offer is a great opportunity to put into practise the skills learnt during the training session and is a reflection of ERA's confidence in both our products and services."
To book a place on ERA's new smartware training or for more information on its suite of smart home security products, visit www.eraeverywhere.com, email info@eraeverywhere.com or contact the sales team on 01922 490000.