The UK subsidiary company Heinz Wagner (GB) Ltd was founded in 1982. Wagner changed its name VBH (GB) Ltd in 2009 as all group companies adopted the parent's VBH branding.  VBH employs around 2000 people and has sales offices in 25 countries. And, now, here's seven things you may not know…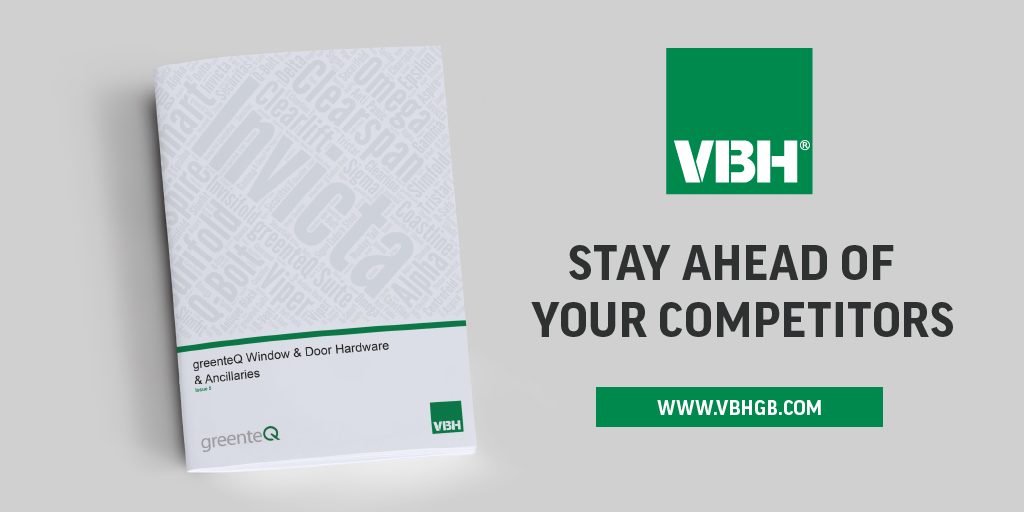 VBH is an acronym of Vereinigte Baubeschlag Händler, which roughly translates to United Hardware Distributors. VBH was formed when two rival hardware companies merged in 1975 and has been supplying the UK and Irish window and door industry since then, initially directly from Germany.
VBH is nationwide. VBH has 3 sales office/distribution centres across the UK. The head office is in Gillingham, Kent. VBH House is home to the main warehouse and the bulk of the company's customer service team, as well as the central accounts, purchasing, marketing and in-house technical staff. VBH's product development team is also based in Gillingham. From here they liaise with colleagues from around the world bringing ideas for new and innovative products to life. There are further sales/warehouse sites in East Kilbride and Swansea primarily serving customers in Scotland and Wales.
greenteQ – VBH's own hardware brand. Launched in 2009, greenteQ has grown into a well respected hardware brand in all markets, not least the UK. greenteQ product ranges include a fully matched furniture suite that allows installers to match colour and style across residential doors, windows and patio doors. As well as furniture, greenteQ includes hardware such as window locking systems, profile cylinders and full patio door systems, including the Clearspan system for aluminium bi-folding doors. Clearspan is one of the company's most popular products and covers all the hardware required to manufacture standard and PAS24 security bi-folds. All greenteQ products are guaranteed for a minimum 10 years with the exception of stainless steel Coastline furniture, which comes with a whopping 25 year surface guarantee!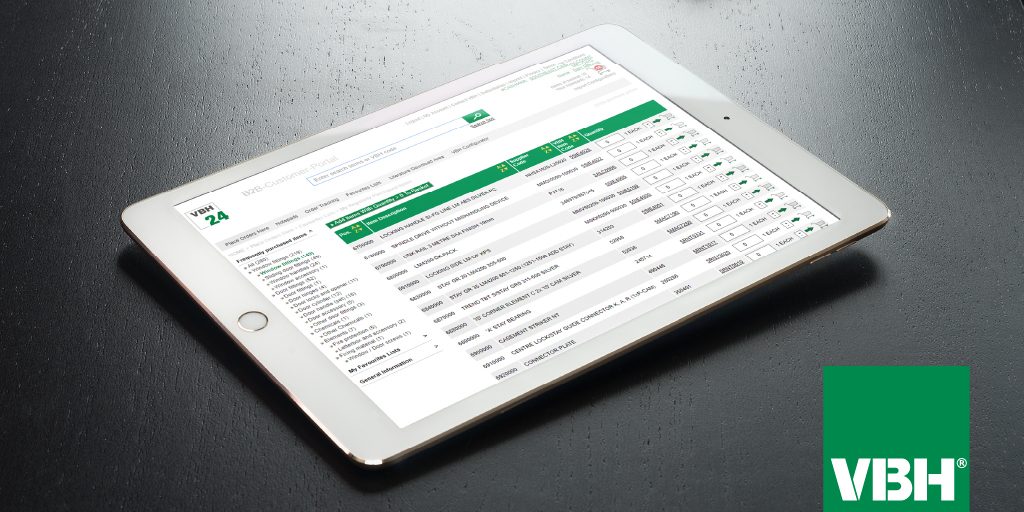 In addition to superb technical back up for customers on the road, VBH offers market leading technical help for customers via phone or email. Between them, Technical Advisors Colin Russell and Paul Barthrop have 73 years experience in the industry, 45 of which have been at VBH! As well as providing support to VBH's sales and customer service teams, they are always available to help customers with hardware specs for contracts and particularly challenging installations. Their depth of knowledge also helps VBH's R&M customers source replacement gearing on existing installations.
VBH regularly carries out cycle and security testing at BSI. Fabricators working in the new build sector are encouraged to contact VBH to find out how they can benefit from VBH's testing investment. On the back of this security testing, VBH has developed the Q-secure MULTI-BRAND hardware security guarantee. This is available free of charge to VBH customers using the hardware and profile specs that have been tested in their program and pays the homeowner direct if a break in is achieved as a result of the hardware failing. Q-secure can be offered by the installer to the end-user to help clinch a sale – particularly valuable in our recently changed world where everyone needs to gain an edge. Brands include greenteQ, Yale, AGB, Roto, Maco, Siegenia and others.
VBH has offered an online ordering facility for more than 20 years! The current version is called VBH24 and is proving incredibly popular with more than 20% of orders being received online. Users can check stock and prices and, of course, place orders 24 hours a day. They also have access to VBH's product configurator which allows them to 'spec up' and order complicated hardware sets such as bi-fold doors and tilt & turns in just a few clicks. VBH24 comes with the added benefit of free standard delivery on orders over £100 value and, because VBH24 orders need little manual intervention, they get to the order pickers even quicker.
VBH is a trade-only supplier, dealing with manufacturers and installers of PVCu, Aluminium and Timber windows and doors, as well as an increasing number of repair specialists and hardware re-sellers. VBH has always been successful in supplying hardware for commercial aluminium window contracts. Sales into the aluminium sector have grown steadily in recent years as the market has embraced the material for domestic installations – notably with large elements such as bi-fold and lift/slide patio doors. The greenteQ design team have successfully developed Clearspan, Aspire and Clearlift products for these door styles and the brand is now a market leader in this area.