Disklok, which produces a robust steering wheel lock for cars and light commercial vehicles, have renewed their membership with the official police security initiative Secured by Design.
Invented in 1993, Disklok is the strongest and most effective full cover steering wheel security lock in the world for cars and light commercial vehicles. For vehicle security, the unique award winning Disklok has a long and proven history of outstanding performance; tried and tested against would-be car thieves, professional independent security testers and authorities. The range has been approved and endorsed by Thatcham, more recently Sold Secure, for the last two decades, far exceeding all of their minimum requirements.
The reinforced, all steel construction makes the Disklok an extreme deterrent with its high visibility and reputation for durability, outlasting the attack times of all other steering wheel locks on the market today. The unique advantage it has over the competitors is its ability to spin on the wheel when attacked, preventing steering and damage to the vehicle's own steering wheel lock. The Disklok also helps to:
Prevent airbag theft from modern vehicles
Deter electronic theft of modern vehicles
With Disklok's reassuringly mechanical attributes, it can be relied on to deter "keyless entry theft". Although alarm systems and OBD port locks can be effective, they are hidden and will not deter entry to the vehicle, risking damage and increased insurance premiums. With the Disklok's fearsome industry reputation, would-be criminals will simply move on to another victim, making this the best all round value investment on the market.
Disklok is the leading brand in car steering wheel security, based on over 25 years of thwarting thieves. Disklok is proud to have won the prestigious Auto Express awards several times, and has been featured in numerous Revs, Max Power, Which Car! and Fast Car product tests, often coming out on top for attack time and value for money.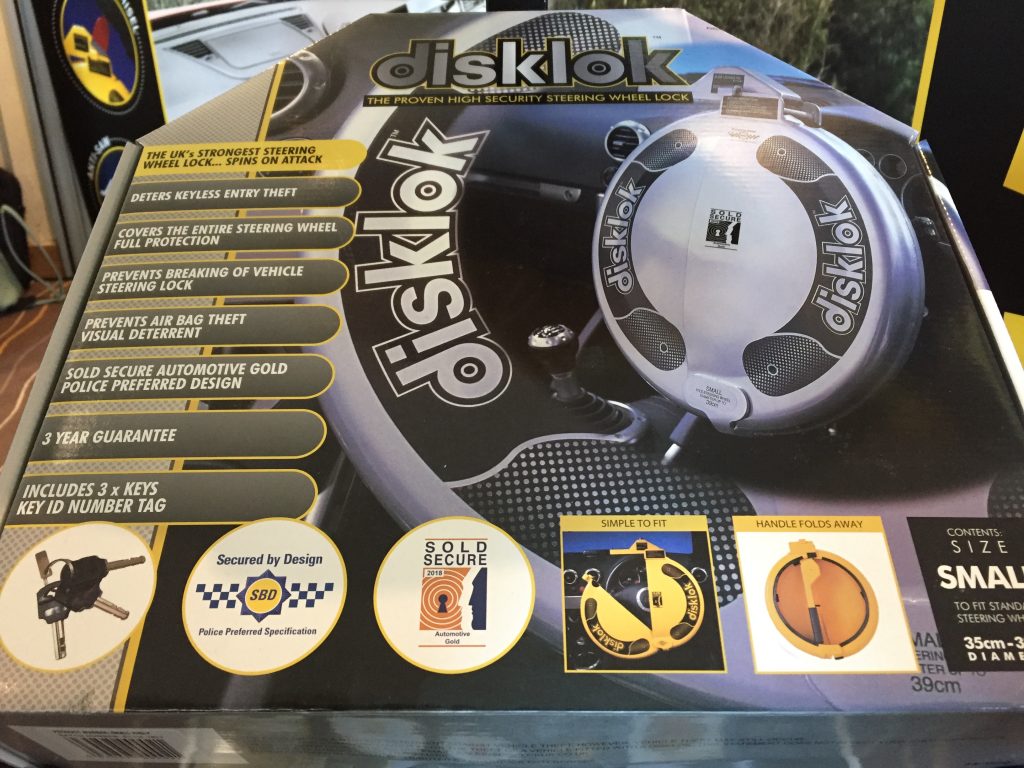 Hazel Goss, Secured by Design, said: "It has been a pleasure to renew contracts with Disklok UK, who became members in 2018. Disklok produce the only SBD accredited steering lock, and I am looking forward to working alongside them for many more years to come".
Disklok, commented "It's great to renew our membership with the Secured by Design scheme, we really feel it offers our customers and clients an extra sense of reassurance, especially when such large financial values are at risk. We have and will continue to work with individual DOCO's to reduce thefts in local communities and hot spots.
"We were fortunate enough during the pandemic to not only continue strong sales but see an increase, of which is still here and growing. It hasn't been without its difficulties, however, circumventing supply chain delays and also unprecedented shipping and material price rises has been a challenge. All in all, we are positive for the future with the reliance on our brand stronger than ever in our security sector".
You can find out more about Disklok and their Secured by Design accredited products here: https://www.securedbydesign.com/member-companies/sbd-members?view=companydetail&account=0011i00000Jpw4HAAR
Below are two videos clips that help explain Disklok. The first is a BBC Crimewatch Roadshow report with an interview with Designing Out Crime Officer, Mark Silvester, from West Midlands Police:
https://www.facebook.com/207065135975678/videos/2262693023746202/?eid=ARAYqkkBZ4lBpU6mwBDsGNWP0In3khJ1W02SkRh0c90meB09ljsGiYseD2OjPhhR5Qa5gott0dgGzjp7
The second clip shows an Audio RS6 which is saved from being stolen after the thieves spot it has a Disklok on the steering wheel:
https://www.youtube.com/watch?v=JZHLz6FNYdc&feature=youtu.be
Secured by Design (SBD) is owned by the UK Police Service with the specific aim of reducing crime and helping people live more safely.
SBD have many partner organisations, ranging from the Home Office, Ministry of Housing, Communities & Local Government through to local authorities, housing associations, developers and manufacturers and work closely with standards and certification bodies.
SBD developed a product based accreditation scheme over 20 years ago – the Police Preferred Specification, which provides a recognised standard for all security products that can deter and reduce crime. SBD work with manufacturers and standards authorities to ensure that security standards are current and updated to keep pace with emerging crime trends.
There are currently many hundreds of companies producing thousands of attack resistant crime prevention products, across over 30 different crime categories, which have achieved Police Preferred Specification.
SBD is the only way for companies to obtain police recognition for security-related products in the UK.