Unrivalled in strength and durability, Stronghold® locks come with an all-weather storm proof lock body cover designed to fully protect it from exposure to rain, snow, frost and sun. All locks feature an electrophoretic finish which gives extreme resistance against corrosion and the keyhole dust cover provides excellent protection against the elements inside the lock.
The super heavy-duty SS100CS is universally respected as the world's strongest production padlock. It is designed for outdoor use where maximum security and corrosion resistance is a priority.  Locations that are high risk, such as perimeter gates, warehouses, outbuildings, shipping containers, heavy machinery, commercial vehicles and for high value property including motorcycle security at home.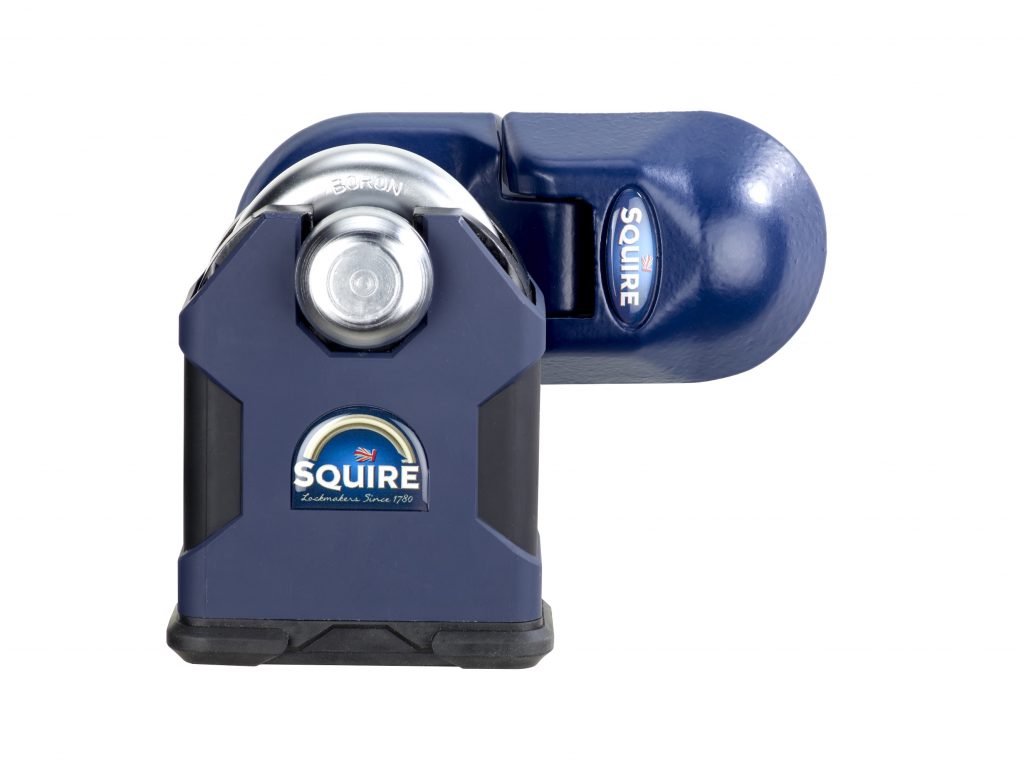 This dual cylinder closed shackle padlock with 100mm wide solid steel lock body is the first ever to achieve the highest Loss Prevention Certification Board (LPCB) SR4 standard (not as a set) and the highest security CEN Grade 6 rating. Each 6-pin cylinder offers 250,000 key differs, when combined they give a total of 625million differs. One of the many benefits of this dual cylinder padlock is its wide range of uses. It can have 'same key' cylinders, where both cylinders operate using the same key.
Or they can be keyed to differ, where the padlock is operated using two different keys.  Both versions can be keyed-alike and master-keyed.  Keys can be held by different people and the lock cannot be opened unless both keys are presented.
Remarkably, the SS100CS weighs a massive 4.3kg of British steel and is capable of a tensile pull of over 24 tonnes (independently tested).  It is the hero product of the Stronghold® high security padlock range, which comes in many sizes and shackle variants.  Many highlights are the solid hardened steel lock body, electrophoretic anti-corrosion finish, hardened boron alloy steel shackle, anti-drill protection and high corrosion resistance for harsh environments.
Key features of Squire's Stronghold SS100CS:
Extreme corrosion resistant padlock – tested to BS EN12320:2012 Grade 5 for corrosion resistance after being subjected to 480 hours salt spray.
Highly durable storm proof cover – fully protects the lock body and cylinders from the elements.
Protective keyhole dust cover – excellent protection against the elements inside the lock.
Heavy duty, weatherproof, anti-corrosion finish – the black electrophoretic anti-corrosion finish protects the lock body on the inside and the outside giving maximum corrosion protection.
Protected closed shackle – virtually total protection for the shackle against all forms of attack. Machined to give a smooth appearance which is easy to handle.
20mm diameter hardened boron alloy steel shackle – case hardened boron alloy steel gives maximum anti-cut resistance on the hard outside and anti-twist resistance from the flexible inner core.
Boron alloy steel is super high-performance steel and is 80% tougher than mild steel. Maximum anti-corrosion satin chrome finish shackle recommended for harsh outdoor conditions.
Maximum security dual cylinder – unique dual-cylinder design. Precision engineered, solid brass 6-pin cylinders with anti-pick and anti-bump features.
CNC precision manufactured lock body – the 100mm thick case-hardened lock body is precision manufactured by Squire on high performance, cutting edge CNC machines at its UK operation.
The market leading tight tolerances that Squire can achieve enables it to outperform all other padlocks of a similar size. The lock body is case hardened on the outside to resist bolt cutter attack and flexible enough at its core to resist twist attack.
Designed, engineered and made in Britain, the Stronghold® brand is Squire's premium range of extra high security padlocks, padbars, chains, lock and chain sets and keysafes.
Plus, most of the extra high security Stronghold® range has the added benefit of tested and approved to the highest global standards by Sold Secure, CEN and LPCB, and supported by Secured by Design.  Testament to Squire's reputation for long lasting toughness.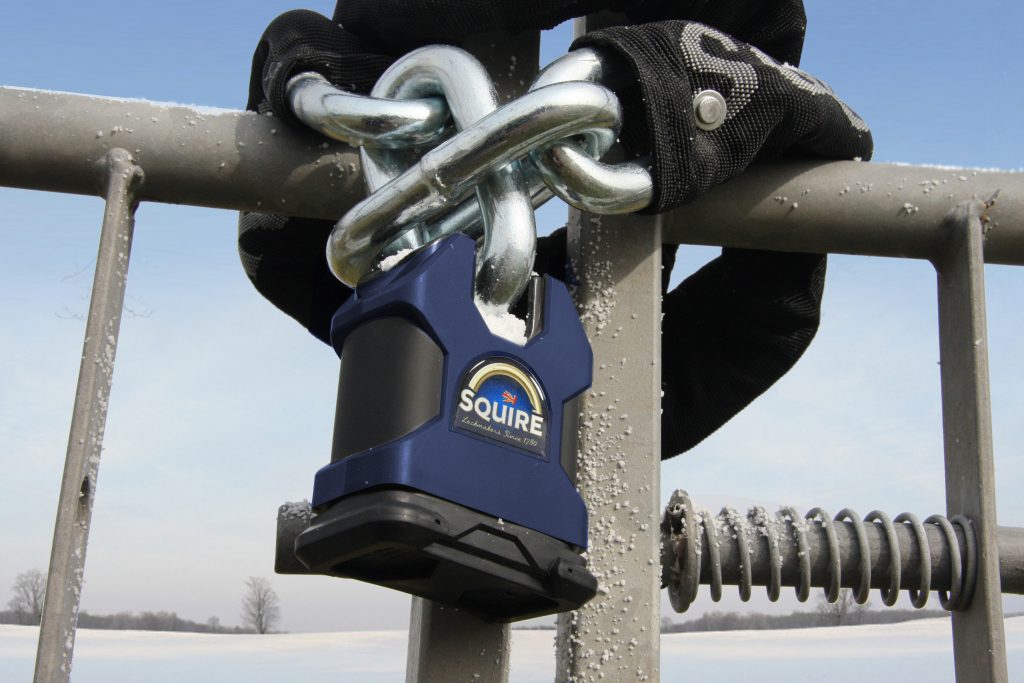 Super-tough STH100 padbar
The Stronghold® family now includes Squire's seriously heavy duty STH100 padbar specifically designed for use only with the SS100CS padlock.
The hardened hasp and staple is one of the strongest on the market for extra high security outdoor use. This CEN grade 6 padbar body is made from a special hardened cast material which makes it ultra-strong against all forms of attack, and the hardened staple rotates for extra resistance.
When used together with Squire's SS100CS padlock, they achieve the industry leading LPCB SR4 standard.