Squire's new GA5 Garage Door Protector is purpose designed for ease-of-use, adding extra security to for up and over garage doors to help ensure valuable belongings inside are kept safe.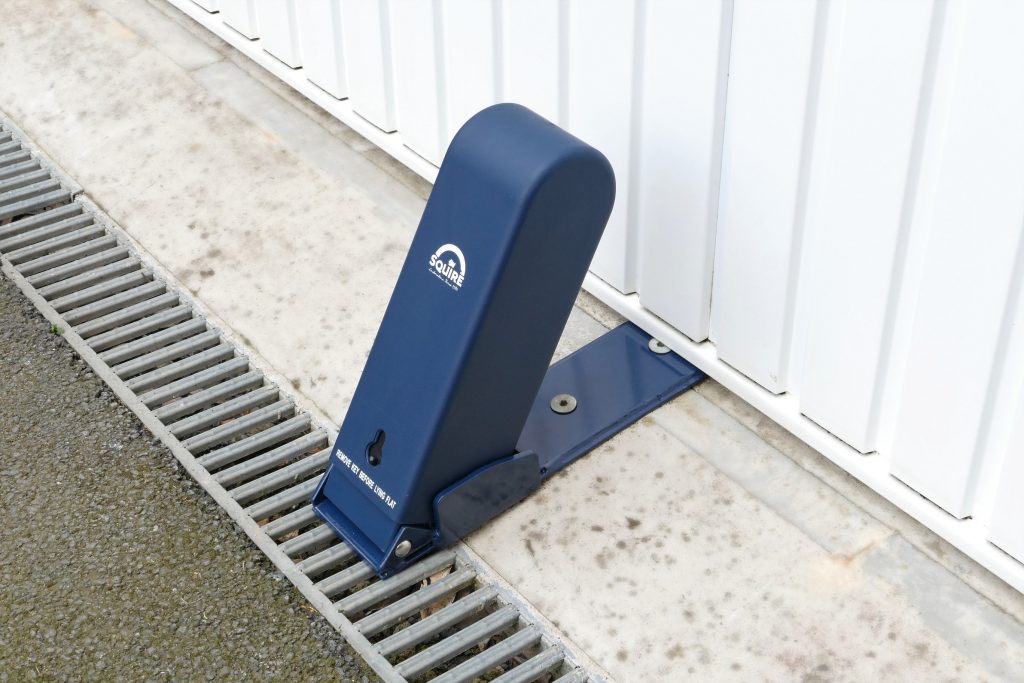 Sold Secure Domestic Bronze approved, it is manufactured from high security hardened steel and features a 5-pin tumbler lock mechanism. The clever tilt action arm locks into place to prevent the garage door from being opened and can be driven straight over once opened, with no removal needed. It is supplied complete with all fixings and fitting instructions to ensure a simple ground fitting in front of the garage door.
Weighing 4.2kg and measuring 221mm high (arm) by 320mm deep, its bold, all-in-one design offers homeowners a visible deterrent against would-be thieves.
Installation is simple and homeowners just require basic DIY skills to fit the product.
Significantly, Squire's GA5 is much easier to use than other garage door security devices, explained CEO John Squire. "It's a fully integrated device and there are no parts to remove.  Simply unlock, tilt down the arm and drive over it.  GA5 offers peace of mind for homeowners looking to protect their valuables inside, such as motorcycles, cycles, lawnmowers, power tools and other gardening equipment."
Available now, GA5 comes with the Squire personal 10-year guarantee. It is one of a range of best-selling garage security products from Squire, including its Sold Secure Domestic Bronze GA4 Garage Door Guard, Sold Secure Motorcycle Diamond GA6 Ground Anchor and Sold Secure Motorcycle Gold GA1 Ground Anchor.
Toughest ever padbar
Squire's GA5 is one of a host of new extra high security products from Squire.
Such as its toughest ever STH100 padbar, which is specifically designed to work only with Squire's SS100CS, the world's toughest padlock.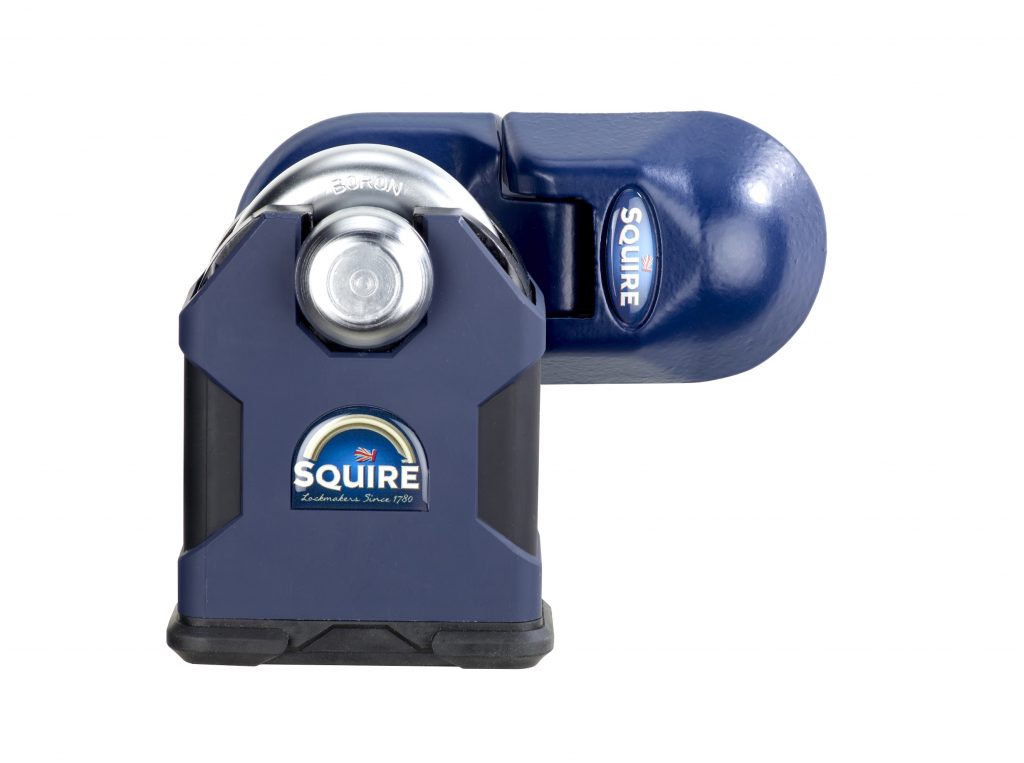 The STH100 with hardened hasp and staple is one of the strongest on the market.
It is designed for extreme high security use – storage areas, warehouses, gates and doors. This heavy-duty, CEN grade 6 padbar body is made from a special hardened cast material which makes it ultra-strong against cutting, and the hardened staple rotates for extra resistance to attack.
Importantly, when used together with Squire's SS100CS padlock, these two very high specification products achieve LPCB (Loss Prevention Certification Board)* SR4 standard, giving confidence they deliver protection against criminal intrusion and terrorist attack.
Measuring 184 x 86mm (32mm high), the STH100 is easy to fit and offers superior protection above any normal hasp and staple. Squire's Stronghold® brand stands for top level performance.  This is Squire's premium range of extra high security padlocks, padbars, chains, lock and chain sets and keysafes.  Designed, engineered and made in Britain, it is unrivalled in strength and durability.
The Stronghold® padlock range comes in many sizes and shackle variants, and includes solid hardened steel lock body, electrophoretic anti-corrosion finish, hardened boron alloy steel shackle, anti-drill protection and high corrosion resistance for harsh environments.
And now the Stronghold padlock range is available as body only to take Scandinavian oval cylinders.
As a brand, Stronghold® brings added reassurance the padlocks themselves have been tested in-house, as proof they can withstand the harshest of attack.
Plus, most of the extra high security Stronghold® range has been tested and approved to the highest global standards by Sold Secure, CEN and LPCB, and supported by Secured by Design.
New look website
Reflecting Squire's premium brand status is the company's new website, which has undergone a complete makeover with a fresh new look and lots of exciting new products.
It aims to put the Squire brand and unique British heritage centre stage as it develops for the future.  There's more interactive, richer content, brand new product photography and lots of added features. Viewers can select by individual brand – Stronghold, Bikelok, Motolok and Inigma – and general security for home, work and leisure.
Heritage and innovation
The Squire name has been at the forefront of lock making since 1780, with a Great British history carried down through eight generations. Squire is recognised for some of the technologically advanced products in lock making for home, commercial, motorcycle and cycle security – cylinders, padlocks, combination locks, multi-purpose lock and chain sets, security cables, bolts, hasps and staples, and security accessories.