Thieves are causing more damage to break into vans lately, so says Luke Powell of Trade Vehicle Locks (TVL), but with the ProtektaPlate range, van owners can preserve the most vulnerable part of the vehicle or repair the damage inexpensively and securely after a crime has been committed. This solution is not just a benefit for the customer however; for locksmiths and installers, it is a simple-to-fit nut/bolt product that also offers an opportunity for an upsell of further fitments at the point of sale. Furthermore, as the ProtektaPlate range covers an array of different shapes and sizes, the item has a bespoke appeal, and not a 'one fits all' blanket approach, although there will be a model for any and every van requirement.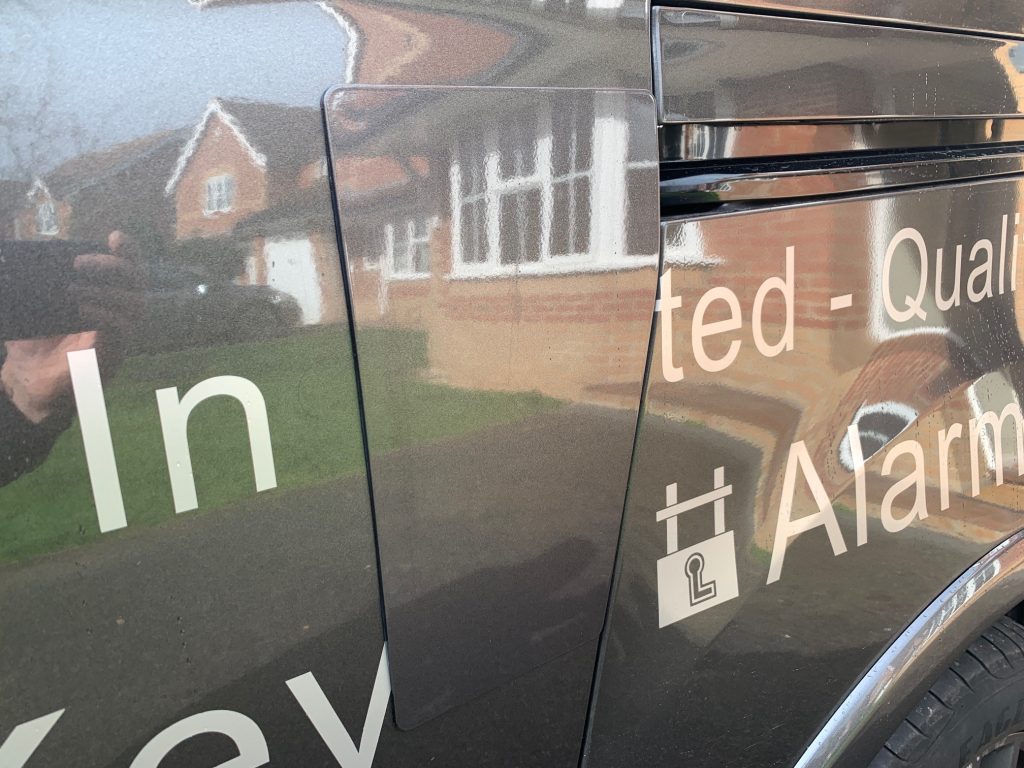 The images provided by TVL's Luke show the damage that can be made to a van from a criminal trying to break into the vehicle (although he has been mindful not to show the method of the crime). As well as the loss of tools and property the victim of this crime has undergone, not to mention the personal suffering and potential loss of livelihood, the damage to the van itself is also expensive and inconvenient.
TVL is a market leader in vehicle security; designing, building and installing innovative security products to deter and combat the ever-changing modes of attack by vehicle thieves. The team boasts more than 85 years' worth of experience in the design and development of vehicle security devices, and has the largest portfolio globally of security products that are approved by many vehicle manufacturers.
TVL is affiliated with IAATI, NaVCIS, Sold Secure, the MLA, SBD and has recently become a Gold partner of the Van Excellence program to assist fleet operators in the UK with their vehicle security issues. In addition to these affiliations, TVL works in conjunction with police forces' crime prevention divisions around the country to raise awareness of products that can prevent more people from being a victim of motor crime. Most recently TVL was involved with a police force that needed help creating content to distribute on social media platforms and are often being called upon to participate in crime prevention events organised by the police.
TVL was founded in 2010 by Tony Powell who has four decades of experience in the automotive security industry. When Tony was working as a locksmith he found that thieves were breaking into and stealing cars by using a selection of worn down keys called 'jigglers' and this developed into designing vehicle security products; when he fitted a key operated cam lock along with a Chubb rack-bolt originally designed for a wooden door into a car to enhance the security of it.
Then came light commercial vehicle security – in the form of deadlocks – fitting half euro cylinders with a lock case into the door that was paired with a door specific keep. As vehicles began to become more secure thieves began to explore other options, the TVL product range has expanded into products that protect around the handles, vehicle spare wheels from being stolen and so on; making TVL the one-stop-shop to put a stop to vehicle thieves.
www.tvl-ltd.co.uk
---
Step-by-step install
Click here for TVL's Ford Transit Connect // Ford Transit Courier Replock installation.
TVL's Luke Powell comments: "Although our Replock is a factory fit option people think the insert barrels we sell as an aftermarket fitment are hard and too technical to install. The attached guide shows the step-by-step fitment which doesn't require any specialist tools to do."