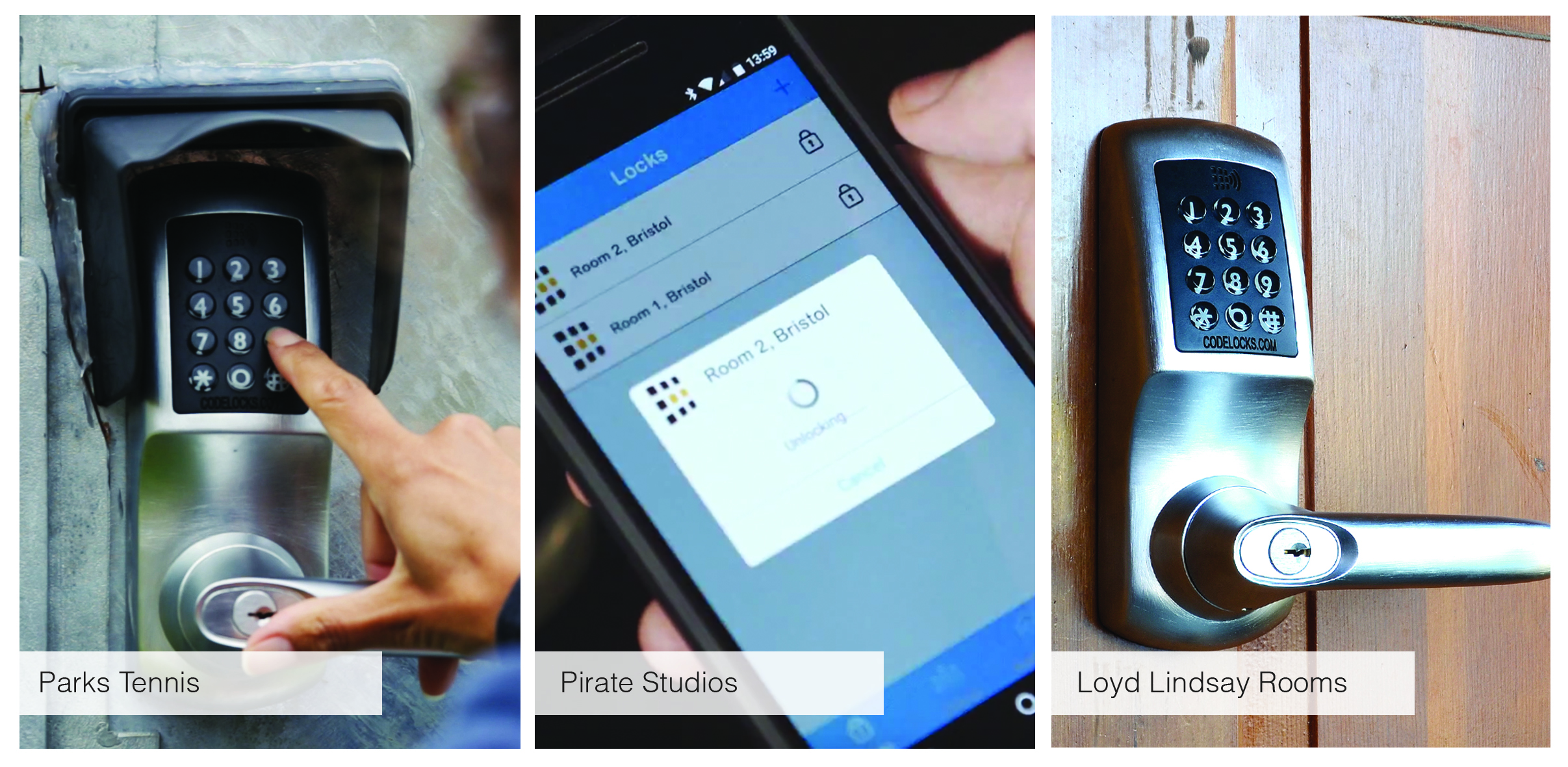 21st century customers are looking for 21st century solutions to facilitate stress-free access to their facilities, venues or properties. Recommending and installing Codelocks Smart Locks helps your customers make better use of staff time and provides trouble-free access. Smart locks offer advanced programming and access methods, as well as simple retrofit opportunities for easy upgrades.
Show stopping product
Locksmith JPriest & Son recommended and installed the Codelocks CL5510 smart lock for Loyd Lindsay Rooms, in Oxfordshire. The events team at this unique venue now operate an effective, efficient hiring out process for their customers. A self-service access control system makes it possible to hire out the venue at allotted times 24/7 without the need for a caretaker to frequently visit the site to open and lock up.
The CL5510 offers a range of entry methods allowing the venue's customers the luxury of choosing their most suitable entry method, whether it be code, phone or card. This lock supports 100 user codes, 100 phone entry customers, and 150 client smart cards.
By downloading the K3 Connect App*, Loyd Lindsay Room staff can issue smart cards, codes and phone entry access to venue renters. The app also allows them to manage all aspects of the lock conveniently from their smartphones to monitor who enters and leaves the building, and at what time.
*The App is available on the Apple App Store for Apple devices or Google Play™ for Android™ devices. Apple, the Apple logo, and iPhone are trademarks of Apple Inc., registered in the U.S. and other countries. App Store is a service mark of Apple Inc. Android, Google Play and the Google Play logo are trademarks of Google Inc.
In tune with customers
Pirate Studios was founded on the basis of offering musicians self-service studios that are available to hire for allotted time slots, 24/7. They allow customers to let themselves in and out of the studios unaided at times that suit them. Looking for advice about NetCodes, Pirate Studios contacted Codelocks experts who recommended CL5510 smart locks and KL1550 locker locks to meet its access control and security needs.
The CL5510 allows codes to be created via an online portal and issued to customers via email or SMS. This function is used by Pirate Studios to send musicians personalised codes for self-service access to rehearsal space and/or storage lockers. The NetCode technology built into the lock's design automatically erases the code when the client has finished using the space, so it's ready for the next musician. The installation of the smart locks eliminates the need for staff onsite and allows Pirate Studios to keep rental prices down, passing on the benefit to its customers.
The perfect match
Parks Tennis want to make it simple for people to book the tennis courts for specific timeslots. Mechanical and fob locks involve too much administrative hassle; padlock combination locks are not always robust enough for the outdoor environment and heavy usage. Many digital locks are prohibitively expensive or need to be part of a complex wired-in system. Codelocks offers a standalone solution to these challenges. Its coded locks are keyless, robust, excellent value, and battery-powered.
Parks Tennis chose the CL5510 smart lock for its ability to generate unique access codes remotely, offering convenience for players and coaches. Customers book a timeslot through the website and automatically receive a unique code via text or email. This simple 'pay and play' solution is made possible by the CL5510's smart capabilities.
Since installing Codelocks' CL5510 smart lock, income from the courts has doubled and staff no longer have to waste time on site waiting to let customers on to the court, locking up afterwards, issuing keys or searching for lost keys. Through the CL5510 Audit Trail function, Parks Tennis can also gather customer data to gain insight into the use of the courts. This helps to inform decision-making and encourage repeat bookings.
Free training opportunities
With Codelocks training under your belt, identifying new business opportunities and recommending quality locks that meet your customers' needs just got a whole lot easier. If you are interested in installing Codelocks for your customers, we run free, practical, hands-on training courses. Our training sessions further develop your knowledge of access control, offer installation advice and provide tips for servicing and programming.