If you're looking for a lock that will withstand the harshest environments, then you should consider a product with a marine grade finish. Colin Campbell, Managing Director of Codelocks, talks about the latest additions to the company's mechanical locks range – and how they can be used in a wide range of applications.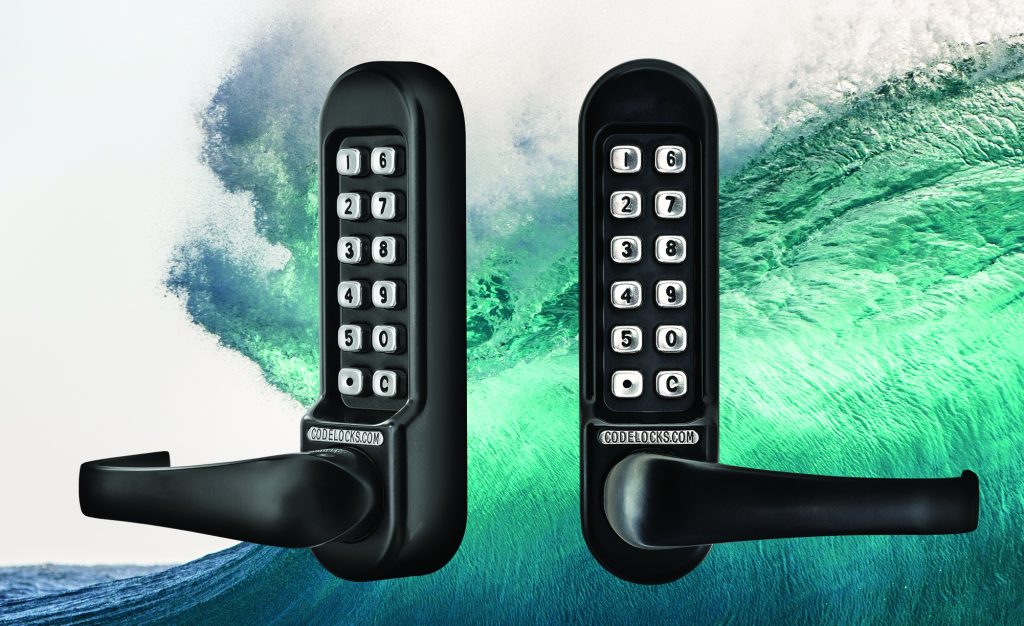 Marine Grade finish locks: don't get caught out in the rain
Imagine arriving at work on a cold damp morning and finding that the entry lock on your workshop, site office or warehouse door has seized up and refuses to open. Your customers might find themselves in exactly this situation if their premises are secured with locks that are unsuitable for their environment. While standard locks are sufficient for many outdoor applications, there are some occasions when you might want to consider a tougher, more durable option.
Luckily, there is a readily available solution. Codelocks CL500 Marine Grade range offers simple, keyless coded external access and is specially enhanced to withstand harsh outdoor environments. The Marine Grade coating resists exposure to moisture and even salt spray*, helping to prevent damage caused by corroding. Marine Grade finish locks, as you would expect, are perfectly suited to homes by the water, marine and coastal environments. But they are also ideal for a wider range of outdoor applications – including construction sites and agricultural buildings. With their smart, black finish, the CL500 Marine Grade locks are a versatile new addition to an installer or locksmith's toolkit.
The experts' choice
There could hardly be a better recommendation for a lock than being chosen by a security specialist to protect its own premises. Based on the River Medway, CES UK is a manufacturer and supplier of locking systems and electronic access control systems for public and industrial buildings. When it needed a robust and reliable lock for its external warehouse door, Codelocks recommended its CL515 Mortice Latch Black Marine Grade finish lock (CL515MG).
With its large lever handles, the CL515MG's robust and heavy-duty nature is a simple but effective access control solution, ideal for securing areas that need an extra level of protection. Perfectly suited to withstand constant use, CES feels at ease knowing that its property, stock and employees are safe and secure.  Mario Del-Signore, managing director at CES UK said, "As we are located by a river, we needed a product that can protect against the harsh elements and surroundings we work in. The CL515MG ticked all the right boxes. It is far superior to what I've seen in the marketplace and this is important as it aligns with our CES products."
When durability is key
While the CL500 Marine Grade range is designed specifically for marine environments, its durability makes it suitable for wide range of situations, especially where it is likely to be in frequent and constant use, and where large volumes of staff or visitors require access.
Typical use-cases include access to boats, beach bars, shared facilities at marinas, riverside or coastal properties and more. But, for any environment that's at particular risk from damage caused by corrosion, it is worth considering a marine grade finish lock – including all kinds of outbuildings, construction sites, shops, schools and warehouses.
Portacabins, for example, are used in a wide range of outdoor locations and perform a variety functions – such as classrooms, marketing suites, pop-up bars. They have to withstand frequent use and regular transportation. Fitting portacabins with durable, keyless locks is a convenient way to provide flexible entry for customers and will provide a more enduring solution in demanding conditions than a standard lock.
Give your customers peace of mind
The next time you are recommending a security product for a customer, it's worth considering the environment it will be operating in, and whether a marine grade finish will offer a more robust solution. Codelocks currently offers a Marine Grade finish for its CL510 and CL515 locks and has plans to expand this finish across some of its other lock ranges too. Hassle-free and easy to use, the pushbutton functionality of these locks eliminates the need for keys, and they can be retrofitted onto existing doors and gates, adding maximum security.
www.codelocks.co.uk/cl510-cl515-marine-grade
* Salt spray tested in house by Codelocks Ltd performing 1000 hours.