Staff at Wolverhampton based security specialist Squire have waved off motorcycle adventurer and record setter Nick Sanders MBE on his final and toughest around the world expedition yet.
Sponsored by Squire, Nick rode into the company's headquarters in Featherstone for a quick stop on route to London where he received his MBE from Buckingham Palace ahead of his latest, most ambitious adventure yet, riding 100,000kms around the world in eight months.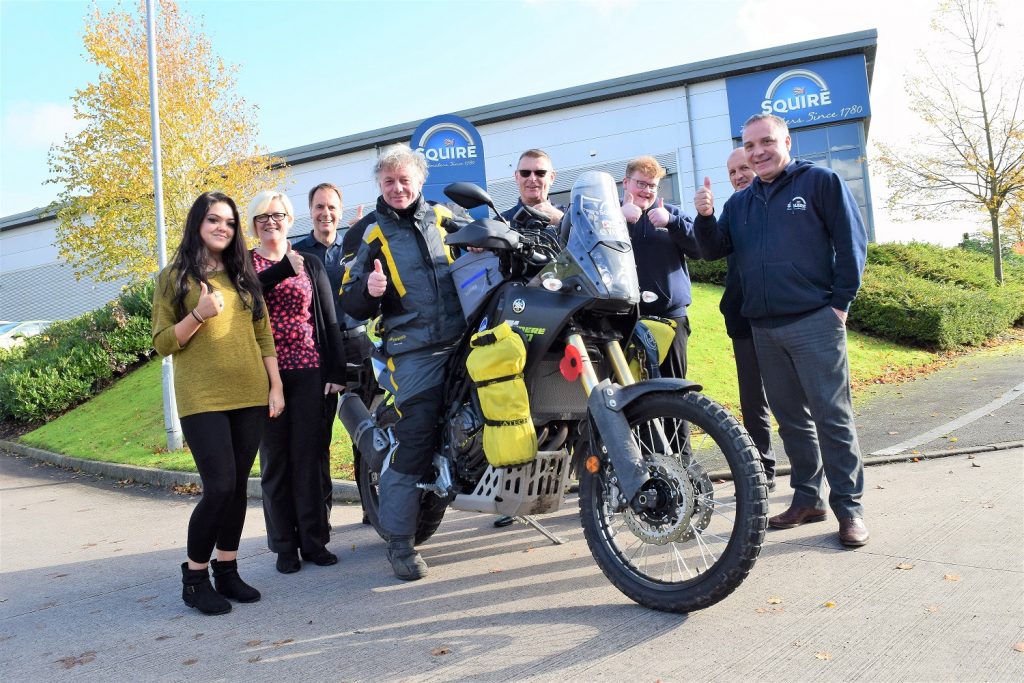 A travel legend in the adventure motorcycling world, Nick is global brand ambassador for Squire's premium ranges of motorcycle and bicycle security products.
Carrying just a few essentials, Nick's luggage of course includes a specially adapted Squire Juggernaut lock and chain set made for the toughest environments.
Riding the new Yamaha Tenere 700, his adventure will take him across every continent and major desert as well as some of the most famous mountain ranges in the world.
Nick is testament to Squire's 'toughness guaranteed' spirit, having ridden around the world seven times – more than any other rider – and he holds the Guinness Record for circumnavigation in 19 days 4 hours, riding 1000 miles each day.
He said: "I'll be locking my bike in about six continents of the world, and the most important thing is to make sure the bike doesn't get stolen.  Without that the project ends.  To have Squire behind me is a real sense of pride."
Squire has been at the forefront of international lock making since 1780, with a great British manufacturing history carried down through eight generations.  It has been making motorcycle security since the early 1980s.
CEO John Squire said: "We're very excited to support Nick on his latest adventure.  Our lock and chain set will probably be the most well-travelled ever!"