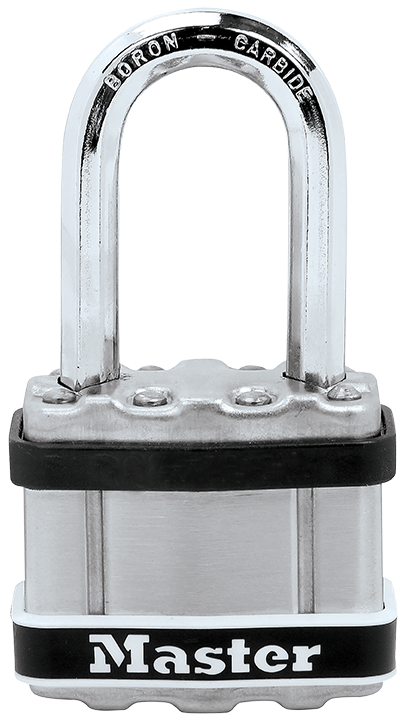 Master Lock has launched the ultimate weather-resistant stainless-steel padlock, perfect for outdoor, corrosive or caustic environments.
Recognised around the world as the authentic, enduring name in padlocks and security products; Master Lock keeps developing innovative and high-quality products. Leader in security solutions for sports, home, school, work and travel solutions, Master Lock padlocks are covered under a limited lifetime warranty.
A byword for 'padlock' in the United States, Master Lock is a global leader and innovator in security solutions, the company also invented the original laminated padlock and the first dial combination padlock.
Now, the Master Lock M1EURDLFSTS is made up of a laminated steel body encased in a stainless-steel cover for maximum strength and weatherability. Meanwhile, the octagonal shackle is made of chrome plated boron carbide which is 50% harder than hardened steel, offering maximum resistance to cutting, sawing and rusting. This high-performance padlock adds to the existing Master Lock Excell® range which offer tried and tested durability for outdoor use in either trade businesses or even at home. The M1EURDLFSTS Excell® Stainless Steel padlock is available now from a variety of retailers including Amazon.co.uk, with a RRP of around £15 – £20.
Master Lock has provided customers with tried and tested robust protection against theft with its patented octagonal shackle that makes it difficult to open if cut on one side.  Master Lock's 90-plus years of security expertise means users can rely on a product that has been perfected and designed from the ground up by a team of dedicated security professionals at the brand's headquarters in Wisconsin, USA.
This legendary heritage and continued pursuit of excellence ensures the new indoor and water-resistant outdoor padlocks offer the highest levels of strength, reliability and functionality of any Bluetooth model on the market. Master Lock has also recently launched a full range of storage security and safes solutions.