Like the masses we have also been affected by Covid-19 and lockdown 3.0. After rescheduling training and courses at the end of 2020 we have since found ourselves in the same position this time round. All courses which were scheduled to take place in January and February have been postponed with new dates starting from March the 11th onwards. Our new dates can be found within the training section of our website www.locksmiths.co.uk or alternatively you can contact our Head Office team via email (enquiries@locksmiths.co.uk) or telephone (01327 262255) for further information.
The Master Locksmiths Association will continue to work in line with the legal requirements and government advice in relation to Covid-19, should for any reason training courses be again postponed we will continue to work closely with those booked onto courses to arrange a new date or alternative solution.
On the topic of training and courses, 2021 will see the addition of many new courses with the first being 7 Lever Safe Lock picking. Darren Foreman of Safe Ventures will be the tutor for this course, he comes with years of experience especially within this field and enjoys methodical manipulation of pins, levers, discs – especially when all Is understood ref what is happening inside the device!
Darren nowadays is spending most of his time with the day to day running of Safe Ventures who supply safe tools and occasional training to safe techs. Darren has shared some details on what the new course will cover:
Component parts of the lock & their positioning reg picking
Geometry of a pick
Problem encountered due to lack of knowledge & misuse of tools
The picking process
Setting anti pick levers
Dial reading a picked lock and dial reading a pre picked lock to affect an opening.
And more!
In relation to this course and MLA training Darren said "I wanted to support the MLA and demonstrate how a course should be run, in the past I have been involved with courses from other providers which have turned out to not be fit for purpose, this course has been created to address the many problems individuals may face when it comes to 7 lever safe lock picking where in normal circumstances they may walk away or even muller the safe!"
Abrasive Wheel and Electrical Safety courses – updates
Following on from the feedback of course attendees and members the Abrasive Wheel and Electric Safety courses have now been merged into a one-day comprehensive course with the first one of 2021 scheduled for 11th March. Upon completion certification is provided and valid for 5 years covering both aspects.
Return of High Security Cylinder Opening
2021 will also see the return of our High Security Cylinders course which was launched towards the end of 2020 with subsequent courses postponed due to Lockdown 2.0! an extremely exciting course to say the least, our High Security Cylinder course received fantastic feedback off the back of the first one from all those in attendance:
"Considering cluster was done during Covid-19 restrictions it was well organised"
"Very helpful course, adding confidence to open high security cylinders, thx."
"Very relaxed and approachable".
The Master Locksmiths Association are providing constant updates via our website and social media channels surrounding the MLA Expo, training & courses and further general updates, give us a follow/like on:
Facebook – MasterLocksmithAssociation
Twitter – @MLA_locksmiths
Instagram – @master_locksmiths_association
LinkedIn – master-locksmiths-association
Key 2020 highlights
Our Operations team and Managing director have been working hard during this Covid-19 situation to ensure members have been kept up to date with the latest information and advice about lockdowns, what can and can't be done in line with government advice for working and shops, risk assessment templates, furlough scheme information for employees as well as self-employment support scheme details along with the relevant deadlines and links. We will continue to work hard and keep members up to date with all this vital information.
"On the ball as always. Appreciate the timely updates."
– Mark Doyle, Paladin Locks
While hands on training has stopped we have been arranging a series of webinars for members to continue their development and learning which are on-going, these have ranged from internally produced advice and information based webinars through to affiliate member hosted events and external organisations coming along and sharing upcoming industry related and/or business affecting information, covering everything from alarms, automatic doors through to marketing and SEO.
We also redesigned and re-launched some of our Approved Company leaflets and provided Marketing materials and social templates for members. We are close to completion on a new suite of materials for members which is launching soon.
Late 2020 saw the completion of our WhatsApp project to Approved Company pages on our website, this meant communications channels increased for members and since its launch in early November over 700 WhatsApp conversations have been started via the website.
Traffic on the www.locksmiths.co.uk website increased by 57% from 2019
2020 saw a record number of calls to members through the website with over 70,000
The year also saw a record number of emails to members through the website with over 14,000
Another project which launched in mid-June was the addition of individual contact forms to each listing with over 1300 contact form submissions made directly to members email addresses.
"I definitely benefit from being on the MLA online directory and genuinely see regular customers come via it"
– Ewan Clark, CraftLock Ltd
"I've been a member well over 15 and it really benefits me being associated to the organisation, I often get jobs where I am asked if I am an MLA member before they go forward with any work"
– Craig Andres, AA Lock & Key
We also had a fantastic appearance on the One show via Sold Secure which included mentions of the MLA along with a great shot of the MLA logo. It was great to see this on prime time national TV!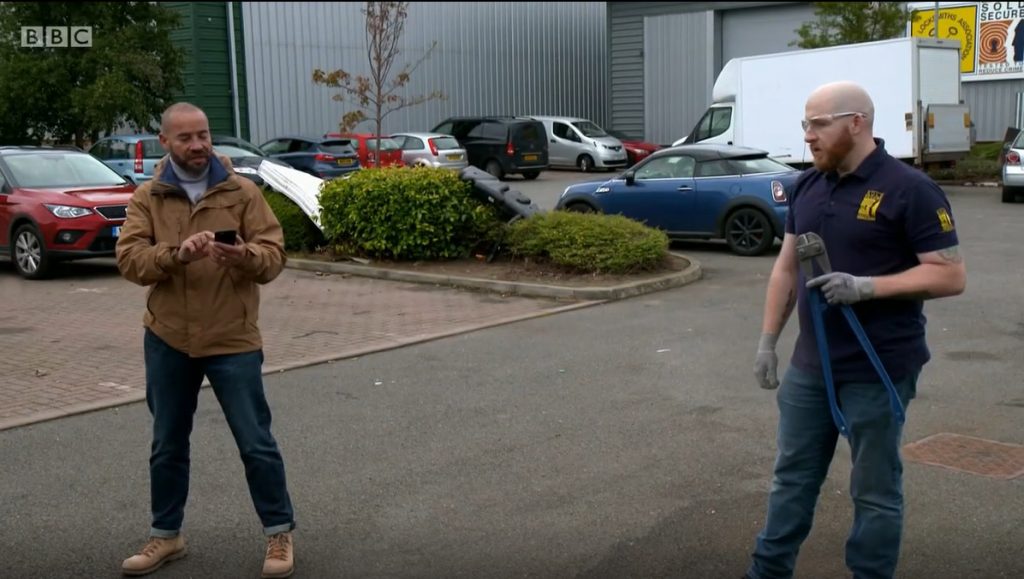 As part of our ongoing support and commitment to the industry we have been spending time working with both members and non-members regarding the ever-increasing rogue locksmiths within the industry. Recent alterations to our communication channels have now allowed members of the public who have experienced rogue locksmith activity to contact us and share their stories. We recently had an individual who shared their story which managed to successfully gain some national exposure which is shared below.
Recent PR pieces around our rogue locksmith campaign achieved:
21 pieces of coverage
Over 960 social shares
Estimated 1.51m coverage views.
Picked up by Online nationals such as the Daily Mirror, This is Money, The World News, Wales Online and more.
Physical Print in the daily express
And a BBC radio interview discussion