Continued from last fortnight's Hounslow Council case study…
As a leading wireless access control system provider, Intratone works with numerous properties and housing associations across the UK and Europe. Since 2016, the GSM specialist has fitted the latest access control technology at more than 900 entrances at over 220 different buildings across Hounslow Council in London.
Here's some of the products that were specified and installed: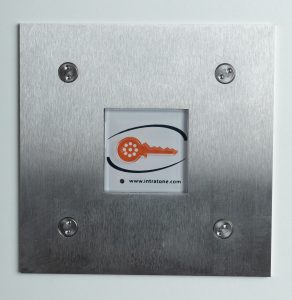 SQUARE PROXIMITY READER
Boost both your property's accessibility and security with Intratone's square proximity reader. By simply tapping a connected key fob against our reader, registered users can quickly and easily gain entry.
Plus, as it can be mounted either separately or as part of an existing intercom, housing and property managers can ensure that our proximity readers fit neatly, with no potential for vandalism or accidental damage.
When paired with our one door relay card, this unit can manage up to 10,000 key fobs or transmitters.
Our square proximity readers are intuitive and easy to use, and as they are plug-and-play with no software required, you can save time and money without the need for time-consuming installations or complicated product training.
Exceed your tenants' expectations with our square proximity readers – built with the end user in mind; an easy, comprehensive solution that minimises hassle.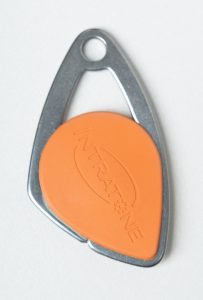 KEY FOB
Robust and easy-to-use, Intratone's key fobs allow quick and easy property access when put in contact with a proximity reader. Available in a variety of colours, we make sure that every key fob is unique so that any copied devices are instantly recognised.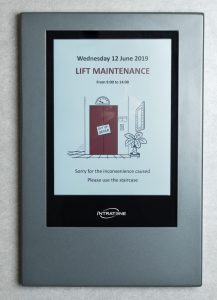 DIGITAL NOTICEBOARD
With Intratone's digital noticeboards, housing and property managers can ensure that they can quickly and efficiently broadcast information to tenants and residents.
Using Intratone's remote management system, you can upload a message to the screen via your computer in seconds, so you can focus on other tasks.
Intratone's digital noticeboard is suitable for either indoor or outdoor use, ensuring that – wherever you need it – residents will be able to access the most crucial information, as quickly as possible.
Save time and money by keeping tenants informed in real-time, with a simple click on our online management platform. Plus, as our digital noticeboards are designed to stand the test of time, you can rest assured that you will not only save costs from reduced site visits but also through lifetime added value.
Would you like to learn more about Intratone's track record in transforming properties across the UK?
intratone.uk.com