Over the past couple of years, the locksmith and security industry has been transformed with the introduction of smart home technology, from smart locking solutions to smart alarm systems. Simon Emmons, Sales and Marketing Director at Yale UK, discusses how the growth of the smart connected technology can work collaboratively with traditional security solutions, to ensure an efficient and effective security system. Simon also looks at how locksmiths can benefit from the combination of smart and mechanical security systems.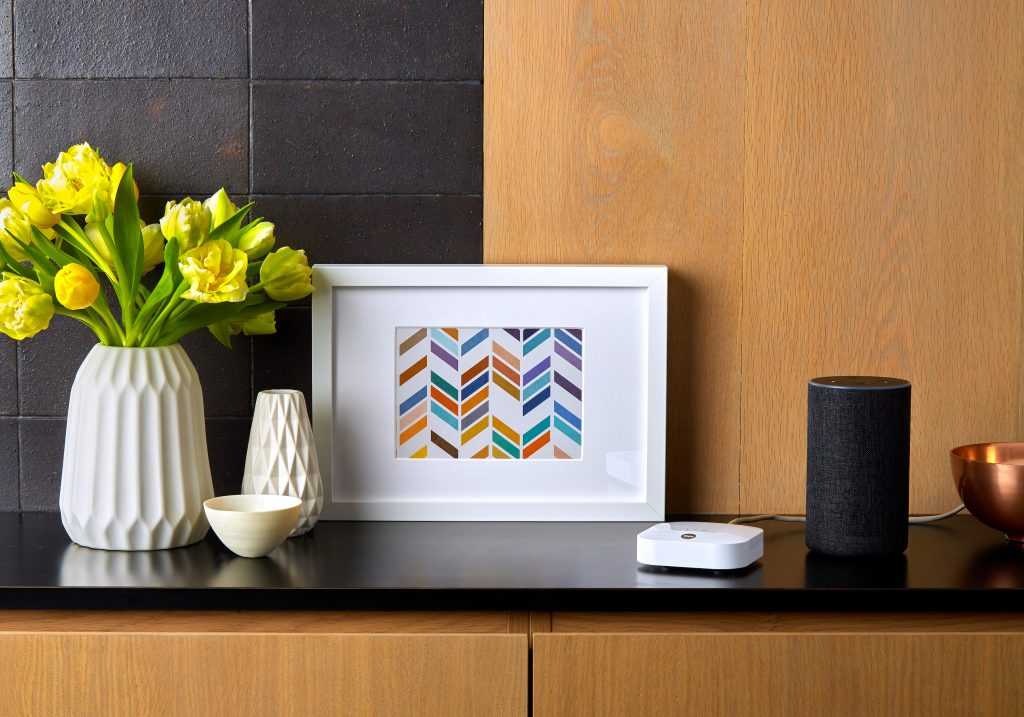 When it comes to home security, homeowners are willing to spend more to ensure that their homes are securely protected. It's imperative to provide valuable information and products which are of the highest quality, to guarantee customers are receiving the most effective solutions to create an efficient security system.
When considering your product offering, it's essential to be aware of current theft trends in general and within your working area, the development of standards and of the changing security products on the market, both smart and mechanical. With this knowledge you can ensure you're able to offer the most up-to-date and relevant range of products and advice, to suit the customer's security requirements.
Both smart and mechanical products offer different security solutions and benefits, and so when installed together they can create a fully assured, multi-layered security system.
Smart Security
The popularity of smart cameras, alarms, smart locking solutions, and surveillance has increased in recent years, with research revealing that 52 percent of people would pay more for a smart product which improves the security of their home[1].
What are the benefits of a smart security system? A key benefit of smart security for consumers is the convenience. The ability to monitor their home via a smartphone or tablet allows consumers to stay in control of their security and check-in throughout day, giving them even greater peace of mind.
Additionally, connectivity is valuable for many homeowners. The ability to link smart security solutions with other smart home tech devices can help to create a fully connected home for the ultimate convince and functionality. For this, it's important to consider the products on offer and the products they integrate with. For example, Yale smart home products integrate with other devices within the Yale Smart Living range, as well as with other smart home products, including; Philips Hue Lighting, Google Assistant, Amazon Alexa and Apple Watches.
Research revealed complexity is seen as a barrier for use by 34 percent of people[2] and so, for a professional locksmith, having the knowledge of installing and setting up a smart security product can be very valuable to homeowners.
Setting the Smart Standards
Research suggests that 43 percent of people are still concerned about someone hacking into their smart home[3]. To combat these concerns and provide reassurance to UK homeowners and locksmiths fitting smart locking solutions, a new standard was released, TS621:2018.
TS621 is the recognised standard for smart locks by the British Standard Institution (BSI), developed to ensure both the mechanical, electro-mechanical and electronic security of smart locks is of the highest standard. The Yale Conexis L1 Smart Lock is the first ever smart lock to meet this smart security standard and become British Kitemark approved. This makes it an unrivalled product within the current smart lock market and offers homeowners a highly secure smart lock, which carries the reassuring kitemark stamp of approval.
As reported by GOV.UK there will be 75 billion internet connected devices, such as cameras, home assistants and their associated services, in homes around the world by the end of 2025[4]. As a result, significant research and evaluation of standards is ongoing to ensure the highest level of security protection and best practice for manufacturers.
Maintain Mechanical
As a locksmith it's important to be aware of the latest security standards, and ensure these standards form part of your security product range. The main mechanical standards to take into consideration are: BS3621, PAS24:2016 and TS007:2014. As more consumers are becoming aware of security standards, it's important to be able to provide advice and a clear understanding of what is acceptable to home insurers and what will meet their requirements and needs.
With burglary tactics becoming more sophisticated and tactics such as lock-snapping reported on more frequently, these types of tactics have started to become a concern amongst homeowners. This provides an opportunity for locksmiths to upsell a secure solution, for example a cylinder which achieves TS007 3-Star accreditation, such as Yale's Platinum 3 Star Euro Profile Cylinder, provides maximum security against cylinder attacks, such as lock-snapping.
Whilst smart security is on the increase, mechanical products still remain a popular choice for many consumers due to their reliability, high quality mechanisms, non-reliance on technology and durability. With various mechanical products available, from cylinders, night latches and mortice locks to safes, padlocks and window hinges, there's scope for building a varied product offering, beneficial to a range of customers.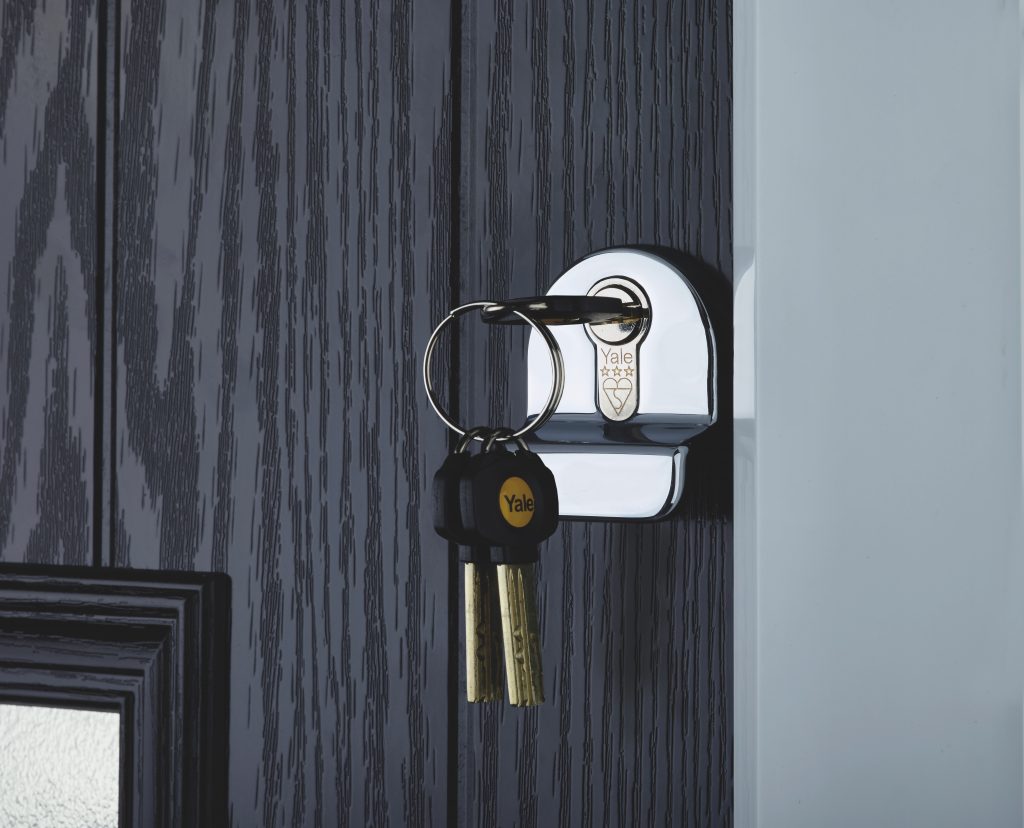 Working Together
So, what are the benefits of offering both mechanical and smart security solutions to homeowners and how can they work together to create a fully secure security system?
Smart security has certainly changed consumer behaviour and expectations. Front door locks can now be locked remotely via a smart phone app and devices can be linked together to offer a multitude of uses. However, there are certain areas of home security which are more effectively protected by mechanical products and so both smart and mechanical products can be used collaboratively to offer the ultimate security solution.
Understanding the range of different smart and mechanical products will allow locksmiths to provide detailed information to customers on how to make their security system work effectively for them. For example, a smart alarm such as the Yale Sync Smart Home Alarm covers outbuildings within a 200m range, so users are alerted by the home security alarm if there's any activity, but it's also important to secure the outbuilding/shed with a highly secure weatherproof padlock, like the CEN 3 graded weatherproof padlock. Together, the two security measures create a multi-layered system, making a break-in more difficult for the burglar.
The highly secure mechanical locking systems, such as; patio door locks, window hinges, night latches and cylinders, all of which meet the highest security standards required by the BSI, act as a preventative defence against any potential attacks. Smart security systems including CCTV systems, outdoor cameras, smart locks and smart alarms act as a visual deterrent. If an attack does takes place, the smart security system will alert and notify the homeowner of the event via their smartphone, so action can be taken with the evidence provided such as imagery/footage.
With all this in mind, it's important to take note of the latest security products both smart and mechanical and the changes and developments in standards to ensure that you can advise your customers on the most effective and up to date security systems.
For more information on the range of smart and mechanical products from Yale please visit: www.yale.co.uk
[1] Tech UK 2019, The State of the Connected Home Edition 3, 2019 – http://www.techuk.org/images/assets/Connected_Home/The_State_of_the_Connected_Home_Edition3_Jun19.pdf
[2] Smart Home Week 2018, One Poll survey of 2000 people
[3] Smart Home Week 2018, One Poll survey of 2000 people
[4] Gov.uk, January 2020 – https://www.gov.uk/government/news/government-to-strengthen-security-of-internet-connected-products