Chubbsafes the safe brand that is 'Trusted the world over' has just become even better with exciting changes and innovations to its market leading range of home and residential safes. Chubbsafes is arguably the only brand of safes that your customers will know. They have long been regarded as the premium offering by locksmiths to their wide and varying customer base with a majority of customers requiring safes for home or residential settings.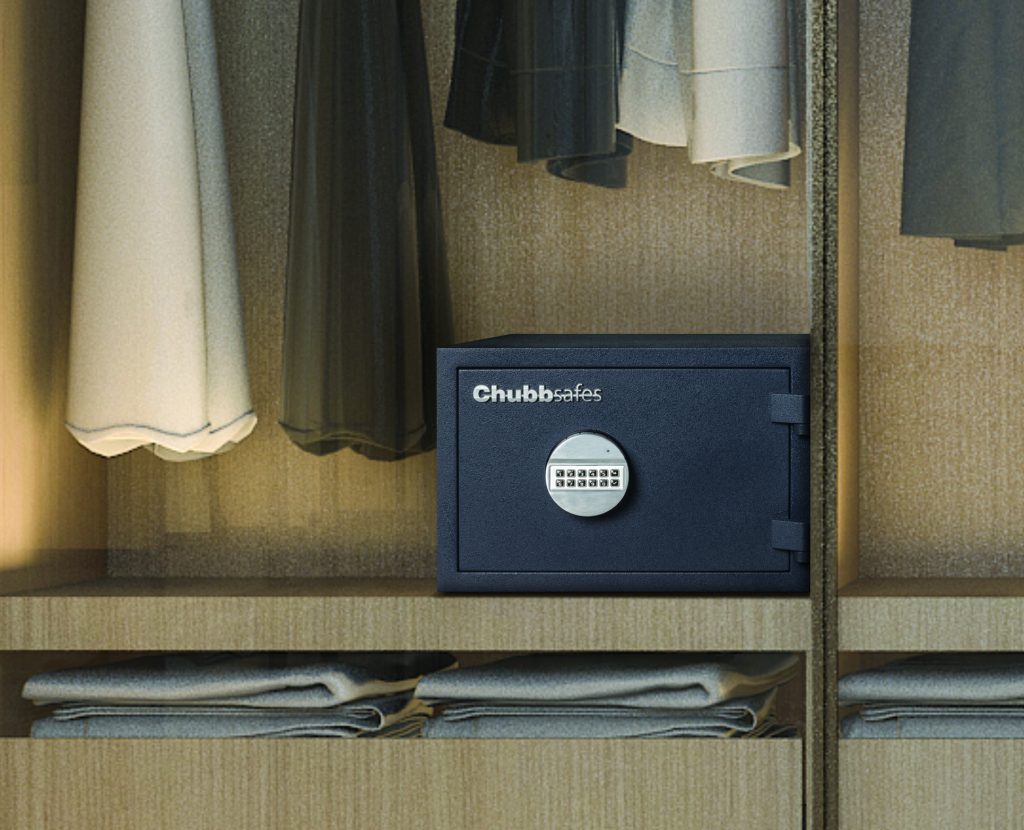 A Safe at Home
Having a safe at home is something that the average British consumer is beginning to consider more. In the rest of Europe, especially in the Netherlands, Belgium, and Germany, having a safe in your home is part of everyday life, as common as having a TV. It is just one of life's necessities to the people in these countries. This is not because burglary or other crime statistics are higher than in the UK, it is because enjoying the peace of mind that a safe provides is something that the residents of these countries prefer.
For locksmiths in the UK and Ireland it is encouraging to see this attitude now being adopted by many people. Indeed, safe sales to private homes, student residences, hospitals, care homes, and other residences is growing fast. There are many opportunities to sell safes for personal use as people set up home offices and want to keep their personal possessions such as jewellery, technical equipment, passports, insurance documents, and sentimental items in a safe.
To take advantage of this market, and to help to improve the sales of safes from locksmiths' shops, we have made some exciting changes to two of the best-selling ranges of Chubbsafes.
New Chubbsafes Homesafe S2 30P
Our flagship safe gives certified burglary AND fire protection, it is Police Approved and independently tested and certified against attack by ECB.S to EN14450 S2. Unlike some safes on the market, where 'fire protection' is claimed but not tested, the Homesafe S2 30P has been independently tested and certified for 30 minutes of fire protection by ECB.S to EN15659. This means you can honestly advise your customers that their Chubbsafe will protect their valuables and documents from fire.  It's certified.
Now with Flush Base and Rear Fixing
Chubbsafes Homesafe S2 30P now come prepared for both base and rear fixing. Further improvements to the range include increased shelf positions, smoother operating hinges, and the new Pulse lock on electronic models. The fixing is now also flush with the bottom of the safe.
Homesafe S2 30P is approved by AiS (Association of Insurance Surveyors) for up to £4,000 cash or £40,000 jewellery and valuables. It is available in six sizes with depths to ideally suit wardrobe installation and prices from under £300 excluding VAT.
New Zeta Grade 0 and Grade I
The new Zeta is tested and certified by ECB.S according to EN1143-1 and is now available in Grade 0 AND Grade I. This now offers incredible value for money in a range offering up to £10,000 cash or more importantly to most home and residential customers, £100,000 in jewellery and valuables insurance cover. With prices starting at under £500 excluding VAT and with the reassurance of the Chubbsafes brand, we think that this is a must for all locksmiths and a great way to increase sales. The Zeta Grades 0 and I are approved by AiS.
Safe Installation
The Homesafe S2 30P and Zeta ranges of safes all come equipped with fixing bolts for base and/or rear fixing with sizes ideal for homes and residences for installation into wardrobes. The Homesafe Model 10 is just 24Kg and even the Zeta Grade I Size 20 is only 50Kg. With this range from Chubbsafes, locksmiths can now choose to stock a simple limited range to suit most insurance led requirements for safes with the right cash and valuables rating, the right size, competitive prices, and the most important thing of all – the Chubbsafes brand.
The new Chubbsafes Homesafe S2 30P and the new Zeta Grades 0 and I will all be available from Aldridge from stock from mid-December with launch offers coming soon.
For more information on Chubbsafes contact Insafe who are the sole distributor for UK and Eire at trade@insafe.co.uk