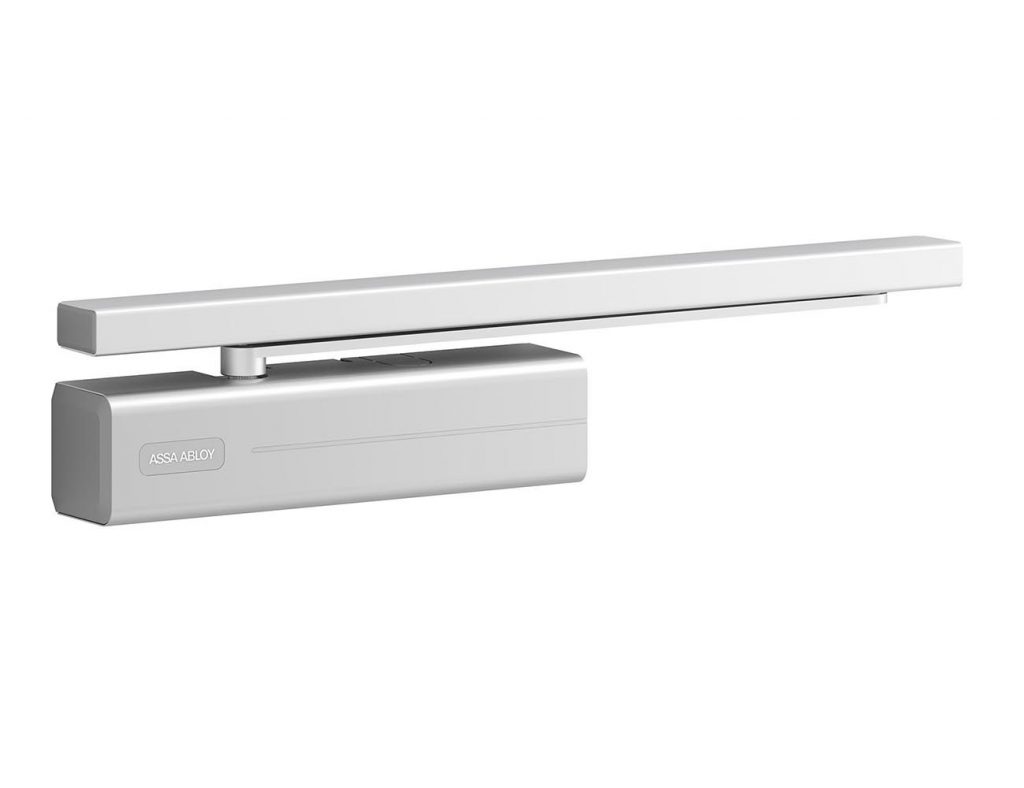 ASSA ABLOY Security Solutions, a UK division of ASSA ABLOY, the global leader in door opening solutions, is encouraging stockists, specifiers, installers and end-users to take advantage of its class-leading Cam-Motion® door closers.
Launched over 15 years ago as the first and still the only totally universal and unhanded Cam door closer solution, ASSA ABLOY's CAM-Motion® door closers offer pure simplicity for installers and end users alike. Its innovative Cam profile provides a unique unhanded and universal installation, and allows pull and push mounting from the same unit. This profile also produces class-leading efficiencies and user-friendly opening forces to create a market-leading door closer solution.
Furthermore, ASSA ABLOY's Cam-Motion® door closers can be specified for, or installed in any of four fixing applications – on door or head mount for both push and pull applications. This Universal Cam system was invented by ASSA ABLOY, and further highlights the company's reputation as a provider of innovative, comprehensive, and adaptable door control solutions that are easy to install.
Thanks to the removable and height-adjustable spindle, offered as standard on all ASSA ABLOY door closers, initial installation is quicker and less expensive, making it easier to achieve optimum results. This is because the innovative spindle design offers more room to manoeuvre and can be easily re-positioned to provide the correct spring pre-load.
The design also reduces the need for secondary installation work, such as cutting out architraves to allow guide rail installation. Such versatility can be further amplified with a range of supporting accessories such as mounting plates, hold-open devices and dampers to create bespoke door control solutions.
Another factor which sets ASSA ABLOY door control devices apart, is the ease in which they can be adapted to suit changes in building function and design. It is very easy to upgrade power sizes, functionality and technologies across the whole range. This is because all core models in the Rack and Pinion and Cam-Motion® portfolio, including the DC200, DC300, DC500 and DC700, share identical mounting positions, fixing centres and positioning from the hinge.
All Cam-Motion® models include adjustable backcheck as standard, helping doors avoid damage from colliding with walls or fixed items when opened fully. They also require only three valves to achieve perfect performance, with a two-stage latching action as standard via the singular latch valve.
David Hindle, Head of Door Closer Sales at ASSA ABLOY, explains: "As the inventors of the first Universal Cam door closer solution, we're proud of our extensive product portfolio. Our Cam-Motion® range stands out against competitor models as it has always been both unhanded and universal, offering four different fitting applications in a single unit.
"Additionally, Cam-Motion® devices balance excellent performance and quality with outstanding ease-of-use. Because installation is simpler and easier, users can quickly enjoy the benefits of an attractive, discrete product that is fully compliant with fire regulations and durable to over half a million cycles."
To discuss the Cam-Motion® door closer range with our door closer expert, please contact David Hindle via email at david.hindle@assaabloy.com. Follow David on LinkedIn, for further information on the door closer range.
For further information on ASSA ABLOY door closers, please visit www.assaabloy.co.uk/doorclosers and for all the latest information follow us on LinkedIn and Twitter.