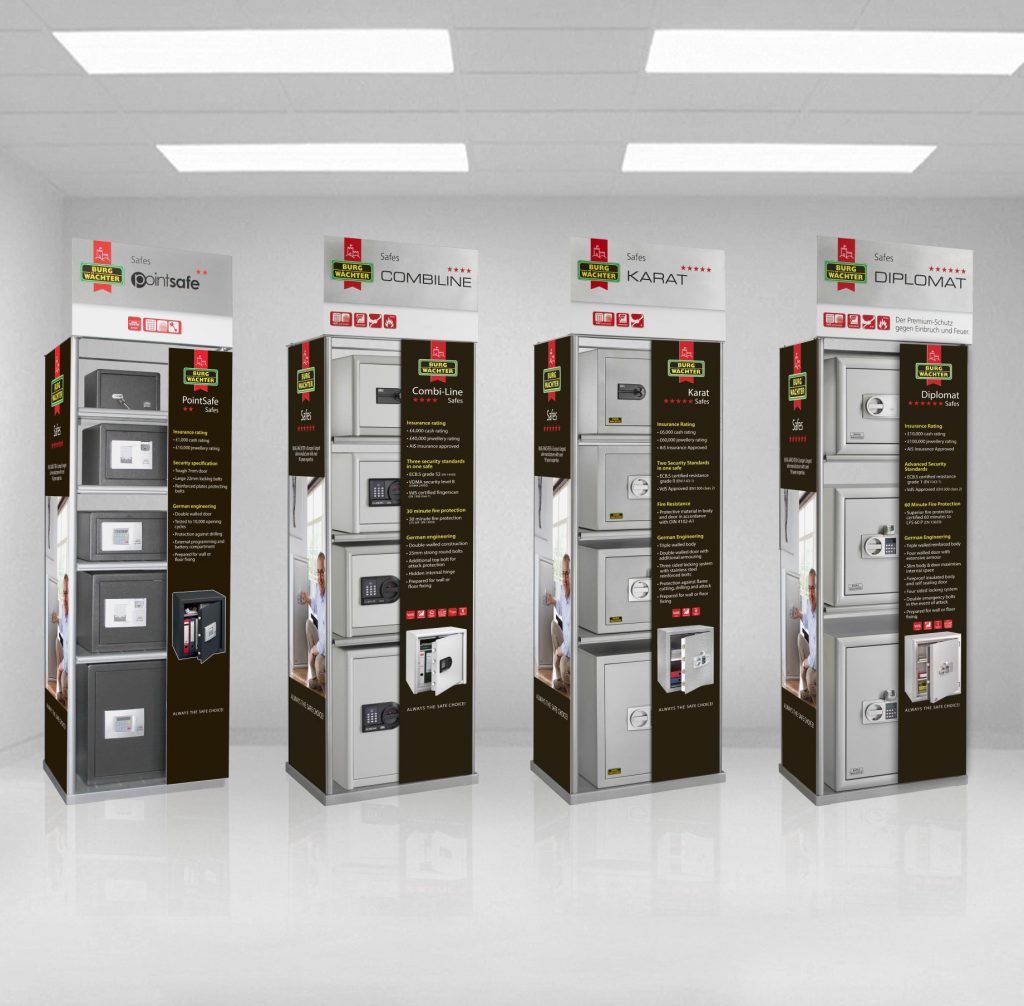 Despite changing lifestyles and ever evolving security technology, safes are still one of the most effective ways of protecting valuables.  Customers vary from individual home owners looking for a safe to store valuables and important documents, to a wide array of retailers and businesses looking for safes and other security solutions from their local locksmith.
Although contactless payment is becoming increasingly popular on the high street, many local retailers and restaurants still handle large amounts of cash, which will need to be stored securely until the next bank run.  Then there's the local office buildings that need to store important data and documents, whilst the neighbourhood chemist is required by law to keep certain pharmaceuticals locked away.  Add to that the local hotel and small executive housing developer all looking for advice on safes, it's easy to see why it's important to have access to a wide range of safe solutions via a reliable and well-resourced channel.
To realise the potential of this growing marketplace, locksmiths need safes that are easy to sell, at a price that gives a good return, to customers who are happy with the product and its installation.  As Europe's largest manufacturer of safes, Burg-Wächter is able offer locksmiths not only a wide range of AiS approved certified safes, but also the training, support services and sales materials needed to make the most of this opportunity.
Meeting customer requirements
Most customers will have a vague idea about the size and rating of safe they need, and will be looking for a model that has the "AiS approved" logo required by their insurers.  In order to meet most insurer's criteria, the advertised ratings for models with cash ratings of £4,000 and above need to have been properly tested and approved by an independent body (such as VdS and ECBs) and one that is recognised by the AiS.
A common misconception is that a high cash value rated safe will offer adequate protection against fire (and vice versa).  Therefore, it is important to check what customers are intending on putting in the safe and what they are seeking to protect against.  Not only will this ensure the customer's needs are met, but it offers the potential to upsell features and protection levels.  When discussing the most suitable options, it is also important to consider physical factors such as space, location and fixing method.  To help determine whether a keyed, digital or biometric locking mechanism is the most appropriate it is also worth discussing the number and frequency of people requiring access to the safe.  For the more design-conscious customer, modern safes can be produced in any high gloss colour to complement their internal décor.