Safelock Systems Ltd is a trade distributor of locks for safes, stocking a range of products from leading manufacturers such as LA GARD, dormakaba, Tecnosicurezza and Wittkopp. Directors Jasmine Hunt-Brown and Tony Brown give us a bit more information about the new range of safe locks.
Launch
You may recall our little 'sneak peek' that appeared in the Locksmith Journal earlier this year. Since then, we have been working in partnership with dormakaba, and we were very pleased to launch the LA GARD 700 Series at MLA Expo 21.

Feedback has been really good so far; the only negative point has been the wait in actually being able to supply the lock! The delay has been caused by obtaining EN 1300 certification for the locks, and we are pleased to announce that the deadbolt has now achieved its certification, and the swingbolt is pending.
"…the deadbolt has now achieved its certification…"
As with the current LA GARD range, 700 Series will be certified to EN 1300 Class B (Vds class 2), which means that it's suitable for use on EN 1143-1 safes up to Grade 5
In stock soon
Please visit our website safelocksystems.co.uk where we have now published pages for each of the 5 models, by following ELECTRONIC SAFE LOCKS>LA GARD
Each page has detailed information, demos and instruction videos, and there's a link to purchase the lock. Now that the deadbolt is certified, we are expecting keypad and deadbolt stock in a matter of weeks. Swingbolt stock will follow in due course.
Legacy LA GARD
The current range of LA GARD safe locks will be discontinued during 2022, but we do not yet have a specific date. We expect to hold a good stock of the current range, such as LG Basic, ComboGard Pro 39e, AuditGard 66e and Supra.
700 Series
The 700 Series has been designed to provide one overall ecosystem of locks, with differing levels depending on the user's need. The different levels can be compared to current LA GARD locks as below: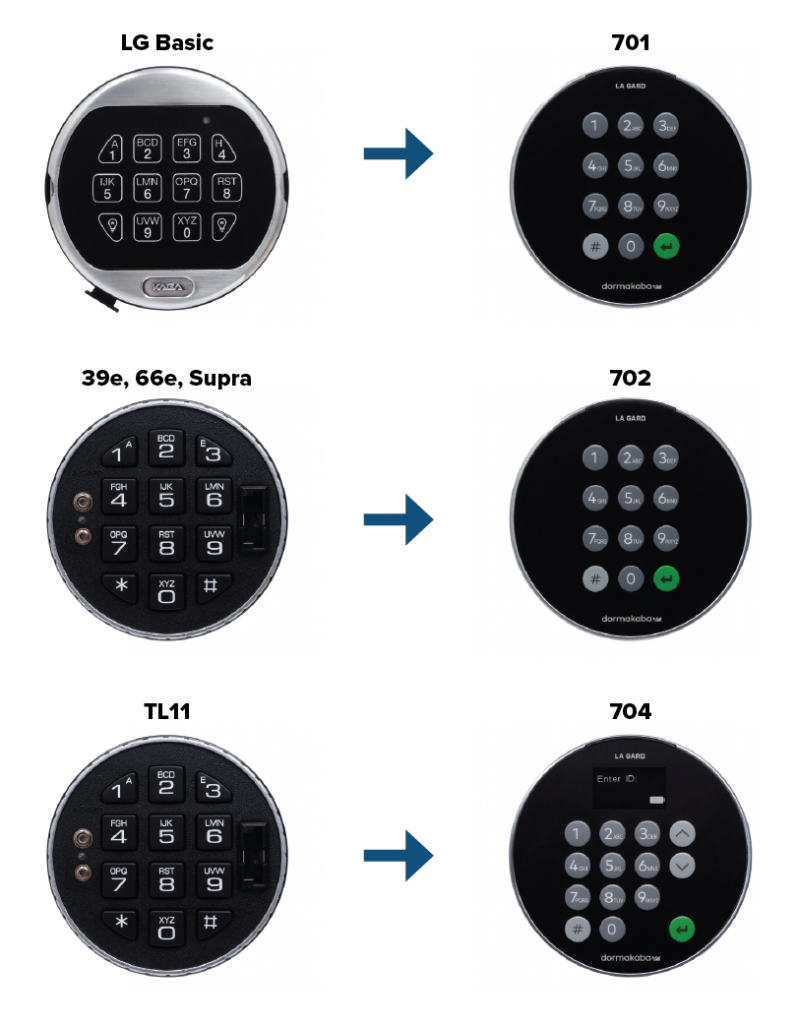 702: Now with OLED display
As a result of global feedback, the 702 model will soon be available with the option of a 1.28" monochrome OLED display – making it much easier for users to understand and manage.
Keypad control
The 700 Series introduces many functions which have been missing from the current LA GARD locks. For models 701-703, the keypad can be used to manage features which previously required software. Such control will make installation, commissioning, and operation easier in the longer term.
Users
All 700 Series locks have a Master user assigned to ID 00, which has overall administrative control of the lock system. Other available users can be profiled as Manager or standard opening Users as below:
701
702
703
704
705
1 Manager
1 User
1 Manager
28 Users
1 Manager
28 Users
2 Managers
47 Users
2 Managers
97 Users
Features
The majority of lock management is from the keypad. Dual mode, silent alarm and alarm input signals can be switched on or off and configured as required for the 702-705 locks.
Users can be profiled to have varying combinations of manager rights, opening rights,  audit rights and/or time delay override rights, again using the keypad.
Model 703 can control up to 2 locks bodies, and models 704-705 can control up to 5 locks.
A 500 event audit is available to download on the 702 and 703 models. Basic audit event codes can be viewed on display models. 704 stores 2,000 events and 705 stores 6,000 events.
Software
A USB-B MINI port is installed on keypads, and an application is available for audit and lock management for 702-705 keypads (License and dongle required). Timelock, with schedules programmed using software, is available for the 704 and 705 models. Lock firmware can also be updated using the software.
Keypad
Standard keypads with a depth of 34mm have a removable battery tray housing 2 x 9v batteries. Low profile options with a depth of 21mm are available and require a separate battery box, but still have a battery connector for emergency power. Mains power is also available as an option.
Pricing
The pricing for 700 series is very competitive, and in most cases, it is cheaper than the current LA GARD equivalent. RRP pricing is below, trade customers can apply to view trade discounted pricing on our website.
Standard Keypad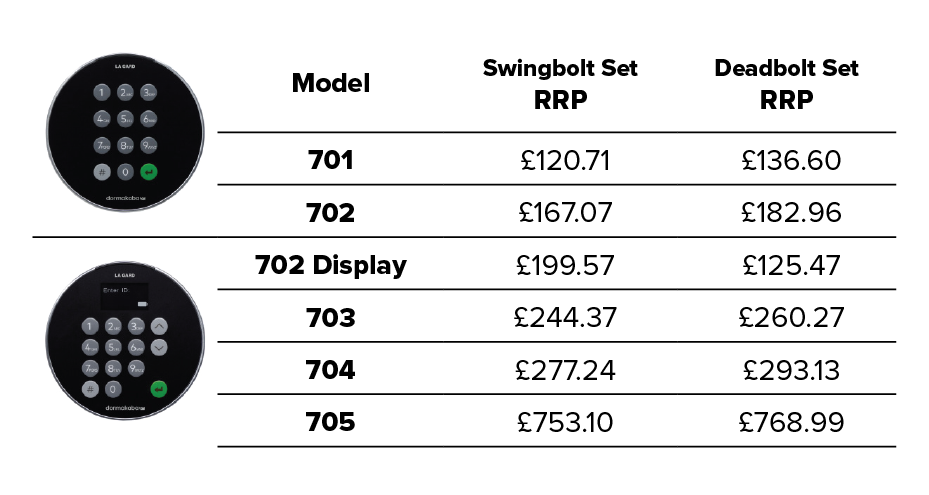 Low-Profile Keypad (inc. Battery Box)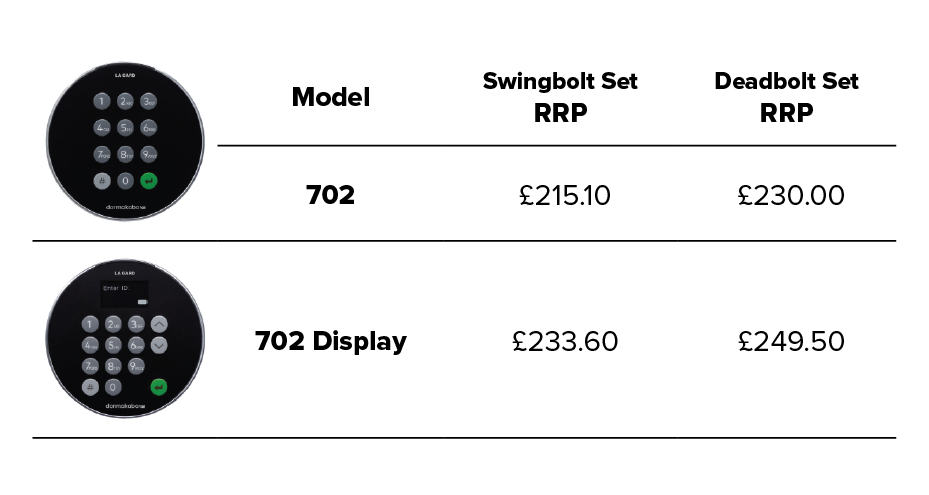 Commands
The current LA GARD process of 'holding down the last digit for 2 sets of double beeps' has been renewed with # commands. Whilst different, the processes are just as quick and easy. Here's an example to change a user's code:

Of course, with the display keypad models, all management of the lock system is available from the easy to navigate menu.
Feedback
Please visit our website to find out more, or feel free to contact us if you have any specific enquiries or feedback.
Safelock Systems Ltd.
Tel: +44 (0)20 8949 1005
Email: sales@safelocksystems.com
Web & online store: safelocksystems.co.uk