At the beginning of the year, The Locksmith Journal caught up with North East Lock & Key's Scott Walton where we spoke about everything from 40 years' worth of stock to a new website launch for 2020. Now, almost six months on, with the website finally live, while it may have seemed a long time in the making, the launch during lockdown has actually proven to be perfectly-timed for both the team and their customers…
"We've been working on the website for quite some time and the 'coming soon' sign on the homepage needed to be replaced really!" begins Scott. "The new site was going to be completely different to the one we had before, so we spent a lot of time and effort putting up products and getting it 'just right'. When lockdown happened though we thought 'if this is not the time to go live, we don't know what is' so we launched https://nelockandkey.co.uk/ at the end of May and so far so good."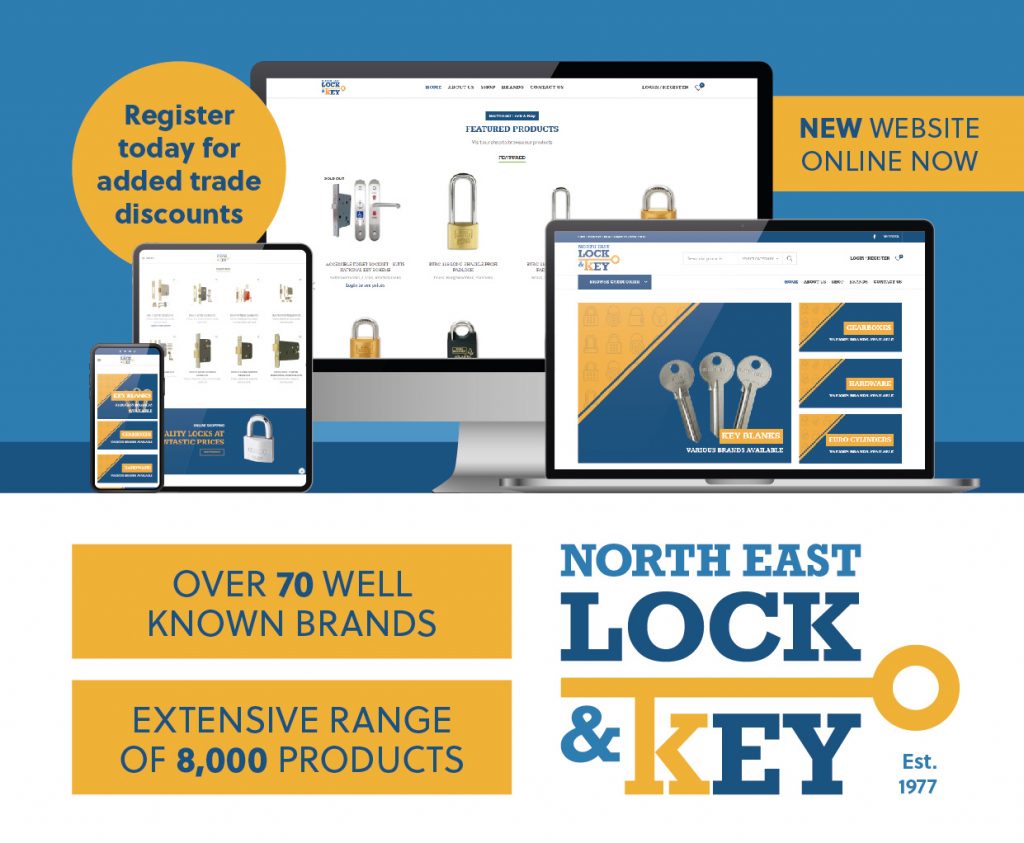 As a company, NE Lock & Key is well-known and renowned for its product lines and expert understanding thereof. The combined experience of the team, for a business that was established four decades ago is what keeps locksmiths going back. Transcribing all of this catalogue information and transferring all of the knowledge intimacy onto a new website, that is also clear and concise and easy to use is no mean feat, and it's a project that was taken on with the same care and consideration that goes hand in hand with NE Lock & Key's every day work.
"We're really happy with how it's turned out and what a customer will find if they go to the website right now. However, it isn't finished, and it will be never be finished, in the way that we will be constantly adding new lines and taking away old ones to keep the site up-to-date," continues Scott.
"As I've said before, as a brand, the ethos of NE Lock & Key has stayed steady; we pride ourselves on a personal service from start to finish," continued Scott. "This cannot change just because the locksmith – or tradesperson – is buying online. If anything, we have to be even more conscious of staying true to our customer and providing nothing short of top notch.
"For that reason, something that has been at the forefront of our minds is not just the product specification of the lines we have, but accurate information when it comes to stock. We have live stock levels, which means that the customer knows if they see something on the page, it will also be in our warehouse. This is very important because inaccurate stock levels can have a knock-on effect from our customer to their customer if they can't deliver on a promise.
"Likewise, something that is really helpful at the moment, is our click and collect facility, so customers can safely shop for their products and pick up while adhering to social distancing measures. They won't have to spend too much time in the store and instead can place all their orders at home, from work, or even in their vehicle in between jobs.
"This isn't just an advantage during lockdown however, a new streamlined approach to shopping over the weeks, months, years will all help to cut down the time locksmiths are 'off the clock' and maximise their working day; seeing customers and attending jobs."
The new website may include all the of the 21st century features that a modern locksmith would expect, but something that NE Lock & Key has also become famous for over the years is having an almost tardis-like store room with everything and anything a customer may need for a new job, a repair, a refurb, or even a hobby or personal project including many discontinued products.
"It's true we hold a lot of stock," commented Scott. "In fact, if I had to guess we probably only have about a quarter of our lines online at the moment and we're working through the rest as we go along to see what needs to go on and which products are more specialist."
Maybe with the rest they could open a second History of Locks museum, I joked?
"Maybe, but I'd rather sell them!" said Scott.
See the new website at https://nelockandkey.co.uk/ or for more information call 0191 416 1843